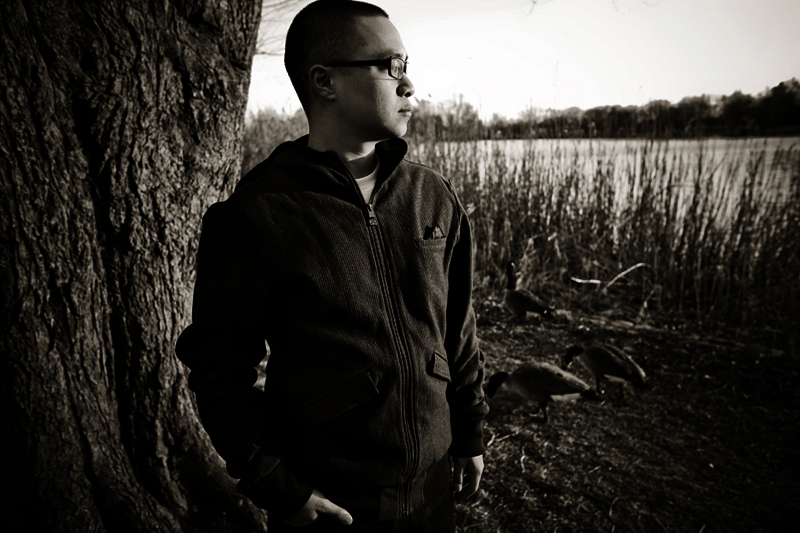 The team behind the label 3sixteen are co-owners Andrew Chen, 28 and Johan Lam, 23.  Chen is also the creative director.  3sixteen arrived on the scene in 2003.  Chen had "a desire to create" as many designers often do.  Chen and his team were "avid consumers and wanted to try [their] hand at bringing something new to the table."  Part of a growing trend, 3sixteen was launched without anyone having a formal fashion education.  They decided to begin with the production of graphic tees, while they learned "the ropes of the business."  With experience, a growing loyal base of fashion aficionados, and more resources, the upcoming fall 2008 line featuring graphic tees, flannel shirts, cardigans, and select outerwear is the most complete line to date.  This is a large expansion for a label that specializes in graphic tees.
3sixteen is known for their heavy use of graphics, often Armageddon themed.  According to Chen, graphics are important and "very personal".  An article of clothing without a graphic can carry a message, but often the message gets lost in translation.  Graphics have the capacity to present a clear message.  Chen has utilized graphics to their full potential for this reason among many others.  For instance, after a six month hiatus and departing ways with his former business partner two years ago, Chen released a collection entitled, "Tomorrow is not promised".
A lot of things went down that I was surprised and saddened by, but in retrospect the heart-wrenching experience was an important lesson learned. After coming out of that and being given the opportunity to continue on with my passion, I felt that it was important to treat the company as temporal. In fashion, every brand's goal is to create something timeless – but at the end of the day, everything can also be taken away at the blink of an eye. That particular graphic reminded me to make the most of my opportunities and enjoy  what I've been given, and I believe that it resonated with others as well. What makes our graphics unique to 3sixteen is the fact that they are authentic to who we are.
The lifeline of a brand might not be everlasting, but the capacity to design and the opportunity to present the world with a unique vision is quite remarkable.  At the end of the day, brands are continually fused with life whether it is a piece in a closet waiting to be worn, a piece in a thrift store waiting to be discovered, or a piece forever cached online or captured in photographic memories.
Want to learn more about 3sixteen or locate stockists? Check out the 3sixteen official site.  Curious to learn even more?  Check out the 3sixteen blog.  The 3sixteen blog "serves to document [their] daily lives and the ins and outs of what [they] do at 3sixteen."  Definitely a worthy read!  I've bookmarked it.
Thanks go out to Andrew for the interview!
NEXT FEATURE LABEL – COMPLEX GEOMETRIES