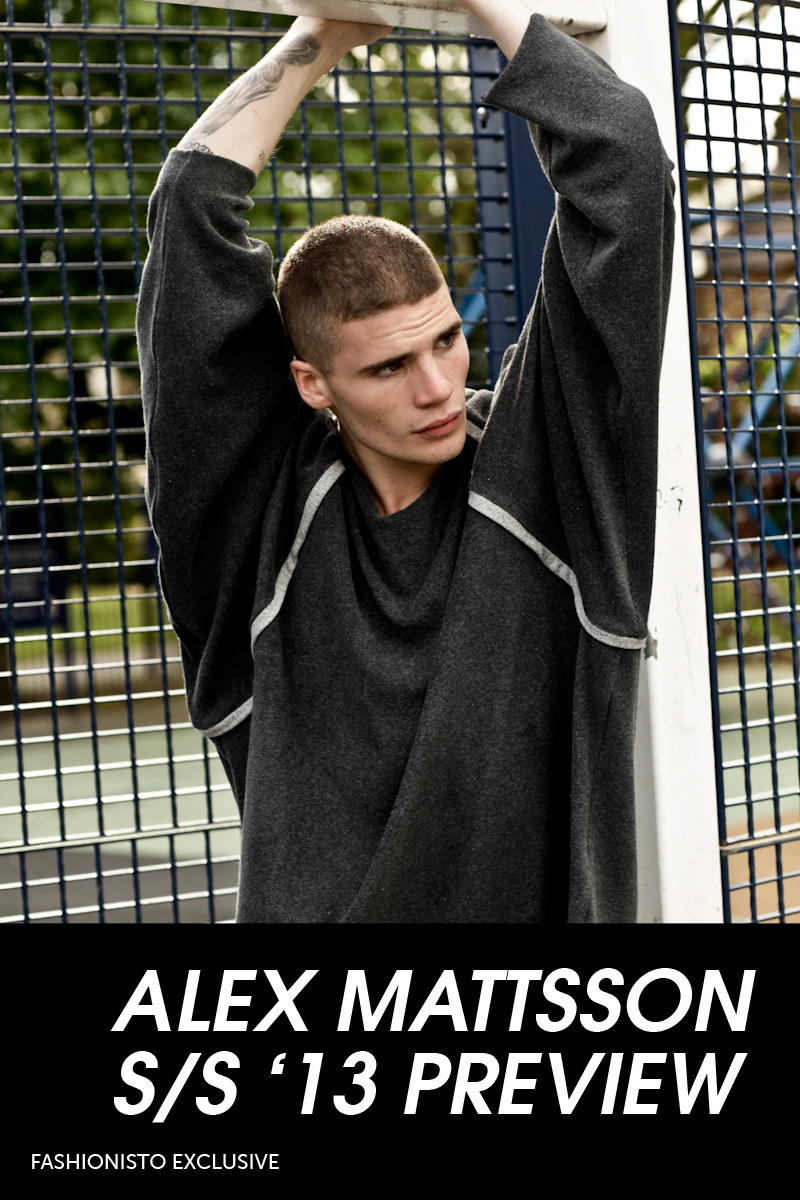 Alex Mattsson Preview–Sweden-born, London-based designer Alex Mattsson will be revealing his spring/summer 2013 menswear collection later this afternoon at London Collections: Men. Continuing his fascination with science fiction and future-tech, Mattsson's fourth seasonal collection seeks inspiration from UFO sightings and close encounters with extraterrestrial life. Military silhouettes such as tailored jackets, jumpsuits and signature oversized shirts in navy blue and battleship grey form the core of the base palette, broken up with soft jersey t-shirts, vests and tank tops in dramatic and effervescent digital prints of contrasting pastels and lucid tones reminiscent of bizarre landscapes and skylines. Complex tailoring in leather remains a core part of the Alex Mattsson aesthetic, and for spring/summer 2013 is reworked into a more wearable summer jacket and accessories. / Words by Kenny Ho, Fashionisto London Fashion Editor. Photos by Cameron McNee. Modeling by Toby Leonard @ Select.

Q: Science fiction and extra-terrestrial life is a recurring theme/idea in your menswear collections. How did that come about?
A: I've always been interested in the idea of extra-terrestrial life. It probably stems from watching sci-fi movies as a child. I refuse to believe that we are alone in the universe. The idea of intelligent life in other parts of the universe is just too exciting. It's not all about aliens though. I've always liked technology and modern design. Sci-fi is the ultimate example of that.
Q: How has this continuing theme developed from your previous season to this one?
A: All my concepts are unrelated fantasies – with me being the only common denominator. Soviet Steampunk and the concept of high-tech soviet technology inspired my AW12 collection, and SS13 is inspired by the 5% of UFO sightings and encounters that remain an unexplained mystery. The Rendlesham Incident in particular, where several witnesses had a very close encounter with a landed UFO at an American army base in Rendlesham UK. My influences read like unrelated short stories inspired by documentaries, films, images etc.; like a book of short stories written by one author.
Q: Contemporary London menswear has a reputation of being inventive and experimental, and creativity in fashion has often thought to be in conflict with commerciality and sales. What are your views on this?
A: London has always struggled with monetizing on its creative fashion labels. It is the polar opposite to New York, which unashamedly focuses on sales and money. I am biased on this because I find innovative fashion so interesting. If you are not innovating, you are re-creating and what is the point in that? At the same time you need to sell clothes in order for your label to survive. It is a balancing act that few manage to do.
My SS13 collection will be my most commercial collection yet as its my first season selling in the 'Sifr' showroom in London and Paris. It also coincides well with my first presentation during London Collections: Men. Red Bull gave me the opportunity to do an independent presentation and that goes to show that there are guardian angels out there supporting young talent for the love of it. I would go as far as to state that London is the creative fashion capital of the world. It produces hugely creative designers that influence fashion worldwide. This creativity needs to be protected and nourished.
Q: With many womenswear designers now introducing menswear to their lines, do you see yourself making a foray into womenswear in the future; especially as your digital prints would work for both sexes?
A: Eventually yes. I used to love designing womenswear in university. I need to get my menswear label right before I branch out though.