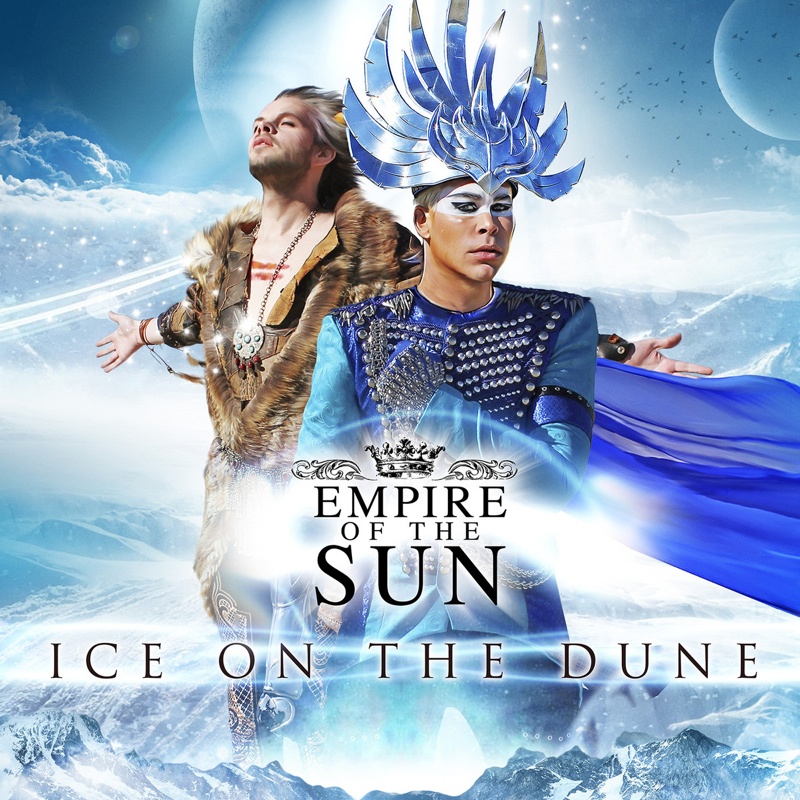 Catching Up with Empire of the Sun–Releasing the music video for their latest single DNA, Australian musicians Luke Steele and Nick Littlemore reunite for Empire of the Sun's sophomore outing, Ice on the Dune.
Released in 2008, Empire of the Sun's debut album Walking on a Dream, went on to be a worldwide success selling over a million copies and making an impact with the singles We Are The People, Walking on a Dream, Standing on the Shore, Without You and Half-Mast. Quickly becoming known for their eccentric music videos and outlandish costumes, Steele and Littlemore created a unique world of their own. Littlemore adds that they were definitely surprised by the worldwide reception of the album. They made it "dreaming up all these dreams, thinking we could work with so and so, live in California or New York…this stuff kinda just happened to us."
Following promotion of Walking on a Dream, Empire of the Sun took a hiatus but the pair saw it as an ongoing project. Coming back together, "we really wanted to make something that would get bolder, bigger and brighter each time. Every time we get back together, it just grows," Littlemore revealed. When working on the album Ice on the Dune, "The main word was aspiration. We wanted to make an aspirational album that was inspirational." Littlemore elaborated, "We wanted to give the audience a big blanket of warm. Love is the elixir of life. What makes us human is the glow we connect to, the idea of love. I don't know. We're trying to create something you can't quite explain. Something you just cannot put into words like you can melodies."
Finding a great collaboration in their differences, Littlemore shares, "It's pretty cool. I think we come at it very different ways. Luke always comes from a country songwriter perspective and I come from hip hop/keyboard production. Along the way, we have learned many skills that we each possess and new ones as well…guitars, pick or more, new keyboard, guitar, drum kit…they are all inspiring. We try to thrive off of each. We always bring things back to our core and try to surprise each other…try to stay fascinated." For the latest album, Steele joined Littlemore stateside to record in Los Angeles. Reflecting on his short residency in the golden state and its effect on the album, Littlemore felt that they were impacted by the "sunny gold California sound that we love very much. Like the mid-70s, great electric feeling coming out of here."
Now focusing their efforts on the global charts, Littlemore hopes that they can take over. "I hope we can share our music with as many people as possible. I want to play the Super Bowl. I think we make global music. It's what it's about. We try to make positive music. It doesn't matter where you come from or what you believe in."
Originally published in Fashionisto #8.