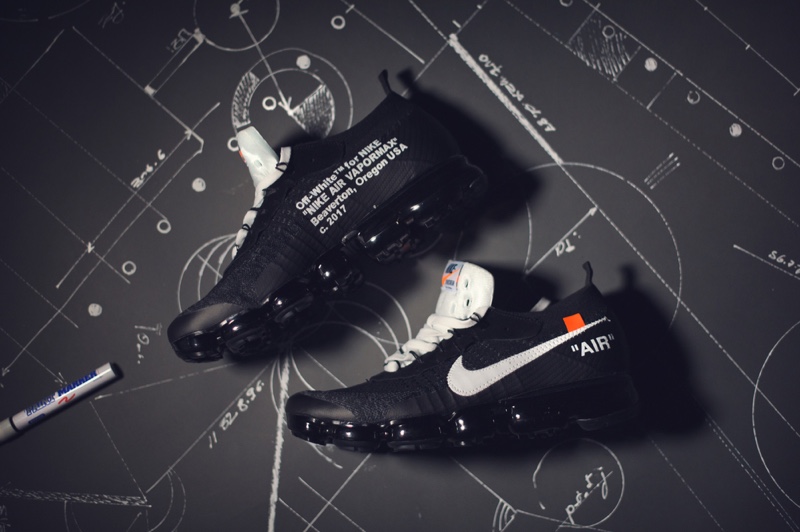 The legacy of fashion designer Virgil Abloh lives on via his work as Louis Vuitton's artistic director and the continued success of his brand Off-White. In addition, Abloh made waves with his many collaborations with Nike. 2017 marked the beginning of a lucrative partnership between Nike and Off-White with "The Ten" collection that started with the deconstruction of ten of Nike's iconic silhouettes.
Iconic Virgil Abloh Off-White x Nike Sneakers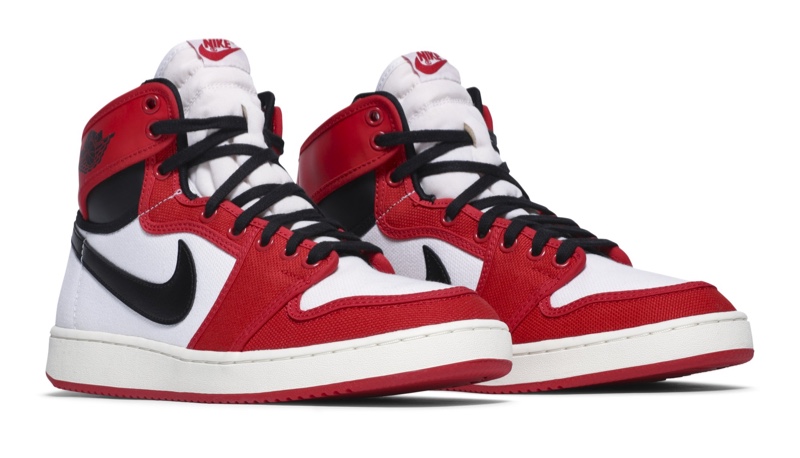 One of the most popular sneakers to result from Virgil Abloh's collaboration with Nike is the Off-White x Air Jordan 1 Retro High OG 'Chicago'. The shoe arrived as one of the most anticipated sneaker styles of 2017 with notable details such as Nike's iconic Swoosh applied to the shoe with stitching and an Off-White zip tie on the collar. Nike fans could also appreciate Abloh's use of the classic Chicago colorway with red, black, and white.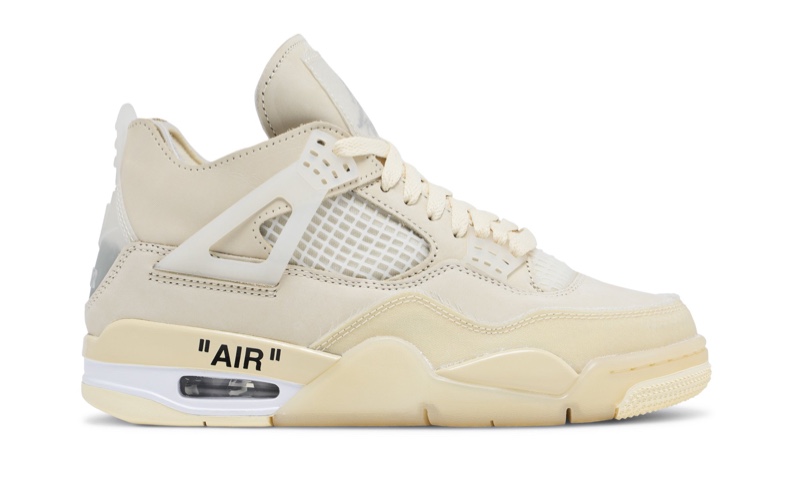 Perhaps what contributed to the success of Virgil Abloh and Nike's partnership was the designer's rule of three percent. For Abloh, to change an original design by three percent was to create a new one. To Abloh's three percent guideline, the Off-White x Wmns Air Jordan 4 SP 'Sail' made a statement with the addition of "AIR" and a "Sail" zip link.
Furthermore, the Off-White Jordan 4 Sail features deconstructed leather with semi-transparent TPU wings, eyelets, and heel panels. The women's Air Jordan 4 SP served as a model for Abloh's language statues on display at the Chicago Museum of Contemporary Art. Abloh designed the storage box for the Off-White Jordan 4 Sail, which features strategically placed large holes.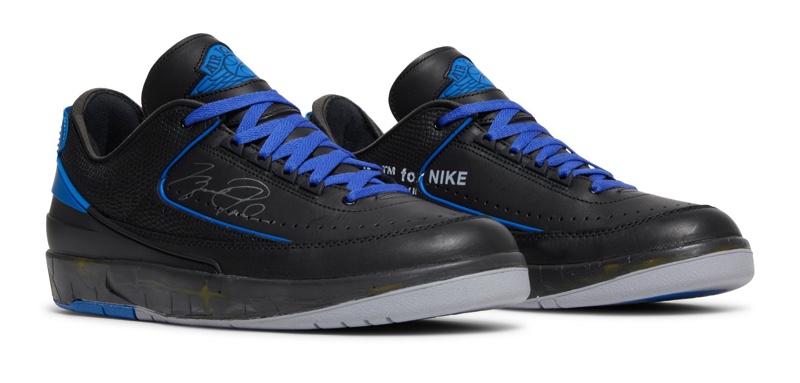 Another one of Virgil Abloh's greatest hits for Nike is the Off-White x Air Jordan 2 Retro Low SP 'Black Varsity Royal' that pays homage to the organic aging of the original Jordans. Michael Jordan's signature appears on the lateral side of the black leather outsole with black piping. It was also used in Nike's blue heel cap. The midsole is decaying on purpose, with transparent material covering the crevices. Off-White address printing and a Jordan Wings emblem on the tongue round out the look.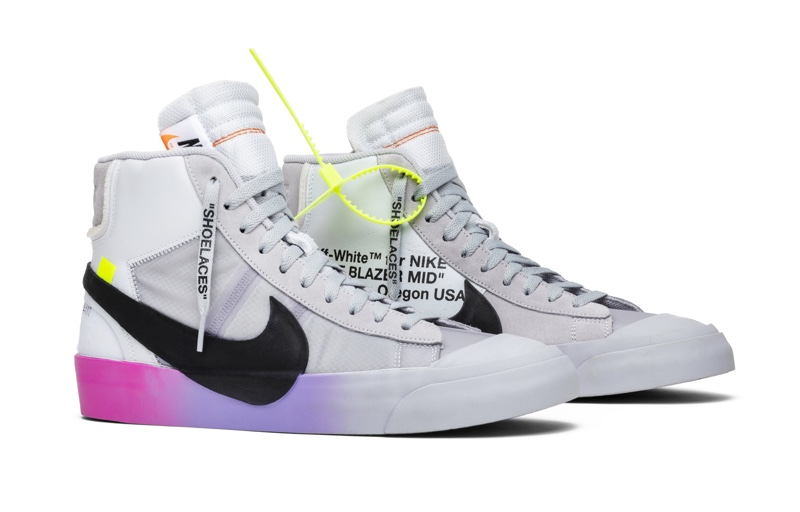 Following Serena Williams' performance at the 2018 US Open, Off-White teamed up with Blazer Studios to create the Serena Williams x Off-White Blazer Studio Mid 'Queen' sneaker. The shoe's top is made of suede, leather, and opaque material. The black logo extends down the outsole, while the midsole has a gradation of gray, violet, and pink on the underside. The holder is attached to the sole with a Volt tag and reads, "Queen of Queens, New York."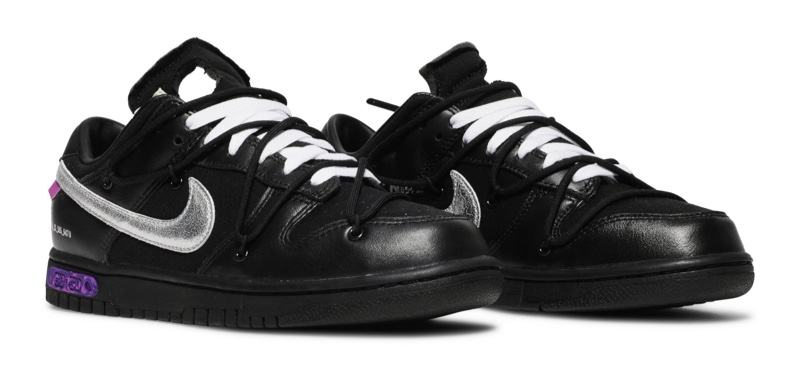 Another notable style from the sneakers Virgil Abloh created for Nike is the Off-White x Dunk Low 'Lot 50 of 50' with its black fabric outsole with smooth black suede patches and silver Swooshes. The design is then finished with black coverings, violet accents, black soles, lavender "Lot 50 of 50" designs, plackets, and purple details.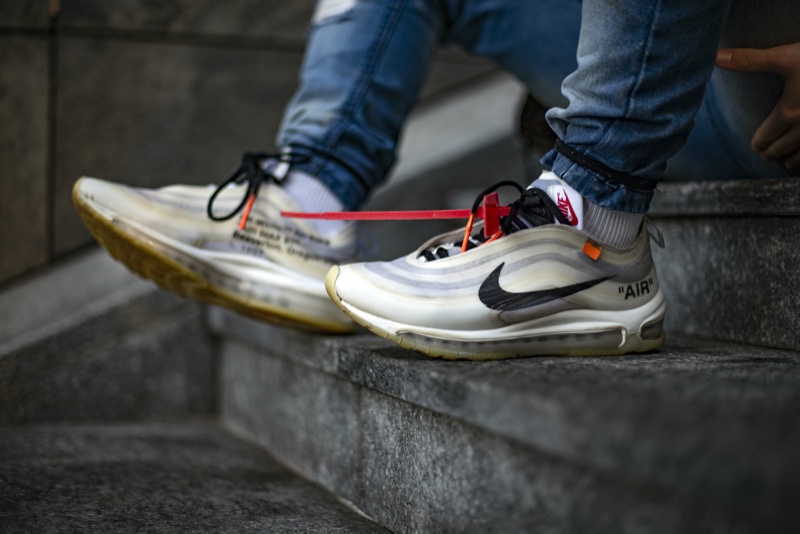 Wearing Your Nike x Off-White Sneakers
One of the many reasons the Nike x Off-White sneakers are so impressive is their ability to be dressed up. It can be used in various settings, from casual to formal, without losing its value or quality. Men can wear this to social gatherings like anniversaries and meetups.
On the other hand, women are more likely to wear this with their more casual attire. When it comes to Nike collaboration collections, the styles may be limited-edition, but it's never too late to hunt for a pair that catches your eye like the above. Meanwhile, shop additional Nike x Off-White sneakers at GOAT and Flight Club.