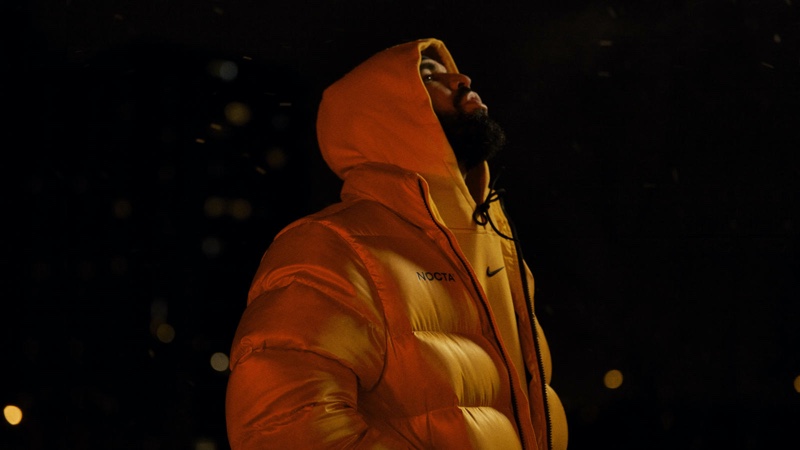 Music and fashion have long been collaborators. Both are responsive to developments in cultural discourse and indicative of the fluid fabric of self-expression and ambition. NOCTA represents a collaboration between two recognized icons of their respective genres.
NOCTA x Nike is the sublabel offering between multi-award-winning Canadian rapper, musician, and producer Drake and the sportswear juggernaut Nike, which is already a blend of modern urban style, athletic clothing, and footwear. NOCTA x Nike is the offspring of Drake's great admiration for the fashion label, which he dates back to his childhood.
Nike was Drake's idealistic footwear and clothing brand, represented by athletes performing the unthinkable. Here's NOCTA's four-piece foundational playlist in our favored color iterations. They're all you'll need for an outfit appropriate for the streets or relaxing indoors, with casual yet structured designs that pop with subtle color accents.
Nike x Drake NOCTA NRG Puffer Jacket 'Black'
The Nike x Drake NOCTA NRG Puffer Jacket in black is made of a lightweight fabric that delivers warmth without becoming bulky. The back features a substantial embossed Nike Swoosh, while the front features Drake's NOCTA trademark marking. Its modest street vibe is reminiscent of Drake's inspiring metropolises of Toronto, London, and Paris.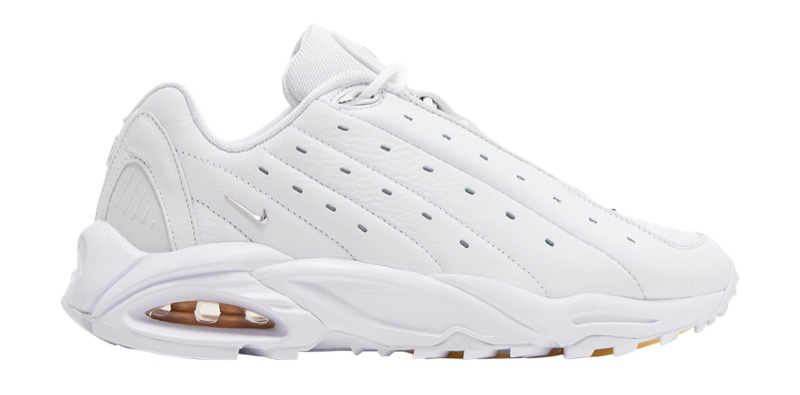 NOCTA x Hot Step Air Terra 'White'
The NOCTA x Hot Step Air sneakers in Terra White have a quilted leather upper shape that pays homage to the late 90s and early 2000s sneaker design. Reflective piping runs over the perforated leather upper, with metallic Swooshes on the toes and touches of gold and chrome. In addition, there is an exposed air bubble on the heel and a baby blue insole.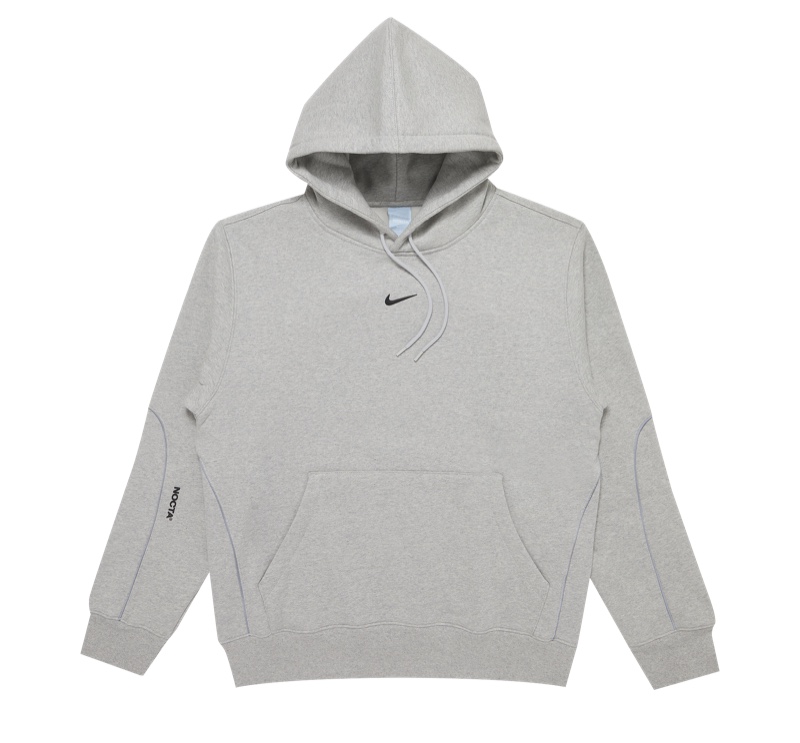 Nike x NOCTA Fleece Hoodie 'Grey Heather'
The Nike x NOCTA Fleece Hoodie is a wardrobe favorite reimagined in a versatile Grey Heather shade. The hoodie is fine cotton and has rib-knit trims, kangaroo pockets, adjustable drawstrings, and a small print NOCTA sleeve logo. The hoodie's black stitched tiny Swoosh in the center pays homage to historical Nike sporting styles.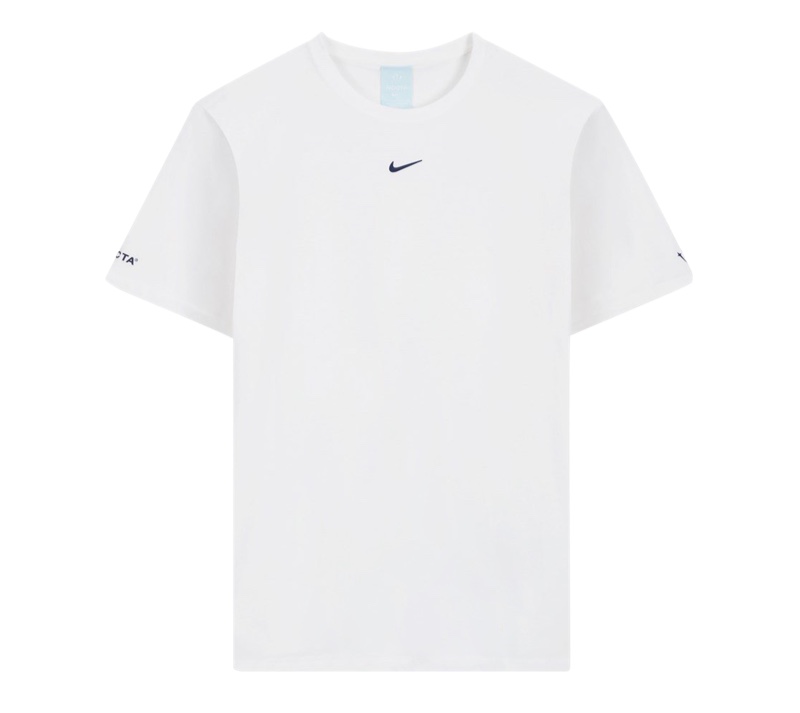 Nike x NOCTA Short-Sleeve Tee 'White/Blue Void'
The 'Forza Nocta' slogan is presented front and center in blue on the White/Blue Void colorway of Nike x NOCTA's short-sleeve tee and is highlighted by a Swoosh underneath. Ultimately, it's a simple and traditional white shirt with a strong statement.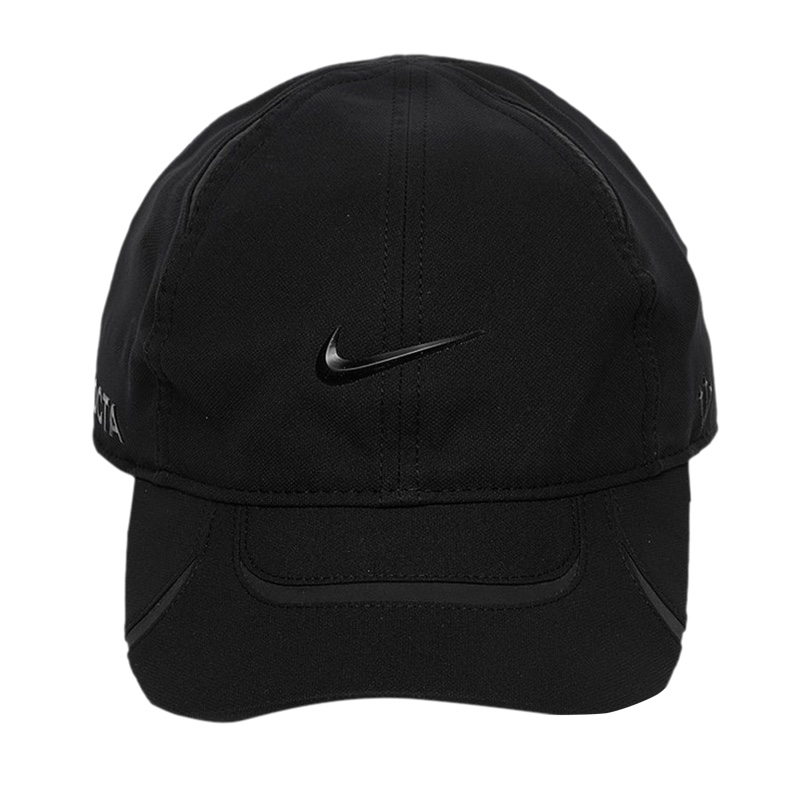 Nike x NOCTA Cap 'Black'
Nike x NOCTA's cap in black rounds out the look with a simple headgear alternative that differs from giant lettered bulky cap types. On the other hand, Drake's cap features simple but noticeable branding, including a yellow jewel Swoosh and NOCTA text on either side. It's a good fit with some subtle accents.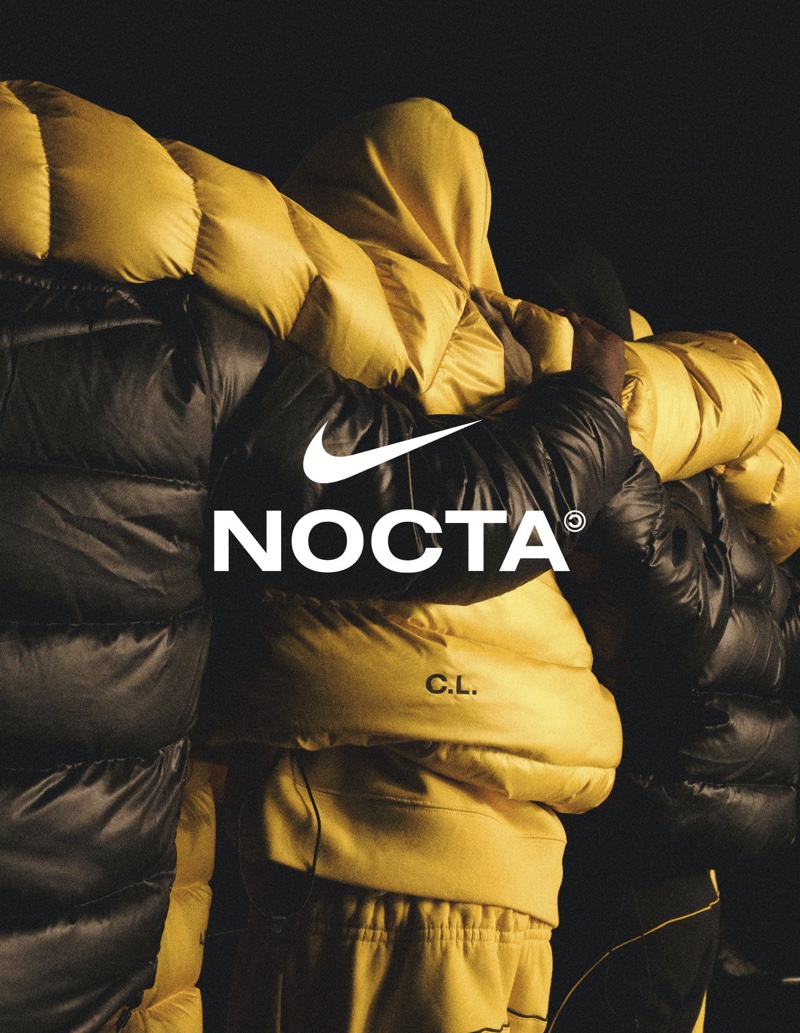 Nike x NOCTA
The pieces are designed for practicality and comfort. According to Drake, the collection is for individuals "who are on the road all day, all night – the grinders, the hard workers – trying to accomplish their goals, and taking no short cuts." Drake cohesively presents a wardrobe that moves effortlessly through day and night transitions and warmth and shade.
NOCTA recalls motifs heard in his musical landscapes, such as a low-tempo dark aesthetic and a minimalist but conversational tone. The layering potential and functional nature of NOCTA's items lend them to casual use, while their modest design embellishments and superior craftsmanship offer them up as stylish and long-serving wardrobe staples. Shop additional Nike x NOCTA apparel at GOAT.