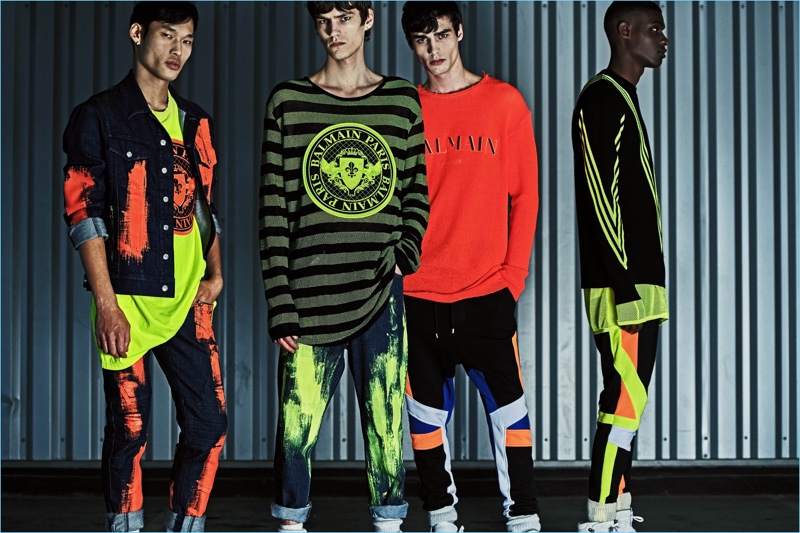 Balmain's typical flair for opulence and Parisian style receives a tropical update. Olivier Rousteing approaches his resort 2019 collection with a diverse view of how the Balmain man spends his time off-duty. Showcasing an exciting season, models Elias de Poot, Chun Soot, Rachide Embalo, and Oussama Guessoum come together. The models impress in bold colors, contemporary silhouettes, and vivid prints.
Related: Balmain Goes Full-On Survival Mode with Fall '18 Collection
Discussing the collection shoot, Rousteing shares, This campaign, shot below a never-ending sky and atop one of the many parking ramps that ring the edges of Paris, offers a new setting for those more accustomed to seeing Balmain's models posed in Haussmanian flats, countryside chateaux or postcard-perfect views of the capital—but this banlieue locale is, of course, just as French as the others.
The French designer continues, For those of us who live here, Paris is a city filled with surprising contrasts, with an unequaled richness of all sorts of environments—and today's Balmain man is equally at home in every part of it. His wardrobe, as this collection shows, mirrors his varied interests and moods, incorporating strands of urban luxury, bohemian attitude and a modern daring and sophistication.
Balmain Resort 2019 Men's Collection