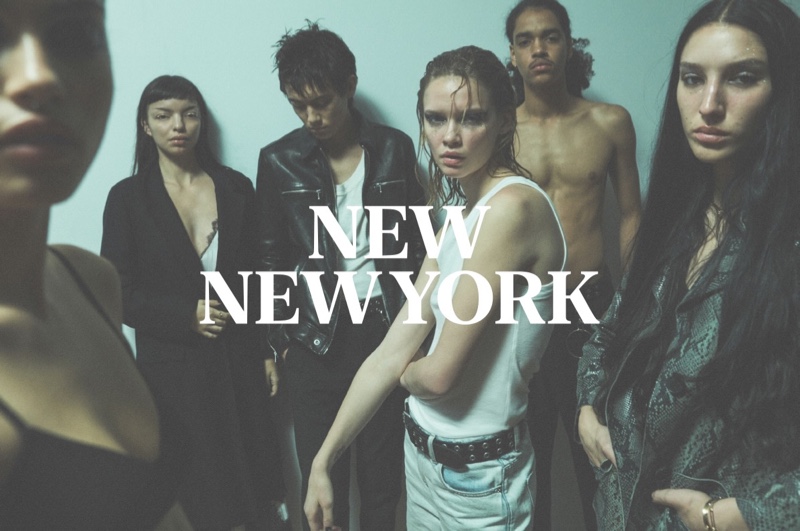 AllSaints looks to the new decade with a "new season, new faces, and new New York." The brand unveils its spring-summer 2020 campaign with a fresh cast and collection that embodies certain timeliness. Models that include Apex Forte, Jasmyn Palombo, Nat Renelle, Miles Rogers, Faith Lynch, Joshua Navarro, and Oceana Mawrence come together in leather jackets, black jeans, leopard print tops, and more.
Related: West of Eden | Connor Newall & Sasha Trautvein Star in AllSaints Campaign
Discussing AllSaints latest advertisement, the brand's chief creative director Wil Beedle shares, I'm tired of hearing people always bemoaning the fact that New York 'isn't as cool as it used to be back in the day.' No matter what era, landscape, or social backdrop, New York will always contain an energy and intensity like no other city. And from the Lower East Side to Brooklyn to the Upper West Side and Harlem, kids across New York are having the time of their lives, redefining the city for themselves, and writing their own future.
Beedle continues, I was keen for our seasonal campaign to depict this sense of the city's shared experience, as seen through the collective eyes of the next generation, together as one. Because in an era defined by discord and division, it feels more vital than ever to be championing the unity that resides at the heart of New York's young people.
AllSaints Spring/Summer 2020 Campaign