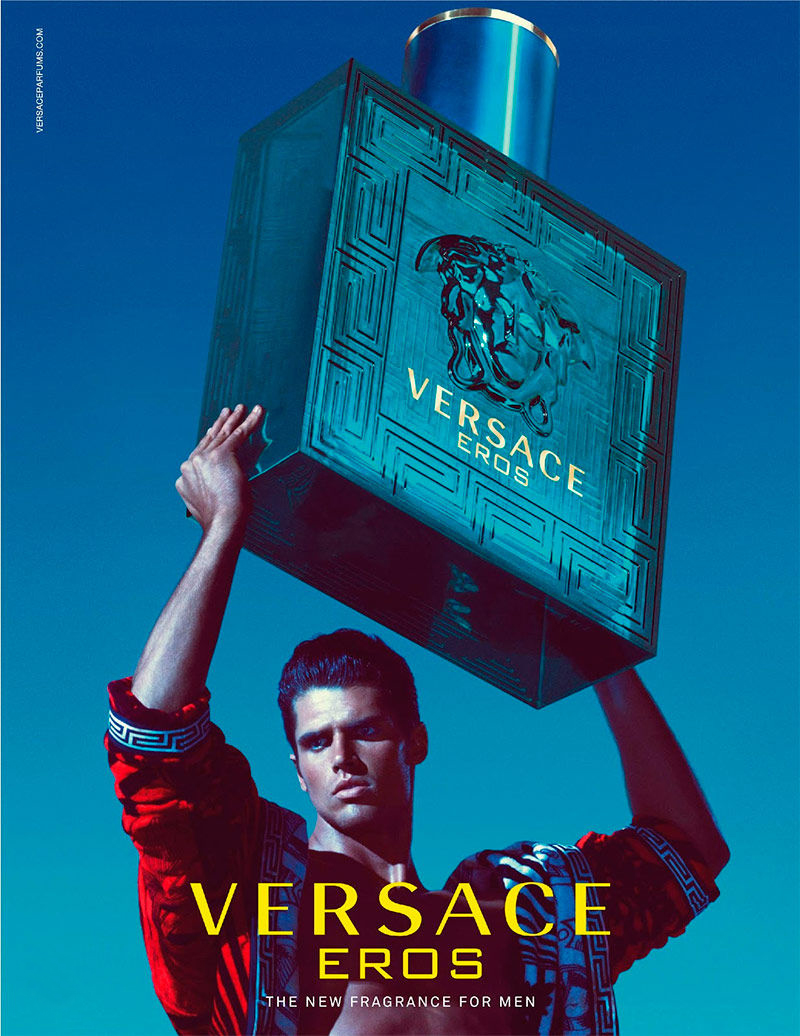 Delving into Greek mythology, the prominent Italian fashion house Versace presents its latest fragrance for men. Designed by Donatella Versace herself, Eros is an ode to the passionate and heroic male character—a modern-day Greek God. She says of her creation: "I designed my new fragrance Eros for a man who is both heroic and passionate, like a Greek God."
Versace Eros Model
Model Brian Shimansky flawlessly personifies the masculine aroma of Versace Eros in the brand's widely known print advertisement and commercial. Photography duo Mert Alas and Marcus Piggott capture the Versace Eros model's handsome physique draped in a robe adorned with classic Grecian prints.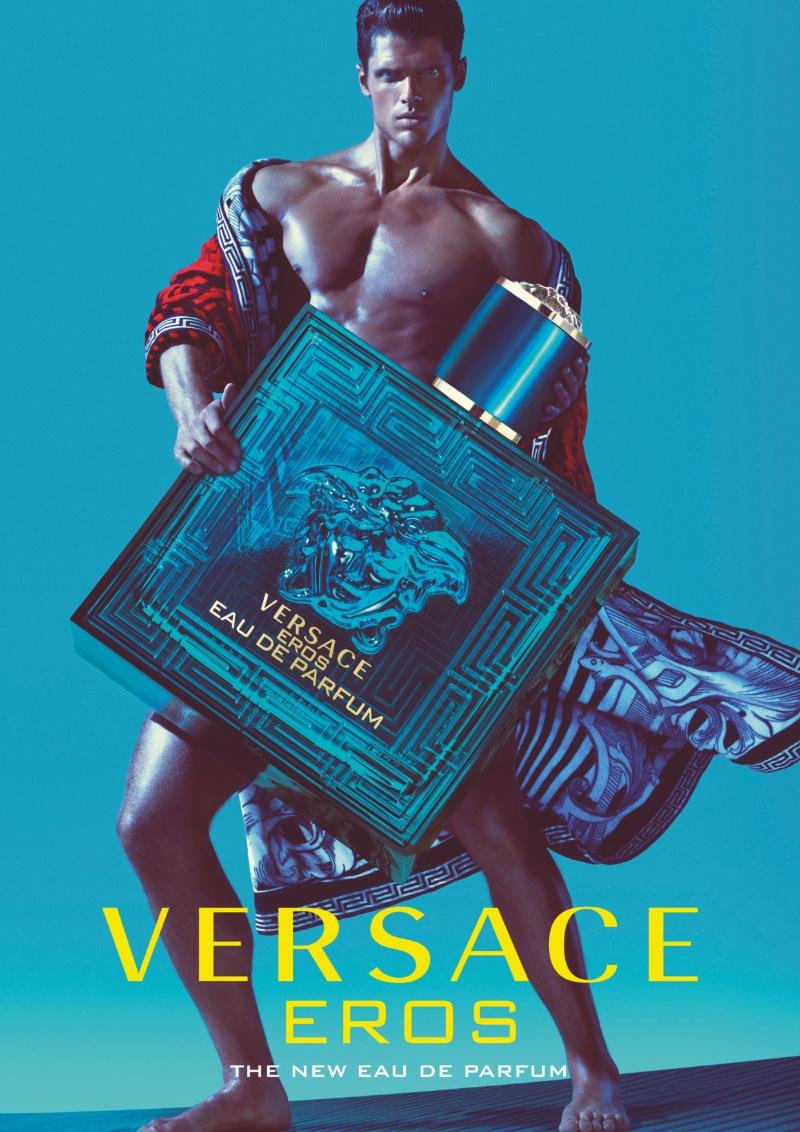 Brian grasps an oversized bottle of the iconic scent, leaving a half-view of his sculpted body on display. For added dramatics, the Versace Eros advert model also dons bold pink underwear for the fragrance campaign.
Versace Eros Pour Homme Fragrance
What does Versace Eros smell like? An exotic aura, seductively alluring on the skin, and robust masculinity are the elements of its bewitching love song composed by Eros himself. It is an empowering scent that exudes confidence and charisma in abundance.
Eros is a scent of profound masculinity, encapsulated in an intense and glowing freshness derived from the mixture of mint leaves, Italian lemon zest, and green apple. Its luminous aura climaxes with vibrant grandeur!
Experience the irresistible allure of Eros, a captivating scent composed of oriental, mysterious, and enveloping notes such as tonka beans, ambroxan (amber), geranium flower, and vanilla. Furthermore, this seductive fragrance is fueled by an electrifying virility symbolized through woods like cedarwood from Atlas and Virginia, vetiver, and oak moss, adding intensity to its power.
The Versace Eros Man
The iconic Italian label revisits its roots and creates a powerful and seductive scent, with packaging inspired by ancient Greek aesthetics. Against a rich blue backdrop, Brian personifies masculine force in the brand's opulent prints, which contrast strikingly against Eros' exquisite bottle design—sleek yet essential.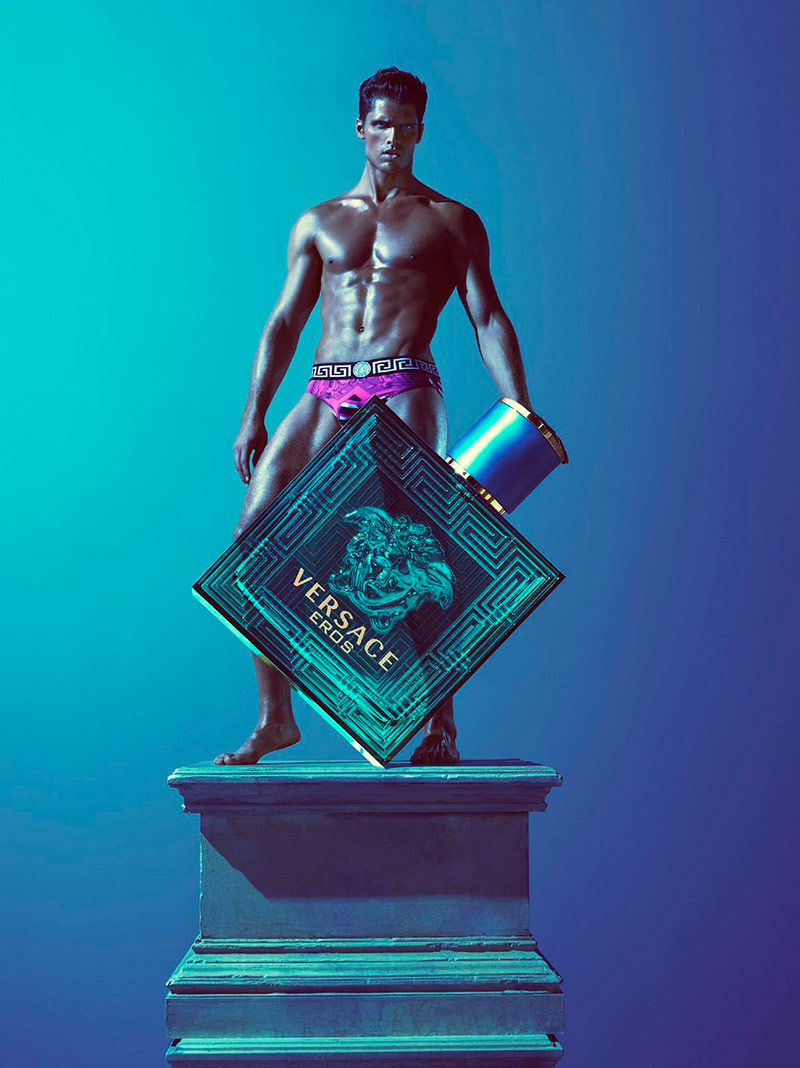 The Versace Eros Actor
What is the link between Eros and Versace's latest perfume? In ancient Greek mythology, Eros was the God of love. His arrows could cause people to fall madly in love with each other at first sight, and he also personified sexual desire (eros), which made him a symbol for those things in life that excite us most—especially matters of the heart.
Thus, it's no surprise that Eros has become a symbol throughout history for everything from romance to lust and now, Versace's newest fragrance for men. To celebrate the launch of its men's fragrance, Versace has created an ad campaign around the concept of modern-day Greek Gods. Featuring model Brian Shimansky as Eros himself, the ads show him in a range of heroic poses suggesting strength and power while also exuding passion and sensuality.
So if you're looking for a scent that will help awaken your inner hero and unleash your passions, look no further than Versace's Eros fragrance. Its intoxicating blend of floral and woody notes makes it the perfect scent for any modern-day Greek God.