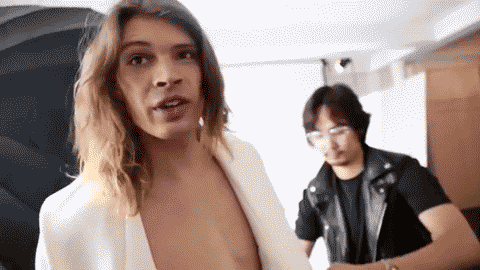 Fusion offers an exclusive behind the scenes look at the world of male modeling with a new special hosted by former model Pedro Andrade. The six-part series follows Cameron Keesling as an up and comer, visiting his former trailer park home in the state of Georgia and discovering the costs of experiencing the world as a model starting out. The special also includes interviews with established models Alex Lundqvist, RJ King and Clark Bockelman.
Interesting tidbits to take away from the feature:
Models make about $40-150,000 on fragrance campaigns.
Models do most editorials for free.
Commercial (catalogue, commercials, etc.) models enjoy more of a longterm career.
Established catalogue models bring in about $200-300,000 a year.
Starting out, catalogue models bring in $30-50,000.
Top models can bring in upwards of $500,000 annually from one client.
Clark Bockelman's first shoot was with photographer Bruce Weber, who believed in him as a star.
Clark has posed for a mannequin that will be in Calvin Klein stores.
Cameron Keesling's diet consisted of a protein bar, juice and water to get by.
Cameron paid $1,200 a month for rent while staying in a model apartment.
Modeling agencies pay up front for travel, lodging and food.
Models don't make any money until the debts to their agencies are paid off.
As of filming, Cameron hasn't made any money modeling.
Watch the rest of the series on Fusion's official Youtube channel.