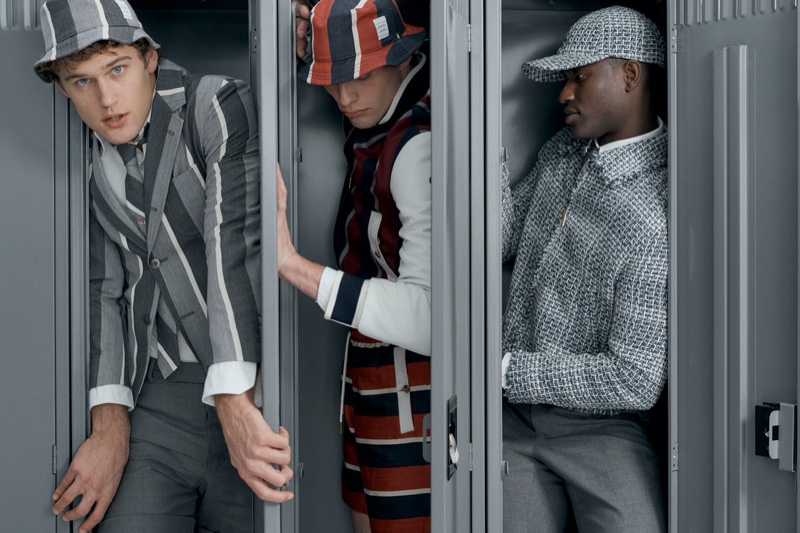 Thom Browne is the latest designer brand to make a splash at Nordstrom with an exclusive Concepts collection. Browne brings its tailored world of red, blue, white, and gray to Nordstrom with a fun sporty theme. Nordstrom's ninth collaboration under the Concepts brand, Thom Browne's new outing has the honor of being called Concepts 009.
Models Conor Fay, Rocky Harwood, and Charles Oduro star in a charistmatic shoot to showcase the range. Luis Alberto Rodriguez photographs the trio, while Ian Bradley looks after styling. Browne's penchant for sartorial suits is juxtaposed with the casualness of slides, joggers, and more.
Related: In Bloom: Alton & Hamish for Nordstrom Spring '20 Campaign
Discussing his partnership with Nordstrom, Thom Browne shares, I feel like collaborations are getting a little overdone, and the only times I ever even entertain the idea is if it's something that's interesting to me—and I think, in turn, interesting to the customer. The designer continues, So, for me, [this] stands out in that it really is not a traditional collaboration; it's a collaboration at a level that is a lot more intellectual and not purely commercial.
Meanwhile, Nordstrom VP of Designer RTW and New Concepts, Sam Lobban adds, What we are excited to discover with Thom Browne is how the concept of 'suiting' continues to evolve in the eyes of consumers. Lobban explains, We have seen so many iterations of it on the runway, and now we're bringing a concept that combines traditional as well as unconventional tailoring to our broader customer base.
Thom Browne x Nordstrom Concepts 009 Collection