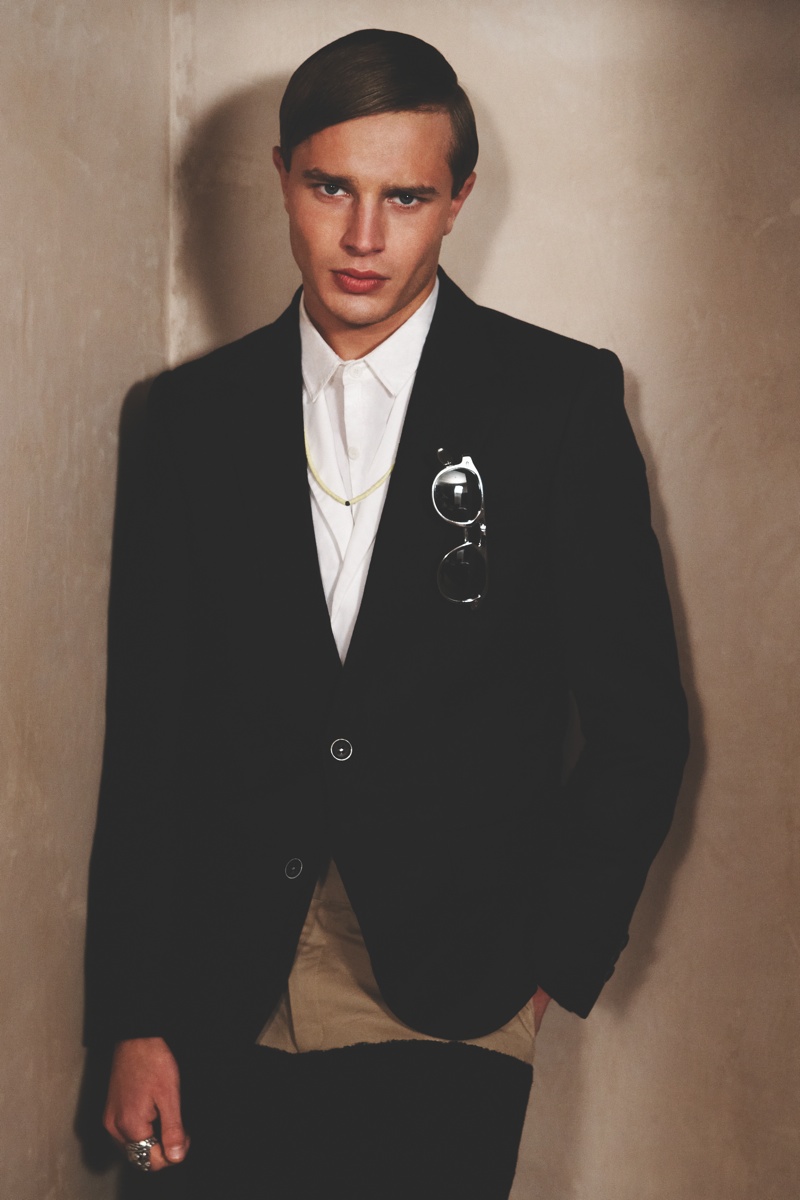 THE NEW GUARD
–Bridging the gap between sophisticated and laid-back, MACHINE-A finds themselves with a well-balanced selection. Jed wears necklace
YUVI
,
sunglasses
worn on blazer
Shaun Samson
, shirt and blazer
Jaewan Park
. All available from MACHINE-A.
When retailer MACHINE-A initially opened, it quickly became known for its unwavering passion for the latest brands and hottest trends. A hot spot amongst fashion elite, celebrities and style aficionados, the store easily became an essential experience. Relaunched recently, the London-based store run by creative director and owner Stavros Karelis gets a minimal makeover. Coming together with co-director and style consultant Anna Trevelyan, Karelis works with Ella Dror and Ashley Smith of Ella Dror PR in continuing to highlight bright fashion talent with a special attention to emerging London designers.
Located at 13 Brewer Street in Soho, MACHINE-A brings together the likes of Agi & Sam, Shaun Samson and Alex Mattsson for a colorful offering. Taking into account ideas and design aesthetics, Karelis looks for "innovation, brand focus, talent, hard work and commitment" when it comes to selecting up and coming designers to feature. "It's important for any emerging brand to have great retail awareness and a degree of business acumen as well. Designers have to be able to create desirable products that can compete within the luxury fashion marketplace, and they need to be able to achieve this consistently season-on-season. It's all about high quality, affordable, innovative design talent and offering products that our customers want and can trust."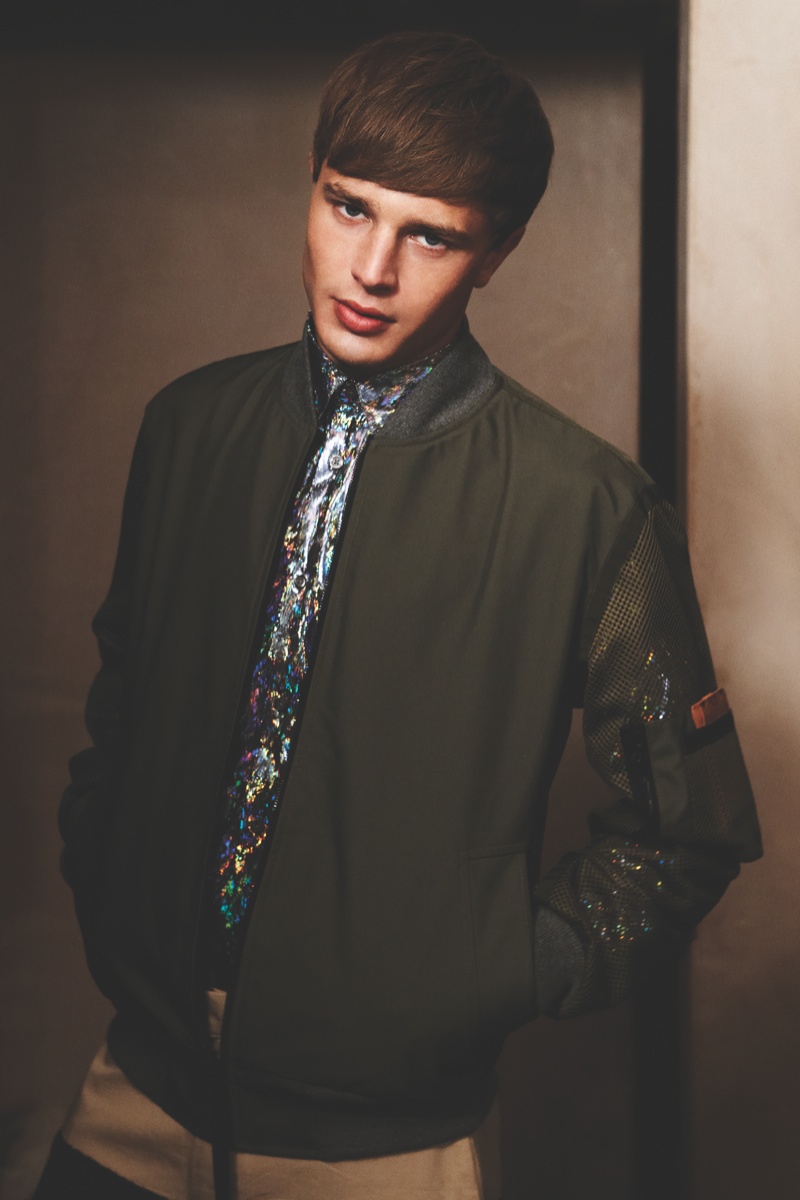 Jed wears shirt Mugler, jacket Christopher Raeburn, shorts Shaun Samson and leather credit card holder worn in sleeve of jacket MCM. All available from MACHINE-A.
Aiming to be the ultimate fashion experience, the new store acts as a blank canvas to showcase the unique selection. The store's interior designer, Andrea Cellerino conceived a minimal space where the products are the main attraction. Karelis acknowledges that in the past, MACHINE-A "was known for pushing the boundaries of the retail experience through window installations, visionary events, and exclusive collaborations." However, customers now should expect a new retail experience; one "where they can shop the latest trends of their favorite brands as well as discover new labels that will play a very important part in the future of fashion." This idea will also extend to the shop's online presence at www.machine-a.com. Curating a who's who of the emerging fashion talent pool, MACHINE-A's vision is clear. It is a solid platform for contemporary fashion.
Originally published in
Fashionisto
#7. Photos by David Edwards. Styling by
Kenny Ho
.
Grooming
by Jay Zhang @ ERA Management using Bumble & Bumble and M.A.C. Cosmetics. Photo assistance by Vince Cerri. Model Jed Texas @ Elite London.