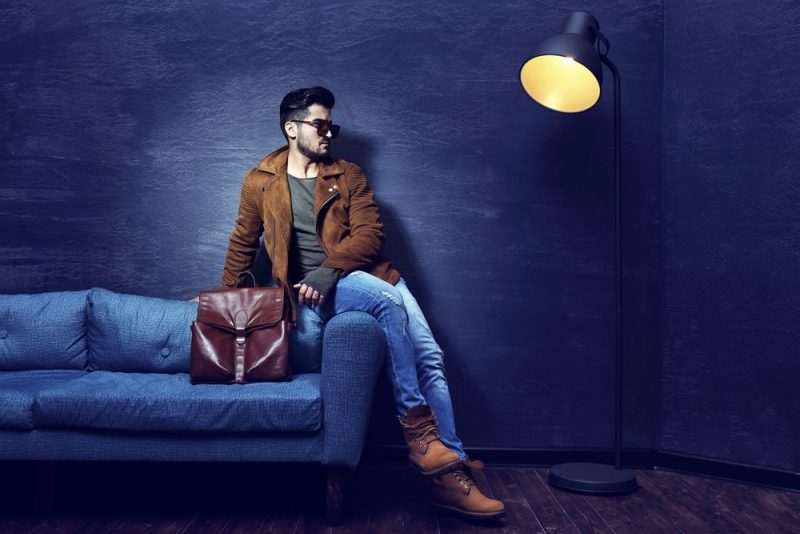 There is something about wearing a brown suede jacket that elevates your outfits from decently good to amazingly great while giving you a ton of style options. To an extent, this wonderful variety is one of the biggest strengths of suede. It keeps you comfy, makes you look stylish, and allows you to express yourself in a myriad of ways. One can say that great quality brown suede jackets are a must for every man.
Suede is an interesting option for folks who want to benefit from the warmth and durability of leather, but don't like the shiny, sometimes over-glossy look. Clothing items like a brown suede jacket for men provide a more "matte" texture while retaining all the benefits of regular leather. This unique texture also produces some of the best color shades, especially brown, as brown suede jackets are some of the most killer fashion and style icons in the men's outerwear market.
What Makes Suede So Unique?
As the name implies, Suede is made out of suede leather, which is a special kind of leather finish. Unlike some raw materials, suede is known for being extremely lightweight compared to regular leather while retaining the same level of durability as leather. An excellent quality suede jacket for men gives off a luxurious and posh feel while costing in the same ballpark as any other high-quality leather jacket.
Suede leather jackets are some of the most instantly recognizable pieces of men's outerwear fashion. This immediate identification is partly due to the material's matte, grainy texture and partially due to the extravagant designs and vibrant colors that only suede can achieve.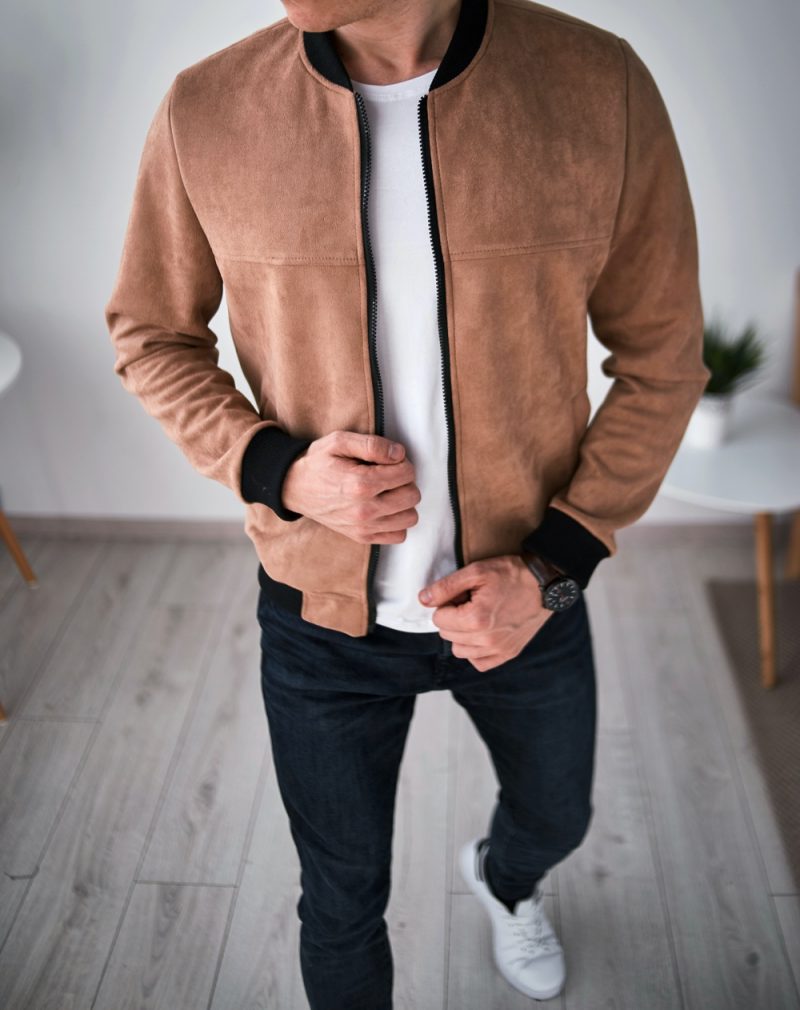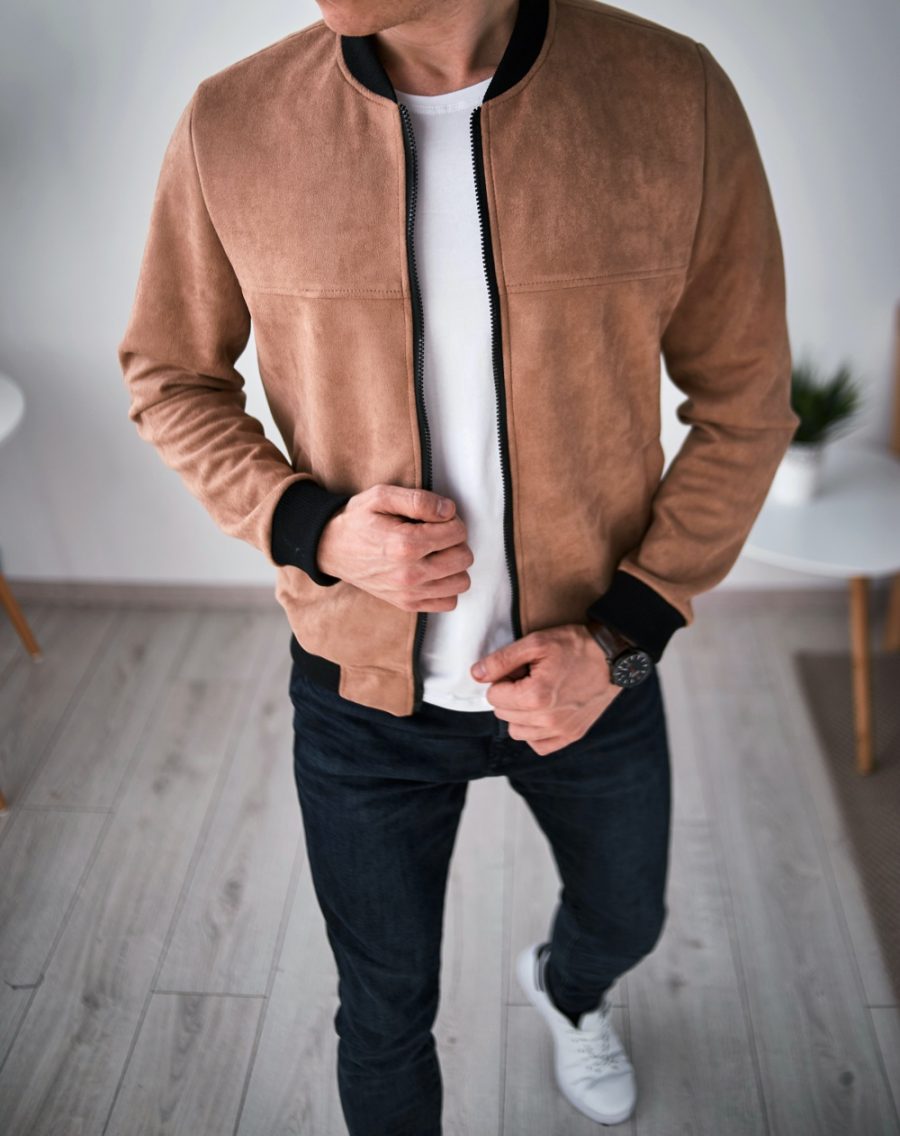 What Are the Benefits of Owning a Brown Suede Jacket?
Owning a high-quality brown suede jacket will raise your fashion and style game to a whole new level. The material and designs of these jackets are absolutely timeless, and they fit modern clothing as well, if not better, as they fit retro-inspired clothing going back to the 70s and 80s. Brown suede jackets for men are so popular some style aficionados even have their very own best suede jacket collection.
Adding just a single, simple brown suede jacket to your wardrobe opens many doors for your day-to-day fashion and outfitting. The versatility and flexibility of these excellent jackets are something that can seem too good to be true. But it is true, and that suppleness is the reason why you can outfit your suede jacket with a shirt and a tie for a business meeting and a fancy V-neck for your walk to the local coffee shop.
How to Wear a Brown Suede Jacket
While it is true that suede is extremely adaptable and works with almost anything, there are a few things that you should know before attempting to craft a suede jacket men's outfit. Because even if your brown jacket styles perfectly fine with 99% of the stuff in your wardrobe, it doesn't mean that everything would make a spectacular and remarkable outfit.
The most important thing to keep in mind is the texture of a suede jacket. The surface of the suede is not smooth or plain. It has a very organic yet prominent texture. This allows it to add depth and visual interest in plain cotton shirts and simple black jeans. A good quality jacket also works tremendously well with suede boots and belts, but it is simple to go overboard with textures and make the whole outfit look bad, which you should avoid at all costs, should you be seeking a more simplistic look.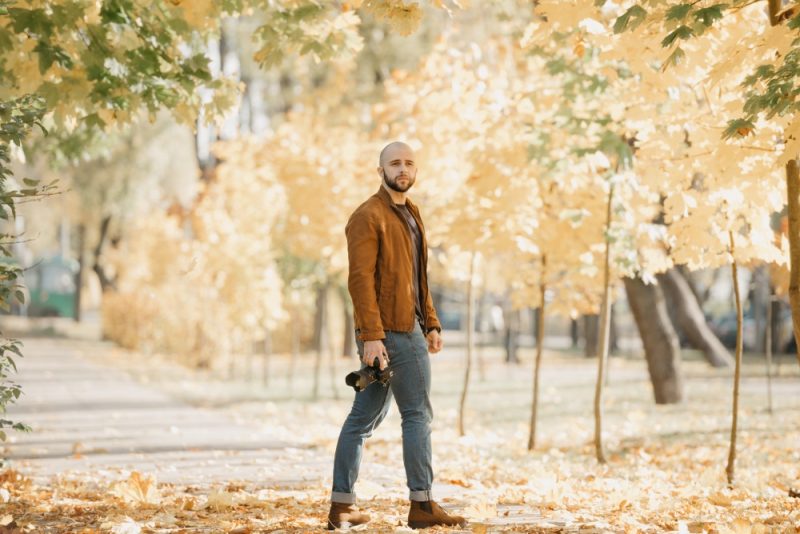 What to Wear with a Brown Suede Jacket
Now that we have a basic understanding of how brown suede jackets fit into our wardrobes and know what to avoid, let's dive into the topic of styling your jacket with different clothes, colors, and accessories. Here are some of the best styles that you can try with your brown suede jacket.
Office Formal: As the name suggests, this style is all about flaring up your boring office attire with a gorgeous dark brown suede jacket and a pair of shiny leather shoes. However, the key to this style is its minimalist hue, as a bright blue shirt or a vibrant red tie would not look good with a brown suede bomber. The best way is to stay in more of a light blue and a grey area for maximum fashion and complete class.
Weekend Casual: This look is all about that comfy and relaxing Saturday morning look, so your outfit should reflect that. Brown suede bomber jackets for men are great for relaxed occasions. An excellent way of complementing this style is with a soft sweatshirt, a pair of jeans, and the simplest pair of sneakers you can find. The colors could be a bit brighter and more vibrant, but the whole outfit should be comfy for your eyes and retain the core style.
Layered Lad: The best time to experiment with this look would be in winter, as layers will provide you with protection against the cold, as well as style and fashion. A tried and tested way of achieving this look is with a checkered dress shirt, a lovely wool sweater, and a light brown suede jacket to tie the whole thing together. You can also get into layers by swapping the sweater for a well-fitting hooded sweatshirt and topping it all off with a biker suede jacket. The same jacket also goes well with a turtleneck.
Colorful Contrast: Crafting this look is all about creating a harmonizing contrast between two clashing items, pairing a colorful t-shirt and bright blue ripped jeans with a dark brown vintage suede jacket. Alternatively, a tan suede jacket for men is another beautiful way to build contrast. There is a lot of room for error with this look, as not every custom combination will result in proper contrast, so be mindful of color and style combinations when crafting an outfit with this expression.
Muted Tones: There are plenty of styles and outfits of brown suede jackets that will make you the center of attention for everyone in the room, but not everyone wants to be in the spotlight, and not every place suits a bold, attention-grabbing outfit. This look aims to solve this issue by dressing you in soft and plain colors muted and often lean towards black and grey. If you decide to put on this style, a dark grey or even black turtleneck neck can add a lot of character to your brown suede jacket for men.
Streetwear Chaos: Last on our list, but certainly not the least in the world of fashion, this look is all about self-expression and self-confidence. Do you want to wear all-black under your brown suede jacket? Sure. Do you want to wear a colorful striped V-neck, a pair of bright blue jeans, and a set of trendy sneakers? Sure, you can absolutely do that.
This look is not confined by the "laws" of preconceived styles and allows you to experiment with your ensemble. There is just one thing to keep in mind. That is to, whatever you wear, wear it with confidence in yourself and your sense of fashion.
Conclusion
A high-quality and versatile leather jacket is the cornerstone of any man's wardrobe. The flexibility to rock it almost daily in new and exciting styles is not something any other piece of men's fashion provides, and a brown suede jacket is the textbook example of this. If you are someone new to the world of leather jackets, or an enthusiast looking to expand your collection, a fancy brown suede jacket is a purchase you would thank your past self for making.