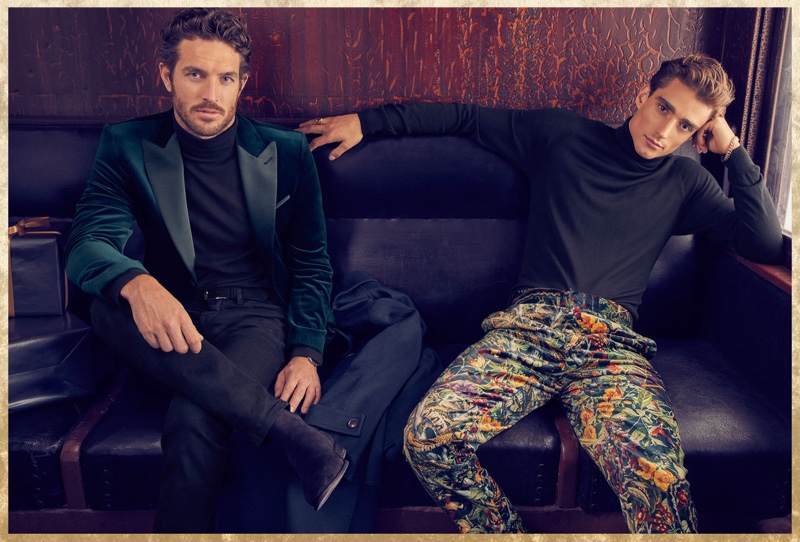 Simons boards a train of celebration for its holiday 2019 campaign. The retailer tackles traditional style with contemporary menswear from brands like LE 31 and DJAB. Models Justice Joslin, Robbie Beeser, Kane Roberts, Thomas Todd, and Jasiyah come together to showcase Simon's must-have looks for men.
Formal looks for the season begin with dress shirts that range from the sensible to the wonderfully adventurous. If you're looking to make a statement this Christmas, check out LE 31's organza printed shirt.
Related: Lono, Darwin & Gabriel Model Sherpa & Velour for Simons
Alternatively, Simons packs a stylish punch with its selection of suit jackets as well. The sartorial range includes everything from refined blues, grays, and blacks to jackets that burst with extraordinary festive color. Take a note from Justice, who dons a LE 31 velvet tuxedo jacket in kelly green.
Related: Louis Baines Sports Collegiate Style for Simons
Simons' offering of pants come in an eclectic range of fabrics and colors as well. Choice pieces stand out with emerald corduroys to velvety numbers sporting burgundy checks.
Clothing for the holidays at home is present as well with festive pajamas. Whether you want to fit in or stand out this holiday period, Simons has you covered. With stylish staples on the one hand and fantastically eccentric prints on the other, Simons' holiday range caters to both introverts and extroverts alike.
Simons Holiday 2019 Campaign