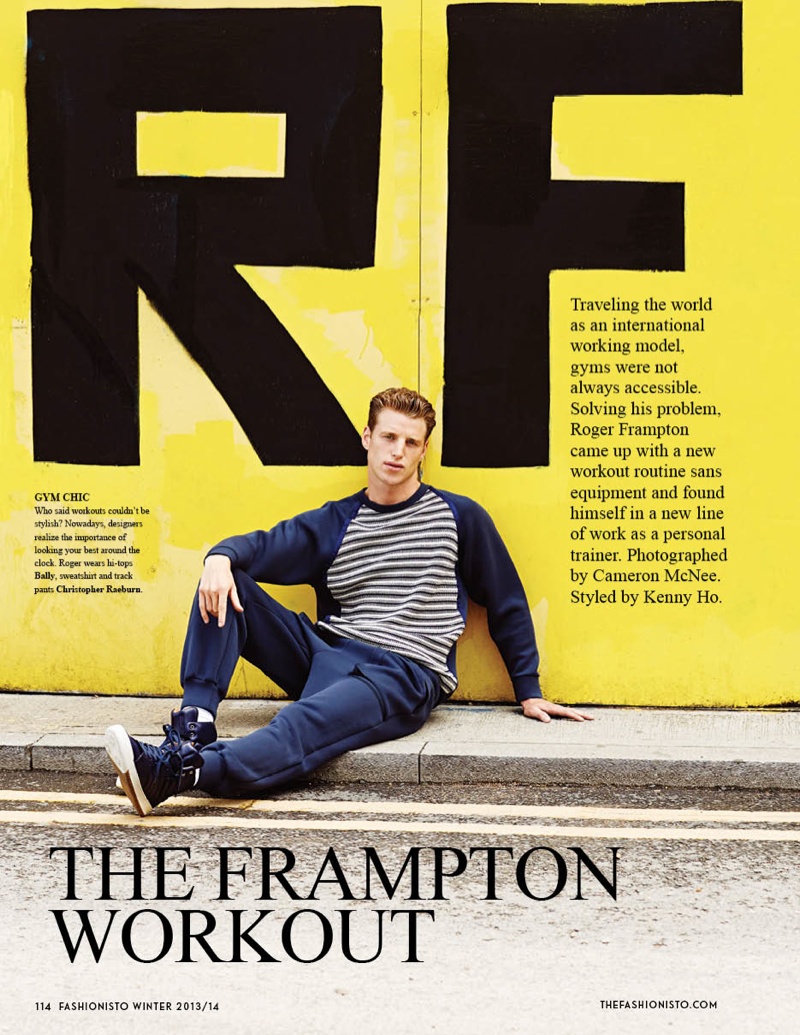 The Frampton Workout–Long before appearing in advertising for Ralph Lauren or walking down the catwalk for labels such as Missoni and Vivienne Westwood, Roger Frampton was a young teen with a habit. Frampton confesses, "I was that kid behind the bike sheds at school. I was a smoker and I really enjoyed it." However when it came to activities like sports day, he would find himself winded, consistently coming in last. On a chance day while visiting his grandmother, he was inspired to run, igniting his love for fitness. "Every day I would do the same route trying to beat my time even if just by a sec each week," he remembers. "I got faster and faster. It is crazy what the body can achieve over time when you take it to its limit. Now I'm running under five minute miles."
Embracing the challenge that comes with regular exercise, Frampton enjoys pushing himself and seeing others working towards their goals. He explains, "It's just the rush of breaking down the body each time. Yes, at times, you may struggle and it may feel horrible but when you leave the track knowing you pushed your body and mind way past its limit, it feels great." Frampton associates a sense of freedom and power with fitness. Working as a personal trainer, Frampton hopes to help others find that personal strength.
Originally a fashion model, Frampton's love for fitness came in hand as the job demanded that he be in top form. Traveling the world, especially for fashion week in New York, Milan and Paris, people always inquired as to how he kept in such great shape. He recalls discussing his workout plan to much surprise, "Many were surprised that my method didn't require using weights or gym equipment." Seeing an opportunity to educate others about a new method of training "without the need for any equipment – simply taking advantage of the most powerful; and ironically free, tool ever, the human body", Frampton decided to look into a new career and thus 'Frampton Fitness' was born.
Initially focusing on models and looking to create a fitness plan that could be accomplished anywhere, from the park to even backstage at shows, Frampton developed plans using the body to work out. One day when a model friend expressed "Oy Roger can you Re-Model-Me me?" a new name for his endeavors was solidified, 'Re-Model-Me'. It was catchy and appropriate for his initial clients; models, but it still works now as he has remodeled training for those ready to escape the boredom of gyms.
Leaving the heavy weights behind, Re-Model-Me teaches a full body exercise. Frampton explains that "Lifting weights in one directional movement like you would see in most gym environments is like still believing that muscle isolation exists." He reiterates seeing the human body as one big muscle that is linked. Training certain areas to be stronger than others leads to imbalance. "Every single exercise that Re-Model-Me teaches, is a full body exercise. We don't do 'leg days', 'arm days' or 'core' workouts. Every single exercise trains the body as a unit which is exactly the way it's meant to be trained. As a consequence there is less scope for injury and weakness in certain areas of the body as everything is supporting each other."
While weights are still an excellent tool to achieve muscle growth, Re-Model-Me emphasizes that you don't need to lift weights. "Your training regime is about personal preference and we aim to show that you can achieve an amazing look without entering a gym or picking up one piece of equipment." Frampton continues with an appropriate mantra, "Gyms are business. Re-Model-Me is fitness." It's important what training method you employ as it will dictate your look "so if you lift weights like a weight-lifter, make sure that is the look you actually want to achieve! If you want the speed of a sprinter, the strength and balance of a gymnast, the flexibility of a yogi, well it's been here with you the whole time…'the human body', the most sophisticated machine known to man ."
Much like his training methods, Frampton recommends a simple diet, making sure to point out that "healthy is not always skinny and skinny is not always healthy. Eating healthy is about consuming a balanced diet and eating the right foods for you.
Keeping it fresh, Frampton suggests that you put down "the energy drink or that crap protein shake", instead opting for vegetables. At the end of the day, he explains the importance of remembering that "your food is your fuel and that fuel affects your engine which will ultimately affect your performance." Thinking ahead to spring and its warmer weather, if not already working on your fitness, it's the perfect time to start. If anything can be learned from Re-Model-Me, it's to focus on your unique path, embracing a diet and exercise techniques that are right for you.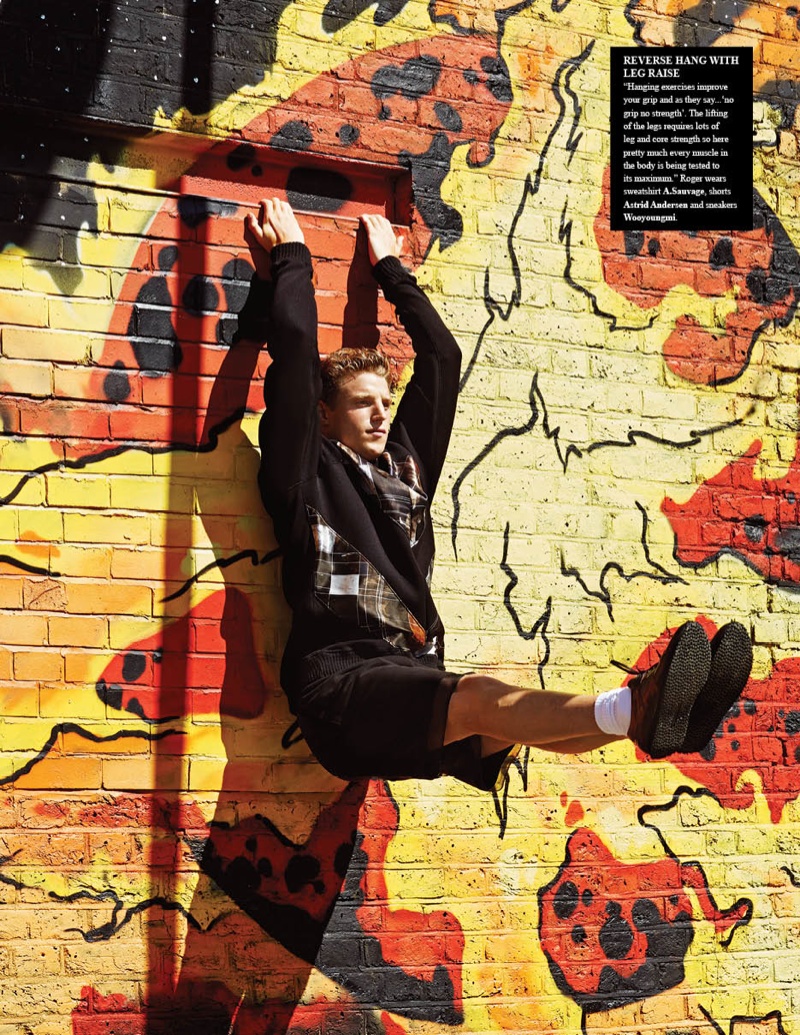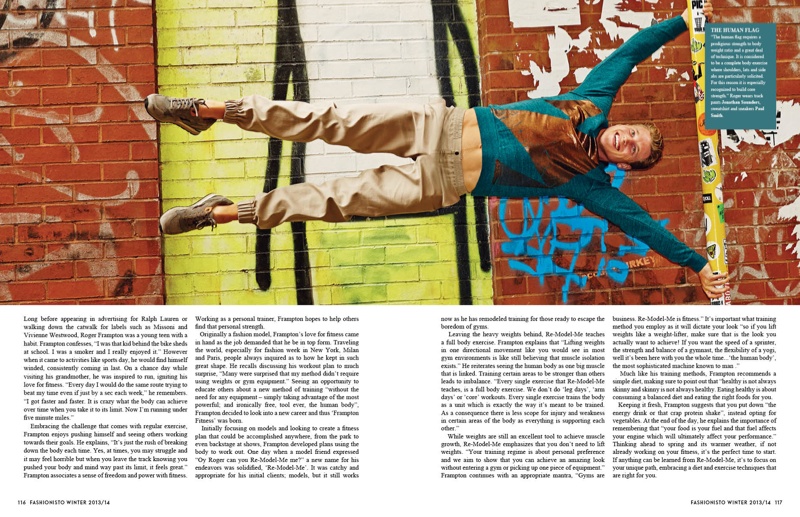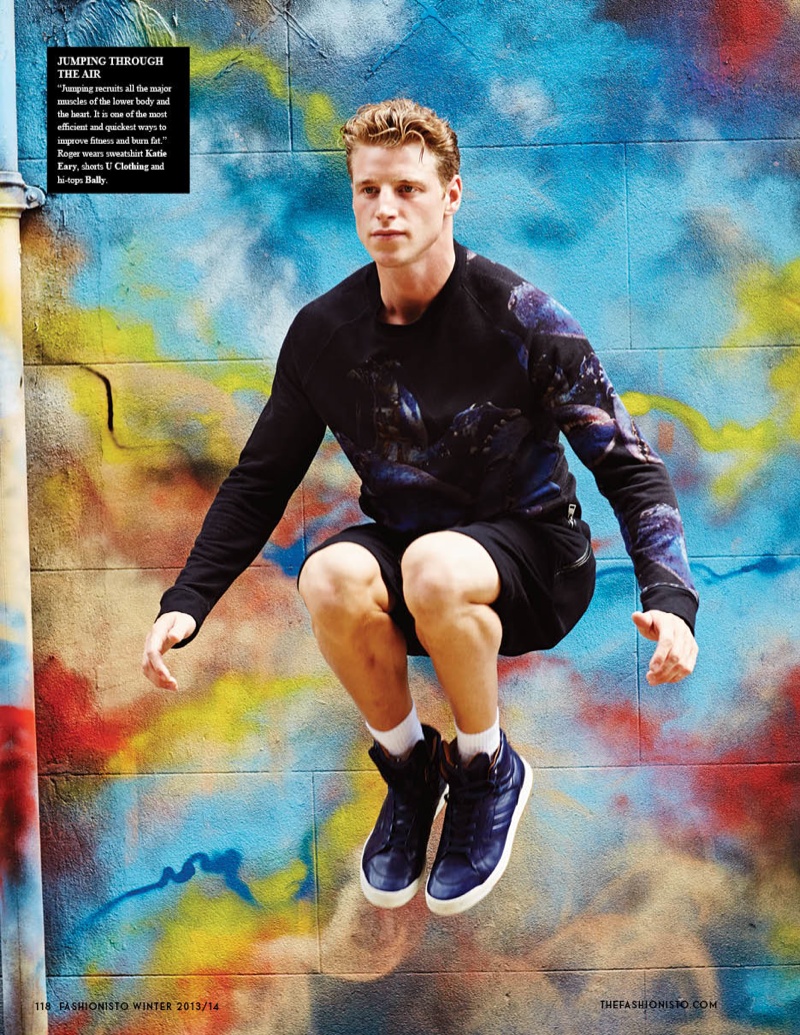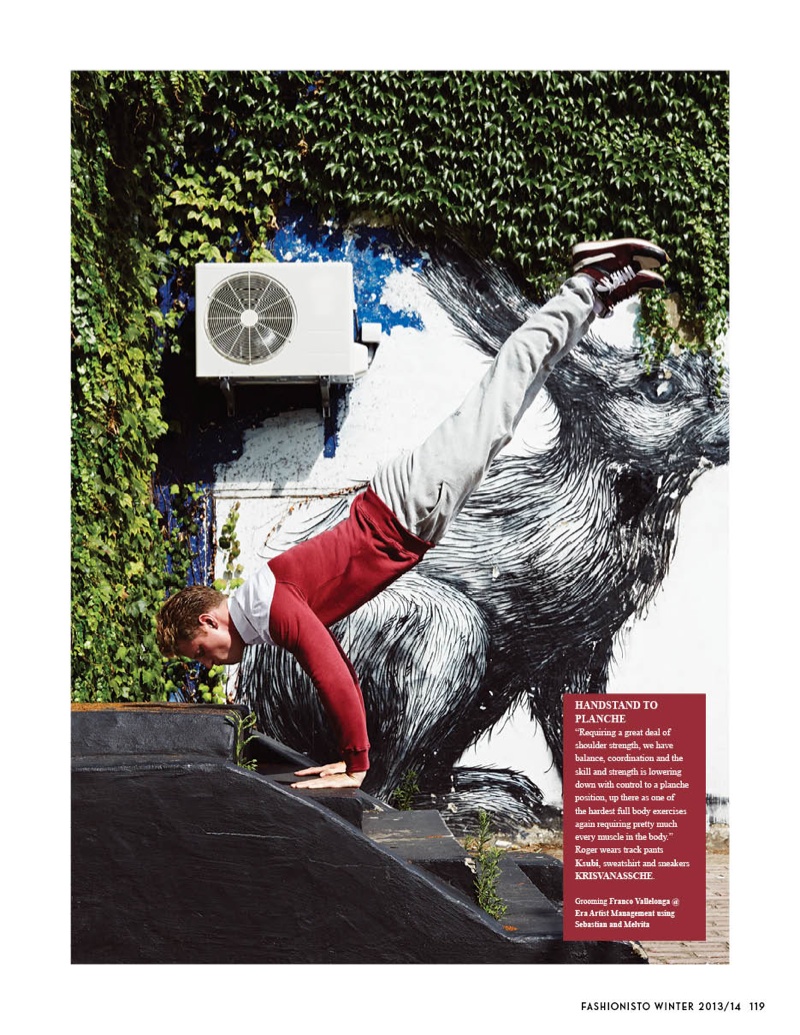 Article originally appeared in
Fashionisto
#9. Photos by
Cameron McNee
. Styling by
Kenny Ho
. Grooming by Franco Vallelonga (Era Artist Management) using Sebastian and Melvita.