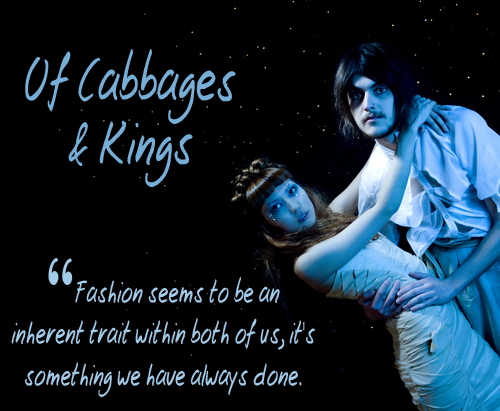 The Fashionisto: What is your fashion background?
Tane Andrews, Of Cabbages & Kings: I have a degree fine arts and have studied graphic design and Kira has studied fashion as well. In some way or another we have always been involved in fashion, but it wasn't really until we started the label that we began to develop our practice. We are continually learning and growing, which I think is the most rewarding part.
TF: Personally, what are your own shopping habits?
TA: Well we are currently living in London so our shopping habits have been a whole lot of looking and very little buying.
TF: What designers do you like?
TA: Alexander McQueen, Vivenne Westwood, Ricardo Tisci, Gareth Pugh, Junn J, Junya Watanabe, Olivier Theyskens, Julia deVille, Aitor Throup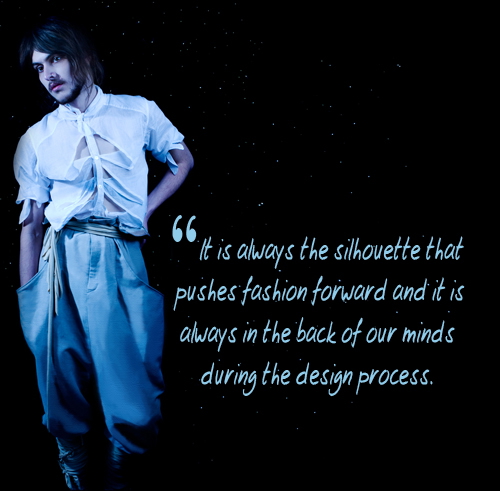 TF: How did OC&K come about?
TA: Kira and I have known each other for over ten years now, and we have always worked collaboratively on artistic projects through out that time, so I think we were destined to work together on something more substantial in the long term. Of Cabbages & Kings was born as a summer project, we started so small and just kept building steam.
TF: How does your partnership work?
TA: We work on every element in equal parts. There are processes that one of us knows better than the other, but nothing is left solely to one person.
TF: What is the production process from idea to finished product?
TA: With everything we do we spend a lot of time researching and collecting imagery, then we illustrate masses of garments and looks, (filling many a visual diary as we go,) then we tear all the drawings out and stick it all on a giant wall and pair back from there. We then refine and select the designs, and finally we pattern make and construct everything.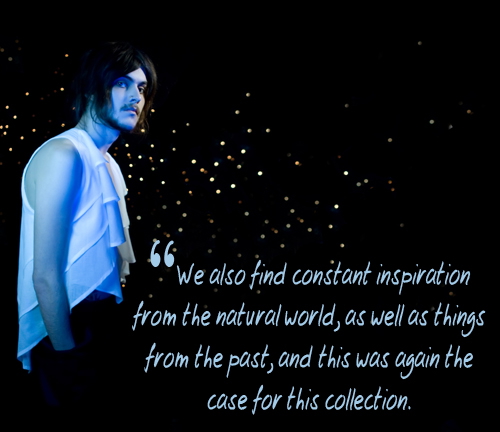 TF: How do you approach the silhouette of a garment when designing?
TA: We think about extremes, and always try and work with a few different shapes within the same collection. Sometimes a look might start with a silhouette, whilst others the silhouette might follow a certain idea or theme. It is always the silhouette that pushes fashion forward and is always in the back of our minds during the design process.
TF: What inspired this collection?
TA: With this collection, we started with a relatively dark subject and then we worked out how we could explore elegance within the materiality. We also find constant inspiration from the natural world, as well as things from the past, and this was again the case for this collection. We started by looking at the illustrations of German naturalist Ernst Haeckel and the sirens paintings of Herbert Draper, and then just continued to build from there.

TF: When you think of the new collection, does a song or particular story come to mind?
TA: Under Ice by Kate Bush was the song we used when we showed it on the catwalk for the first time, and we used it to name to collection as well, so that comes to mind. We always have music on in the studio, I think we were listening to a lot of Jonny Cash and Dandi Wind when we were designing this collection.
TF: Anything else you would like to add?
TA: www.ofcabbagesandkings.com.au