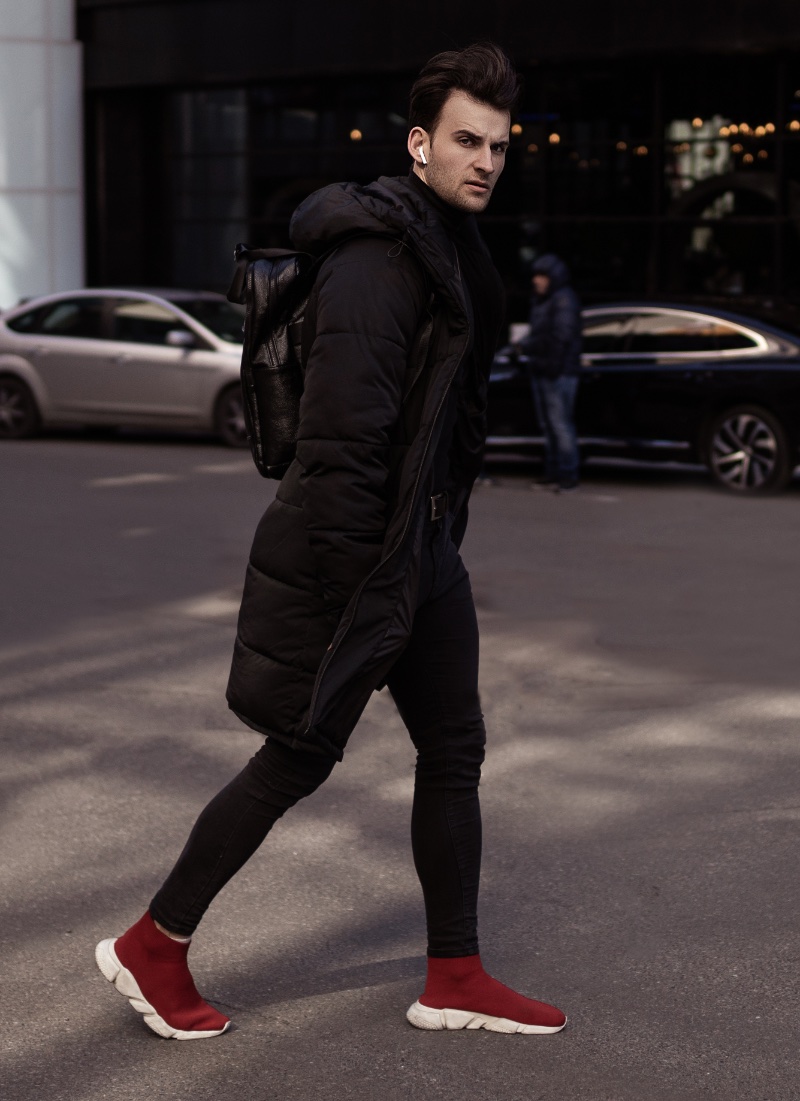 In winter fashion, the puffer holds a distinct position. Far more than just a barrier against the cold, the style acts as a statement piece, taking the spotlight in puffer jacket outfits for men. Whether stepping out in relaxed denim or elevating a simple ensemble, this jacket adds a unique flair.
With its roots in practical outdoor gear, the puffer has ascended to a cherished spot in the fashion canon, making it an undeniable staple for cold-weather style. Tracing its lineage from practical outdoor essentials, the puffer jacket has evolved into a cornerstone of high-street sophistication.
Each winter, its reemergence on fashion runways and bustling city streets is a cultural event, signifying the season's shift. If you seek warmth paired with sartorial flair, look no further.
The Puffer Jacket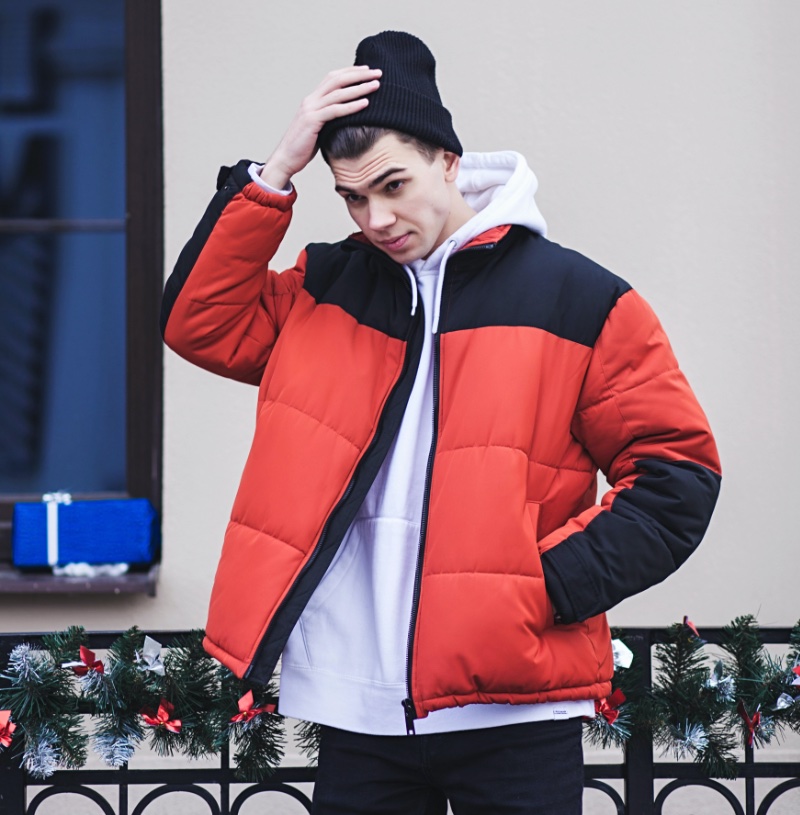 So, what makes the puffer jacket unique? Simply put, it's built for the cold. The quilted design is filled with either down or synthetic insulation to keep you warm. This quilting works like a charm, trapping air to spread warmth all over you.
Types of Puffers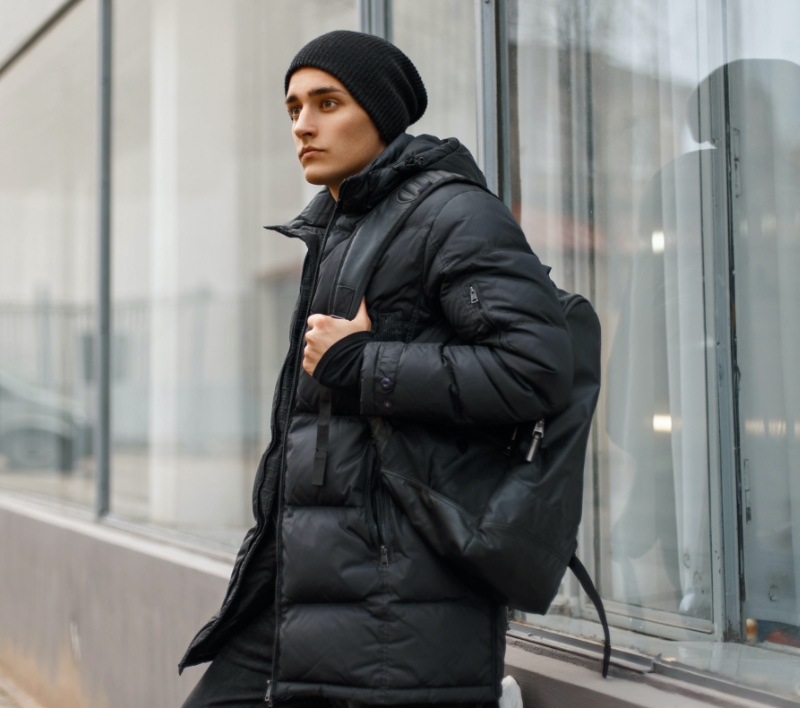 A spectrum of styles exists for puffer jackets, including what some might refer to as the urban bubble coat. Although "bubble coat" is often synonymous with "puffer jacket," the urban variation is typically tailored to suit city lifestyles, melding warmth with street-smart aesthetics.
Classic Puffer: Ideal for everyday wear, it features a shorter length, a stand-up collar, and a zip or button closure.
Long Puffer: It offers extra coverage by extending beyond the waist for freezing days or outdoor events.
Down-Filled: It provides superior warmth and breathability for extreme cold and winter sports.
Synthetic: Like down-filled puffers, this animal-free option still offers solid insulation.
Puffer Jacket Outfits for Men
The All-Black Ensemble: Understated Elegance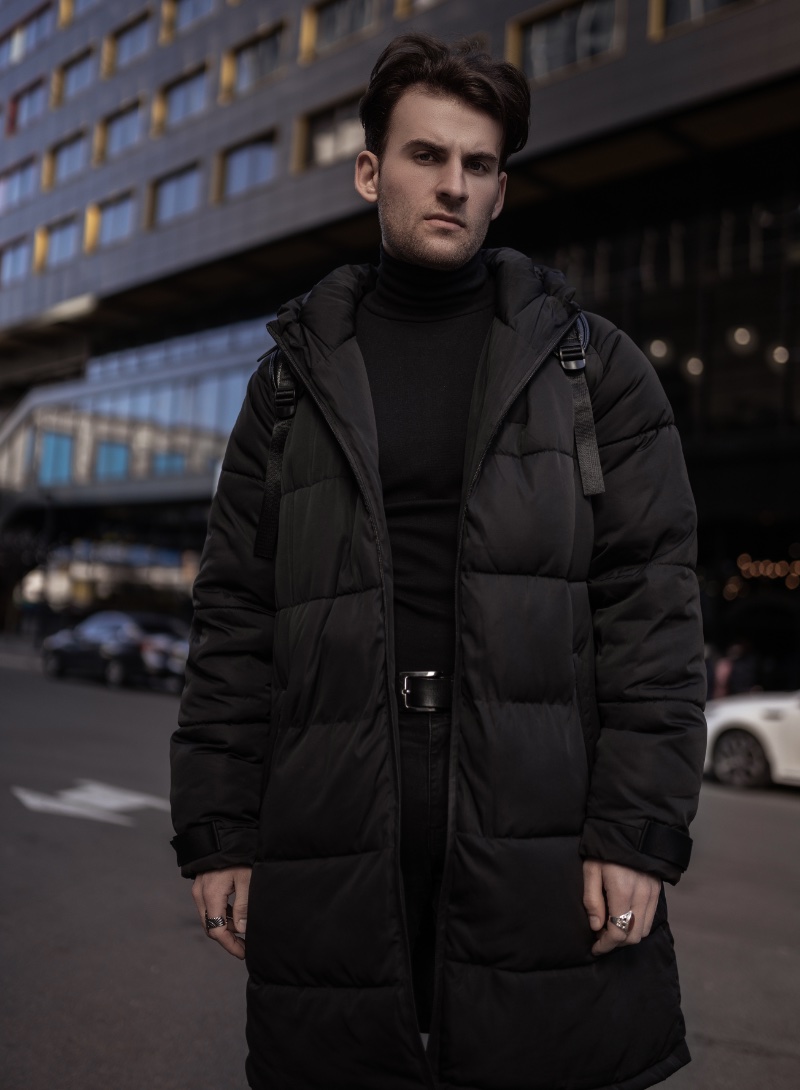 For those who appreciate the timeless appeal of monochrome, an all-black ensemble offers a canvas rich in sophistication. Picture a long black puffer jacket, its length adding a touch of modern drama. Beneath it, a black turtleneck is a minimalist counterpoint, lending warmth and textural contrast.
Add black jeans into the mix, and you've got an outfit as versatile as stylish. Bring it together with a sleek leather belt, and you've created a look that transcends mere seasonal trends.
Streetwear Savvy: Casual Meets Cool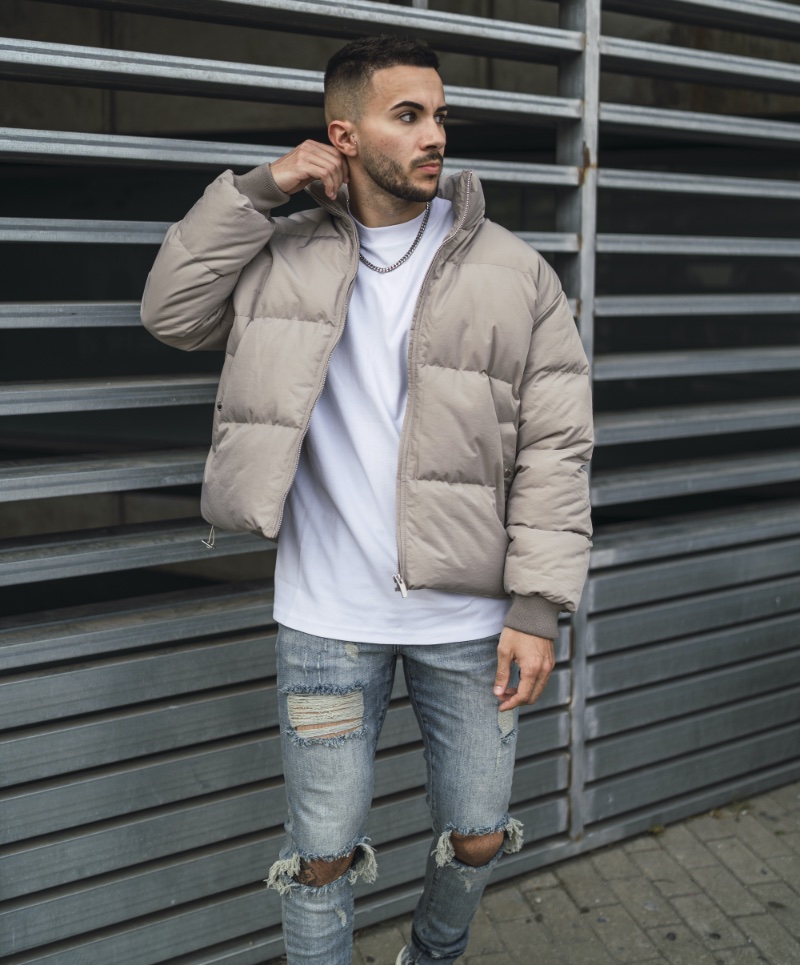 In streetwear, a short puffer jacket is akin to a hit single—instantly memorable and infinitely versatile. Pair it with a simple white t-shirt, and you've laid down the rhythm section of your outfit.
Add ripped jeans to introduce an edge, like throwing a surprising guitar riff. On your feet, sneakers serve as the beat that ties everything together. To finish off, consider a chain necklace.
The Sartorial Puffer: Merging Function with Formality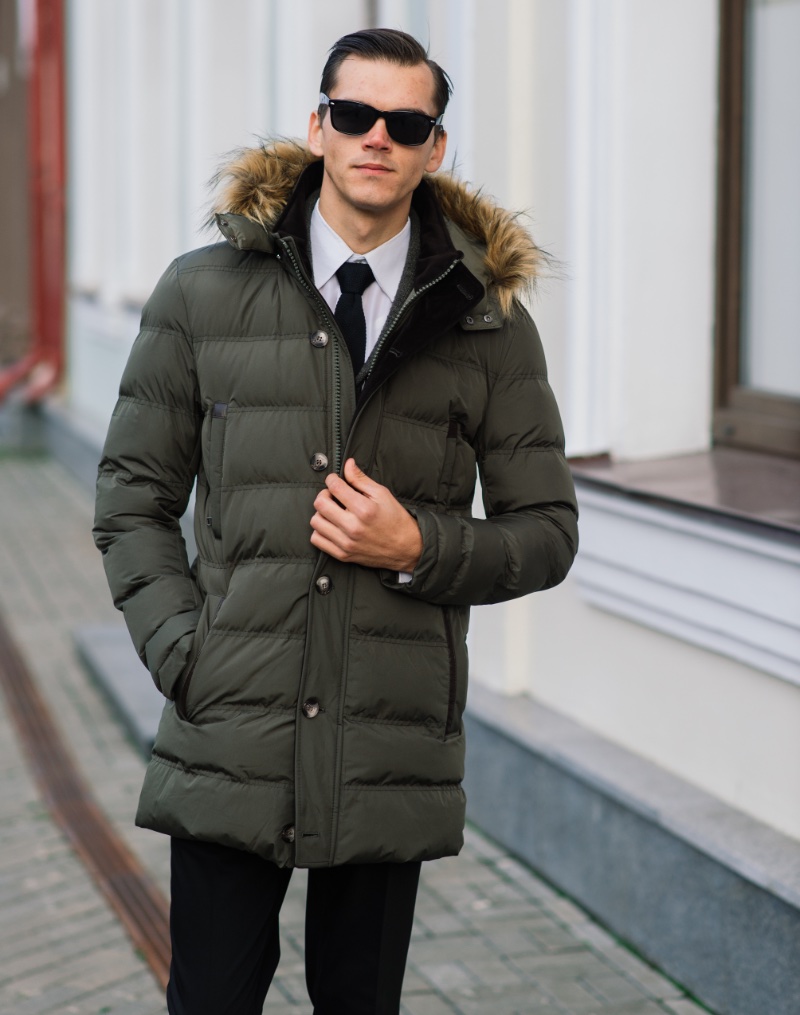 There's a sweet spot where functionality meets finesse. Consider a medium-length, slim-fit puffer jacket layered over a well-tailored, neutral-colored suit. The slim lines of the jacket mirror those of the suit, preserving the ensemble's sleek architecture.
A crisp shirt and a matching tie lay the final bricks in this sartorial structure. Each piece sings harmoniously, offering a seamless blend of practicality and polish.
Athleisure in Monochrome: Where Comfort Meets Cohesion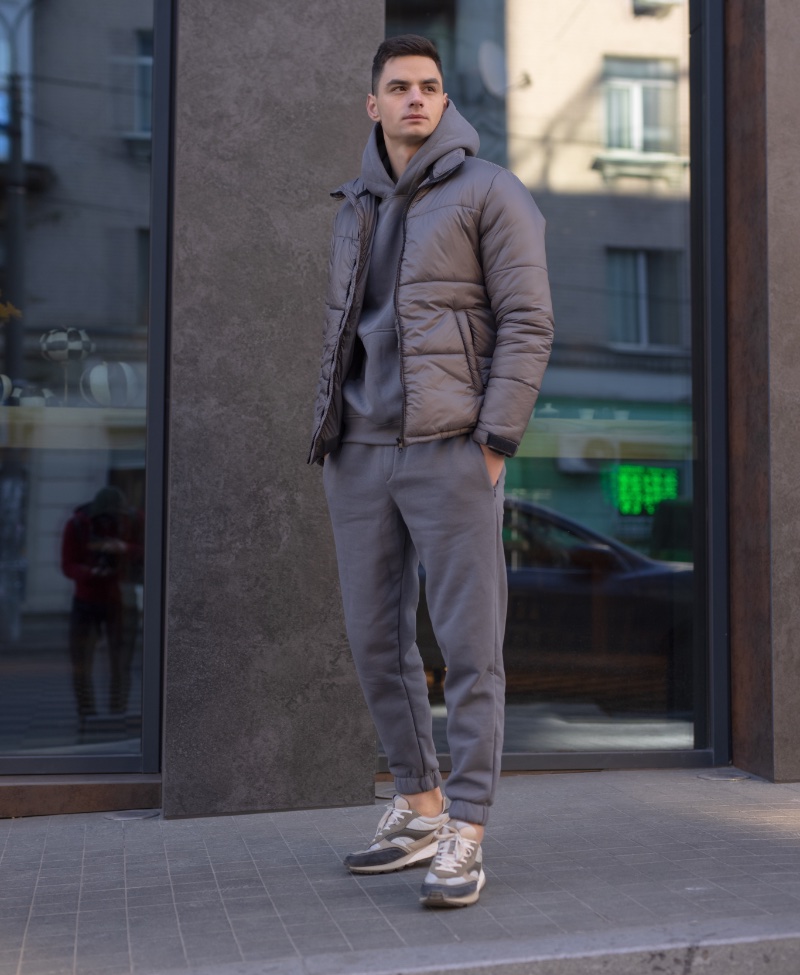 In the intersection of athleisure and monochromatic style, there's an outfit that speaks to both comfort and visual harmony. Picture a matching hoodie and joggers in a single, muted hue, effortlessly establishing the monochromatic base of the ensemble.
Layer a puffer jacket over this, selecting a complementary tone that whispers rather than shouts. Athletic sneakers in a matching shade take the stage for the final act. Each element converses with the others, crafting an outfit that serves form and function.
Styling Tips for Puffer Jackets
Layering with a Puffer Jacket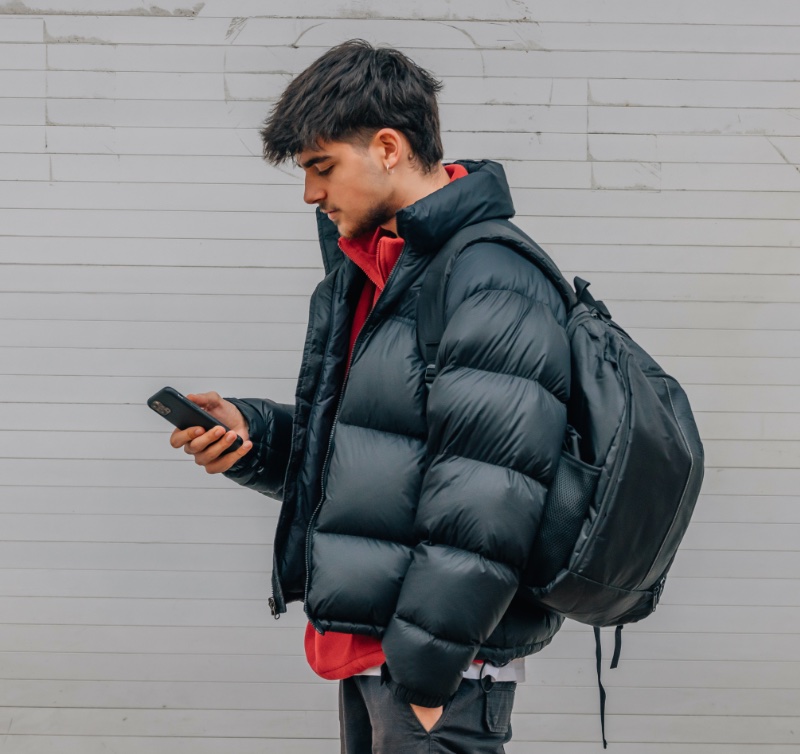 Layering is the secret ingredient to pulling off puffer jacket outfits for men. A well-layered ensemble serves a dual purpose—it offers thermal comfort and a nuanced look.
Start with a foundational layer like a long-sleeve t-shirt or a lightweight sweater. Elevate this base with a button-up or a thin hoodie. Then, crown your outfit with the puffer jacket itself.
Coordinating Colors & Patterns
In the color wheel of style, neutral shades like black, gray, and navy act as the linchpins, effortlessly marrying with various outfits. These hues give your puffer jacket a timeless character.
Don a puffer in a daring shade like red or yellow for vibrancy, tempering its boldness with muted apparel. While solids hold their ground for everyday wear, don't shy away from adding a wow factor with plaid or houndstooth.
Choosing the Right Fit
The cornerstone of any well-executed outfit is the right fit, a truth that holds weight even in the world of puffers. Proper sizing flatters your physique.
Slender frames may lean towards a slim-fit option, lending a more tailored silhouette. Those with a more athletic build should opt for a looser, relaxed cut, leaving space for additional layers.
Equally, be mindful of length—longer styles evoke a sense of urban sophistication, while shorter ones convey a sporty flair.
Stylish Winter Footwear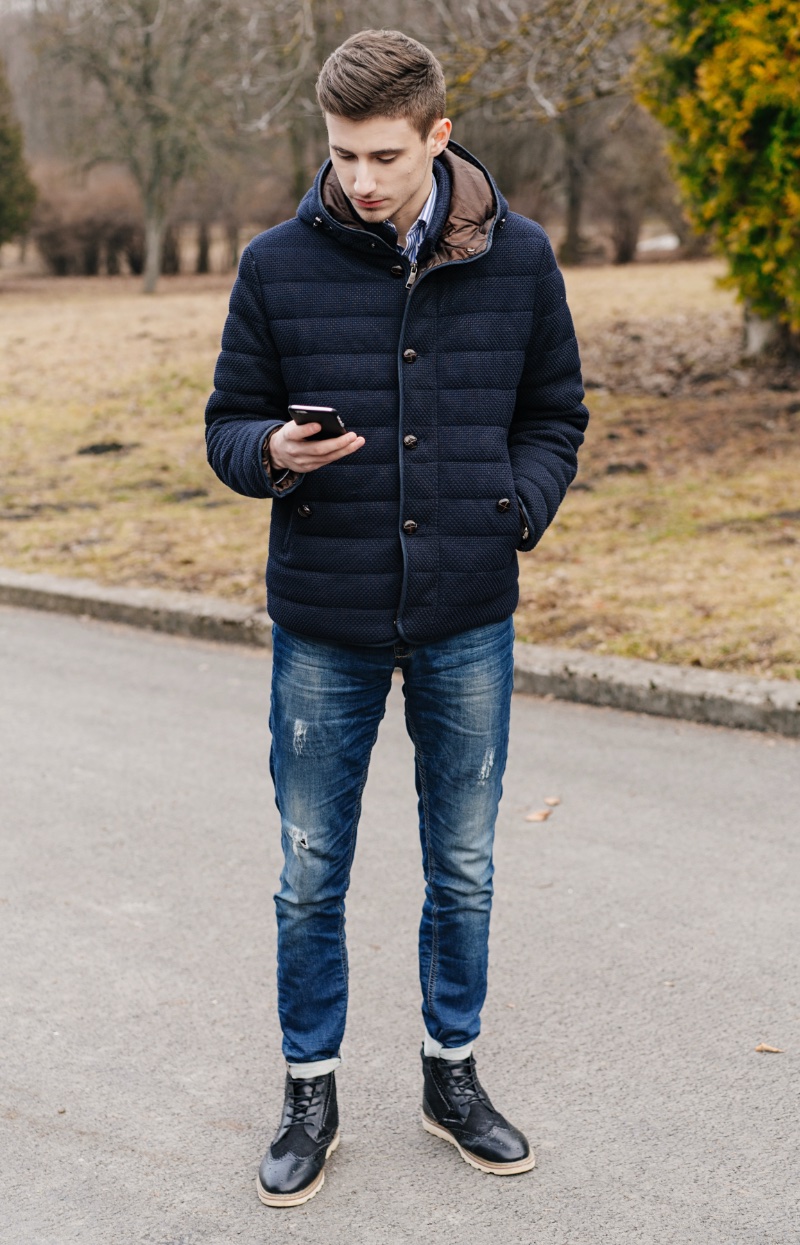 Finally, let's talk feet—the under-recognized heroes of the winter ensemble. For laid-back outings, nothing complements a puffer jacket like chunky sneakers or rugged boots.
Athletic sneakers or high-tops lend themselves well to sportier looks, infusing your outfit with casual energy. For a note of refinement, gravitate towards leather or suede boots, a footwear choice that's both warm and dashing.
The Puffer Vest: A Sleeveless Alternative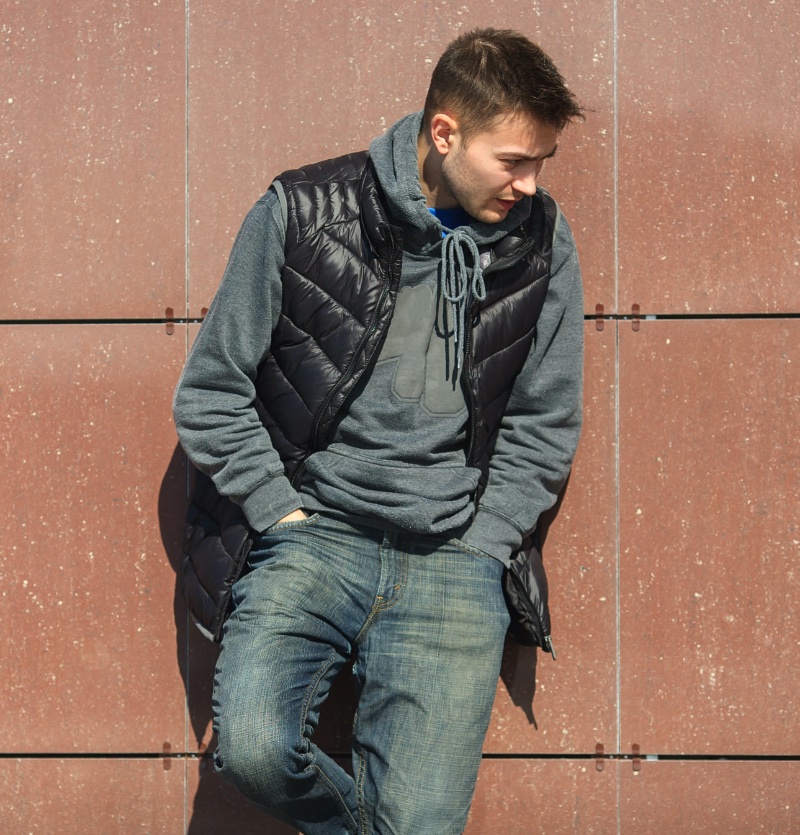 If the full coverage of a puffer jacket feels too confining, consider its close relative: the puffer vest. This sleeveless wonder channels the same insulating magic for your core but leaves your arms free. 
A puffer vest can still be a key player in your seasonal wardrobe, ideal for those milder winter days or layering over long-sleeve tops and hoodies. It offers a freedom that a traditional puffer jacket does not, giving you room for more mobility while ensuring your torso remains insulated and warm.
This alternative lends itself well to casual settings, effortlessly aligning with the relaxed yet intentional essence that characterizes puffer jacket outfits for men.
Puffer Jackets: A Lasting Impression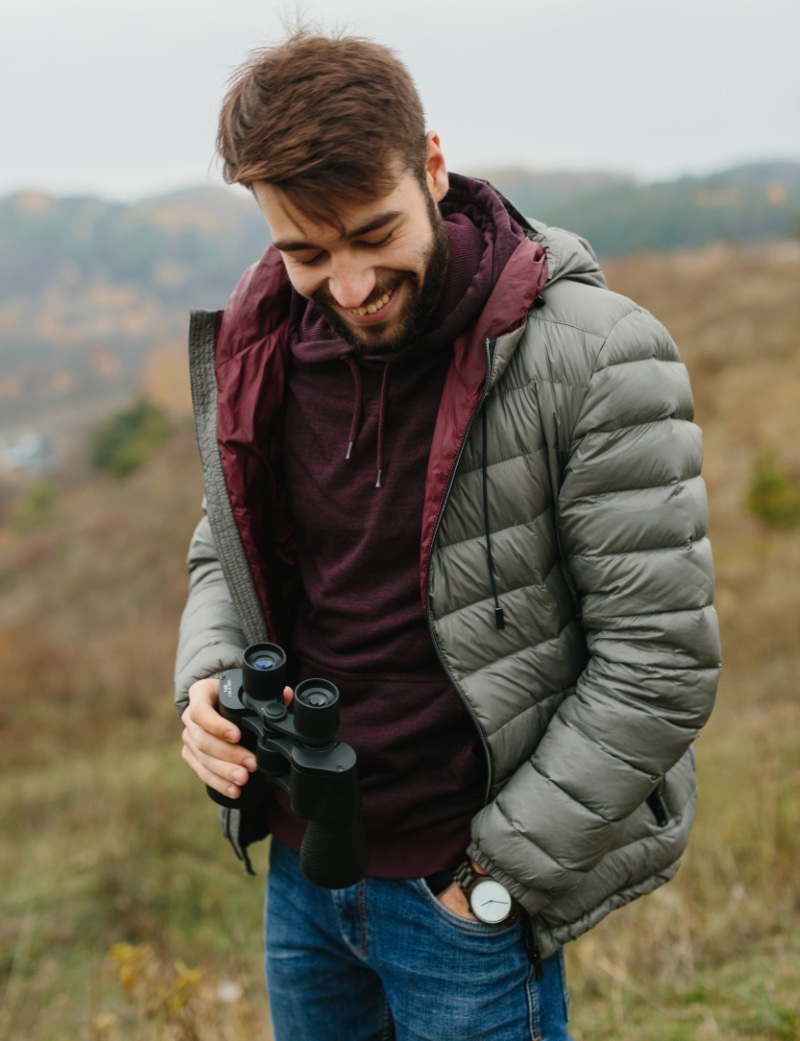 We've traversed the intriguing landscape of puffer jacket outfits for men, discovering that this winter staple is more than just a shield against the cold. It's a statement piece that adds a distinct flair to casual settings.
From dissecting the architectural merits of different puffer jacket types to offering a playbook of styling ideas, we've aimed to stoke your creative fires. So, as you engage with puffer style, we invite you to embrace the opportunity for experimentation—melding colors, challenging norms, and crafting looks that bear your unique imprint.
In closing, know that a puffer jacket is more than an insulated garment. It's a canvas for self-expression. Equip yourself with one, and you're not just combating the cold—you're making a style statement.