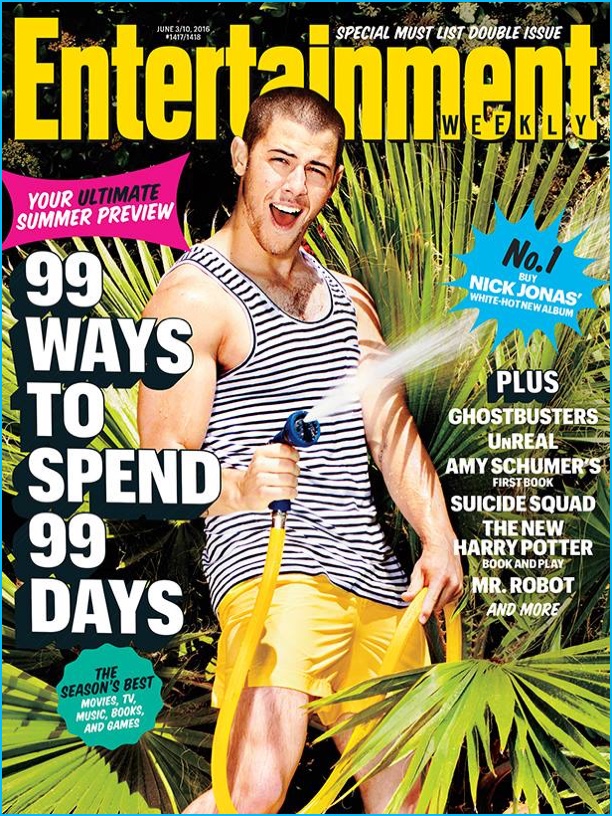 Entertainment Weekly has a touch of campy fun for its June 3/10, 2016 issue. Cover star Nick Jonas links up with photographer Tony Kelly for a cheeky summer themed shoot. Photographed in Beverly Hills, California, Jonas soaks in the sun, wearing fashions styled by Michael Fisher.
Related: Nick Jonas Champions Slim Tailoring with Topman
Talking to Entertainment Weekly ahead of his latest album release, Jonas is asked about his ex Miley Cyrus. The 23 year-old singer responds, "I love Wrecking Ball so much. I still think it's one of the best pop songs of the last 10 years. And you know, she's always been so outspoken and authentic to who she is, so it was only a matter of time before she really owned that, and I'm proud of her."
Jonas continues, "I don't have a relationship with her now really, but that's not because we have any bad blood–we just sort of run in different circles. It's a lot like watching your high school crush do well, just on a bigger scale." Read more on EW.com.
Nick Jonas Entertainment Weekly Photo Shoot