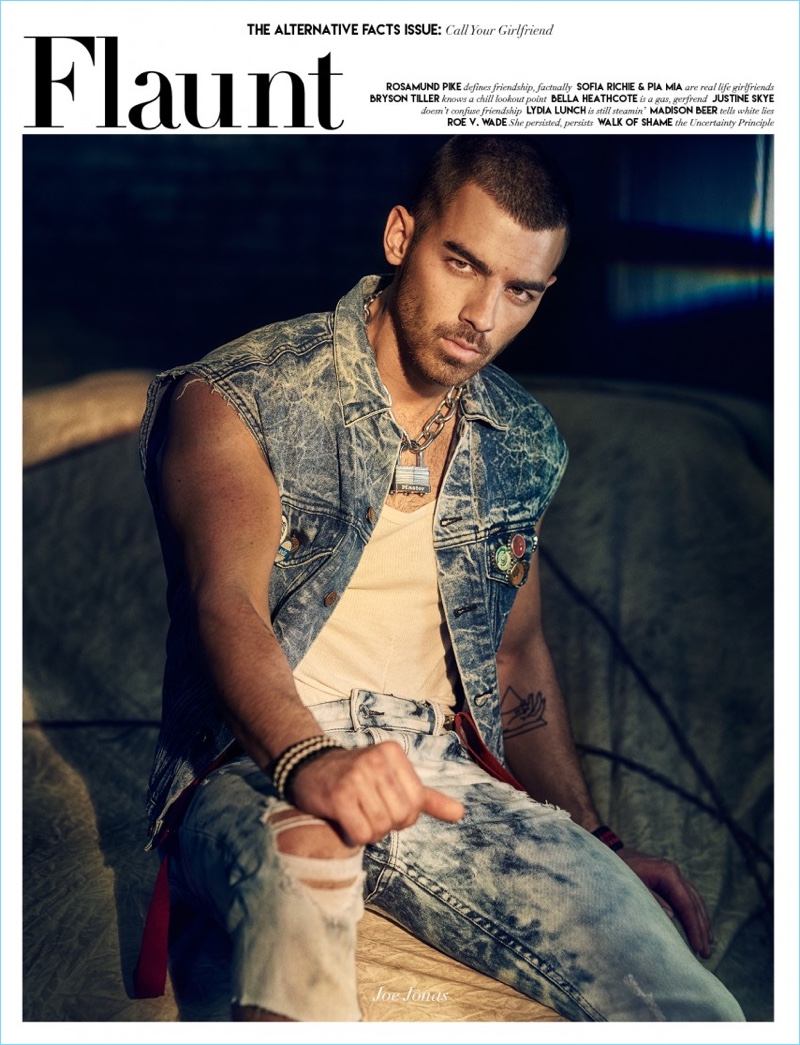 Flaunt unveils a new art direction as the magazine connects with Joe Jonas for a new cover story. The DNCE frontman embraces a skinhead aesthetic as he appears before the lens of photographer, Kurt Iswarienko. Pulling together vintage fashions, stylist Sean Knight features brands such as GUESS. Jonas' wardrobe for the occasion makes perfect sense, since the singer is currently the face of GUESS Underwear.
Related: Joe Jonas Snags Another GUESS Campaign, Stars in Watch Ad
Talking to Flaunt about DNCE and his desire to create fun pop music, Jonas confesses, "I wrote a song recently, and it was kind of a therapeutic, dark, breakup song. I was kind of on the fence about whether or not to put it online, and I decided not to."
Explaining why he decided against releasing the material, Jonas says, "Partly because I was over the relationship and I got over it by writing about it, but I also thought it was too dark to showcase to our audience. I feel like especially in this day-and-age with where we are politically, there's so much hate and sadness."
Related: Joe Jonas Covers Gotham, Recalls Disney Days
Hoping to offer his fans a break from troubling times, Jonas describes DNCE's music, explaining it's, "To take people away from all that for a second and to offer a place to escape to is nice. Not to distract them, but to help them through this era, to give them a moment to not look at CNN and say, oh shit, what's going on now?" Read more on Flaunt.com.
Joe Jonas Flaunt Photo Shoot