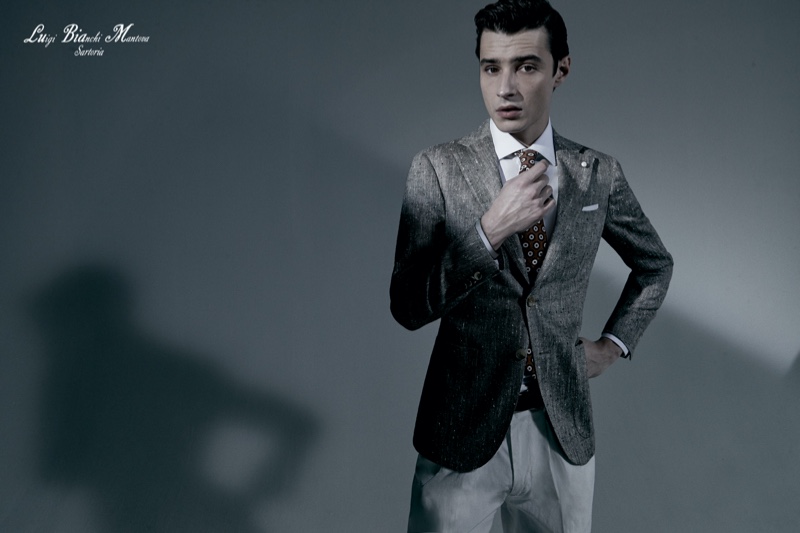 When it comes to Luigi Bianchi Mantova, the dapper suit is going nowhere. The Italian brand delivers a bespoke experience with its Marrakesh-inspired pieces for spring-summer 2021. Luigi Bianchi Mantova unveils its new collection with a campaign that sees the return of French model Adrien Sahores as the label's face.
Related: Adrien Suits Up for Luigi Bianchi Mantova Fall Campaign
A sartorial muse for the season, Adrien takes to the studio in a sharp wardrobe. He wears everything from tailored jackets in different prints of checks, plaids, and stripes to the bolder colors that resonate with Marrakesh's spices of mustard, paprika, and cumin; prominent associations seen in the collection's use of different hues. From subtle yellows to burnt orange, deep reds, and electric blue, the collection indeed rings true to the inspirational city that's full of heritage and contrasts.
The best yarns have been selected to collaborate with textile manufacturers of the Biella district, offering a sustainable and authentic appeal with the brand's commitment to environmental sustainability, ethics, and overall aesthetic. With a range of bespoke pieces tailored to perfection, lightweight fabrics, mostly made of wool and linen combinations, are the stars of this collection. Strong attention to detail and uncompromising ethics for quality, sustainability, and unmatched tailoring is what Luigi Bianchi Mantova's spring collection perfectly represents.
Luigi Bianchi Mantova Spring/Summer 2021 Campaign