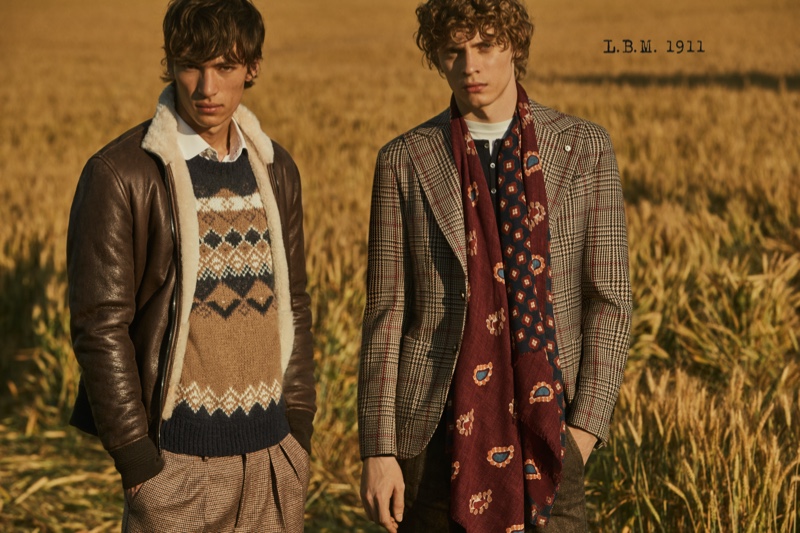 A gorgeous natural setting and sharp style come together for L.B.M. 1911's fall-winter 2020 outing. The men's clothing brand unveils its latest campaign and lookbook that features its signature brand of "casual elegance, combined with tailoring, quality, and appeal." While on the surface, L.B.M. 1911's collection shows elements of traditional menswear, the line also courts modern ideas in terms of fit and the use of contemporary materials.
Related: Hideki & Jakob Embrace Casual Elegance for L.B.M. 1911 Spring '20 Campaign
Fabric is essential to the label's approach to style with unique dyeing processes and washing for elegant details. For example, L.B.M. 1911 offers an old-world flair with its distressing technique that provides clothes with a lived-in appeal but luxurious "Made in Italy finishing." This year's fall collection encompasses a stylish journey that takes L.B.M. 1911 to England to explore British style. The theme shines with details such as this season's nuanced color palette of red, beige, and moss green. Sartorial menswear takes on a practical everyday function with a smart selection of knitwear, suit jackets, coats, and more. L.B.M. 1911 ventures out more on the casual side with its Travel Sport Uniform capsule, focusing on technical outerwear.
L.B.M. 1911 Fall/Winter 2020 Collection