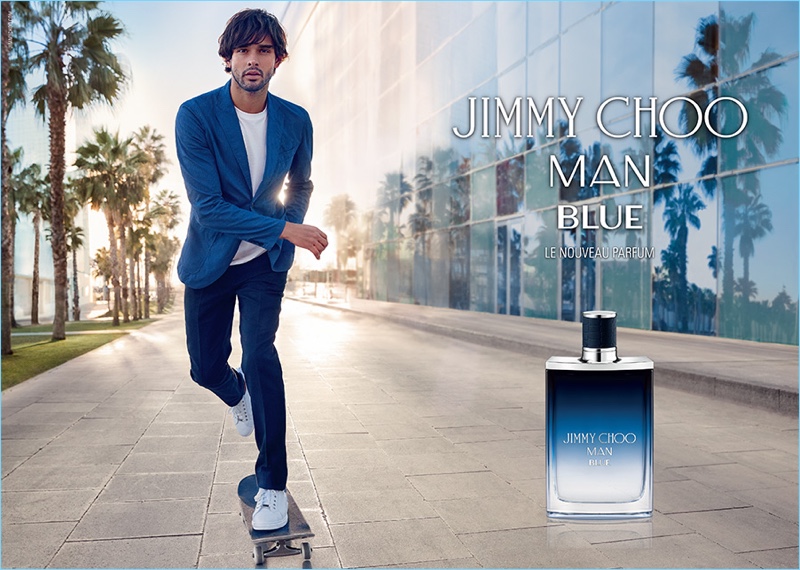 Clearly, Jimmy Choo has found a favorable face in Marlon Teixeira. After enlisting the model for its Man Ice fragrance campaign, the label calls on him once more. This time around, Marlon is the face of the brand-new fragrance, Jimmy Choo Man Blue. Bringing a relaxed energy to the campaign, Marlon is shown skateboarding. This isn't a stretch for the easygoing Brazilian model, who enjoys skateboarding for fun. It also doesn't hurt that the act captures the spirit of the fragrance perfectly.
Related: Marlon Teixeira Embraces Australian Winter for Executive Style
Jimmy Choo Man Blue is described as Effortless in every way, the Jimmy Choo Man Blue wearer exudes a relaxed confidence and a magnetic attraction that is evident in the fragrance he wears, aromatically fresh on the surface yet resolutely masculine, with hidden earthy depths.
If you're looking for fragrance notes, we have you covered. This woody aromatic leathery fragrance boasts top notes of clary sage to strike a balance between freshness and refined texture. The tonic transparency of bergamot brings a breath of fresh air and contrasts with the spicy warmth of black pepper. The intense texture of leather reveals itself in the heart of the fragrance, assuming an extreme masculinity enhanced by the urban elegance of grey amber and the vegetal woody facets of cypress.
Jimmy Choo Man Blue Campaign