A collaboration between Symrise, Metaproject, and Seven New York uniting artists and perfumers to create a limited set of fragrences to help raise money for charity. This year's collection is limited to 2,000 of each fragrence and a percent of the proceeds will go towards Designers Against Aids (DAA) and the International AIDS Awareness Education Center in Antwerp, Belgium. The center is planned to open this month.
Fragrances available for purchase at AEDES DE VENUSTAS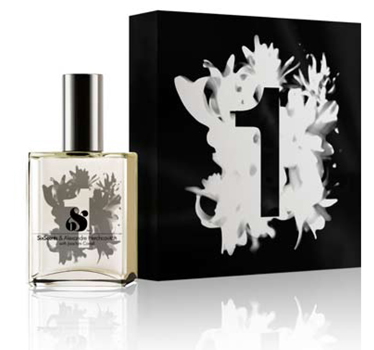 No. 1 Urban Tropicalia by Alexandre Herchcovitch & Joachim Correll.
"The Inspiration for this fragrance was driven by the way that Alexandre creates fashion: The creative liberty he uses to design fashion which can be used equally by men or women. This fragrance can be worn at any time, for any occasion, as a form of self expression, to be daring, or simply for the pure pleasure of wearing a fragrance. The Alexandre Herchcovitch scent evokes freedom and sensuality, and similar to his fashion, the perfume is striking, emblematic and transcends categories." – Joachim Correll, Perfumer
Ingredients: Erogenous Cedar wood Amber Fond, Lemon, Cassis De Bourgeons, Lime, Green, Apple, Apricot, Jasmine, Tagete, Freesia, Cinnamon, Musk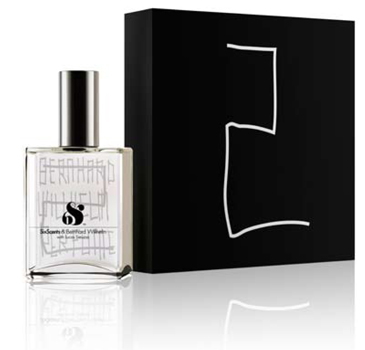 No. 2 Wicken 3000 by Bernhard Willhelm & Lucas Sieuzac
"A light, fresh, clean scent that embodies a fusion of the elements. The idea was to create a perfume close to the elements of water and air, but with a futuristic approach. Express the Back to nature side of Bernhard with a pure & essential fragrance." -Lucas Sieuzac, Perfumer
Ingredients: Sea Breeze Accord, Bergamot, Water Jasmine, Sheer Musk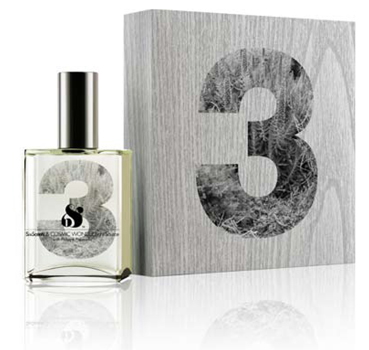 No. 3 The Spirit of Wood by Cosmic Wonder Light Source & Philippe Paparella-Paris
"The inspiration for this fragrance comes from Cosmic Wonder Light Sources nature oriented fashion collection. Inspired by the designers memory of a scent experienced during a walk through an eucalyptus forest, a selection of fresh green top notes were combined with fig leaves and enlightened by green grass playing with fresh cut cypress. The idea was to create a rough and natural fragrance, using a lot of essential oils with a focus on the woody notes such as vetiver and hinoki." – Philippe Paparella-Paris, Perfumer
Ingredients: Green Grass, Fig Leaves, Cypress, Elemi, Coriander, Cedar wood, Vetiver, Hinoki, White Amber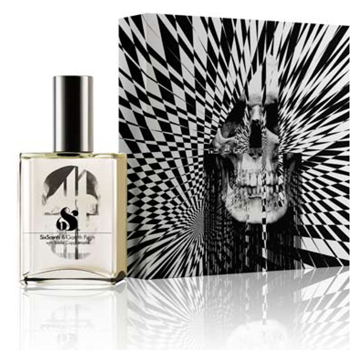 No. 4 Diagonal by Gareth Pugh & Emilie Coppermann
"Contrast, ambiguity, duality. Gareth Pugh said about his style: it's a struggle between lightness and darkness; this is what I tried to translate in this perfume. The contrast between different raw materials, masculine and feminine, rough and smooth, dark and light, fresh and sensual." – Emilie Coppermann, Perfumer
Ingredients: Dill, Black Pepper, Nutmeg, Palissander, Black Tea, Amyris, White Amber, Musk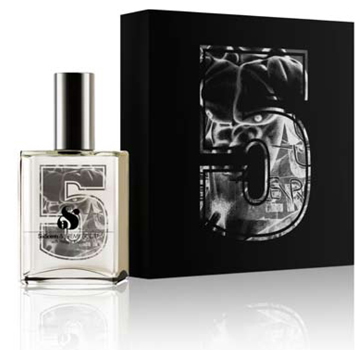 No. 5 Illicit Sex by Jeremy Scott & Philippe Roques
"Illicit Sex is an essay on Love: the encounter of fragility and strength." – Philippe Roques, Perfumer
Ingredients: Bergamot, Aldehydic, Pepper, Nutmeg, Rose, Benzoin, Olibanum, Cedarwood, Musk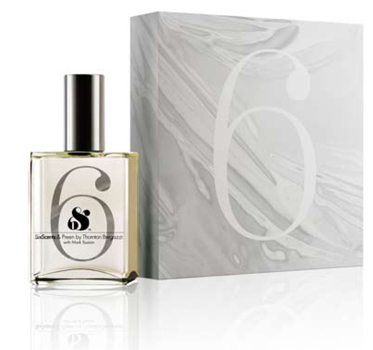 No. 6 Teen Spirit by Preen's Thornton Bregazzi & Mark Buxton
The idea we had with Preen, was to capture an English summer garden after the rain – light, natural, floral, fresh, but not sweet. Its sparkling top note, made of calabrain bergamot and a unique seashore accord is wrapped with magnolia and Turkish rose. The tingling spicy scent of red pepper sustained by hazelnut leaf and rhubarb give the fragrance its natural depth. Finally, a touch of violet wood for the long- lastingness and pleasurable feeling Mark Buxton, Perfumer
Ingredients Hazelnut Leaf, Rhubarb, Bergamot, Seashore accord, Red Pepper Berry, Rose, Magnolia, Violet wood, Sandalwood, Musk