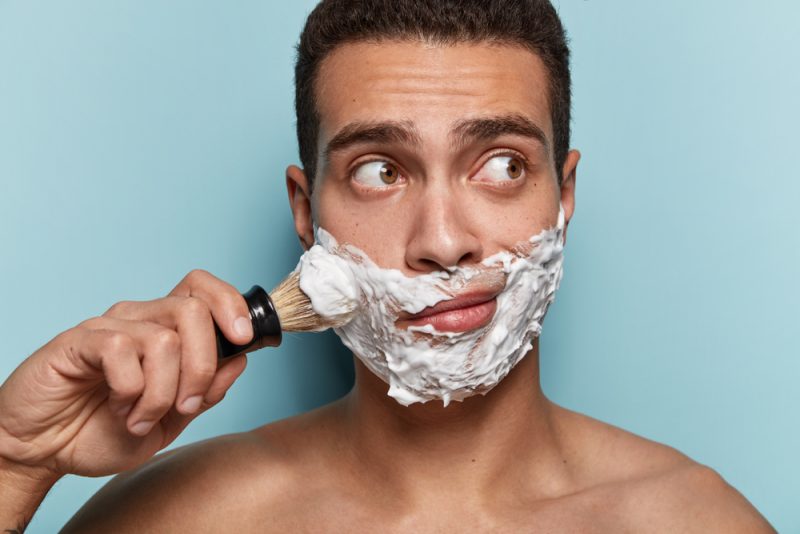 Men who want to have a classic shaving experience while also helping the environment should consider switching to a shaving soap rather than a ready-made shaving cream that comes in a can.
Beyond being more eco-friendly, shaving soaps can better your skin since they don't contain the same artificial chemicals to create lather often found in ready-made shaving creams.
If you have been wondering how to choose the best shaving soap to meet your needs, then wonder no more! This article will cover every aspect of shaving soaps, how to pick the best one for your skin type, and even a handy guide on the best way to use a safety razor with shaving soaps.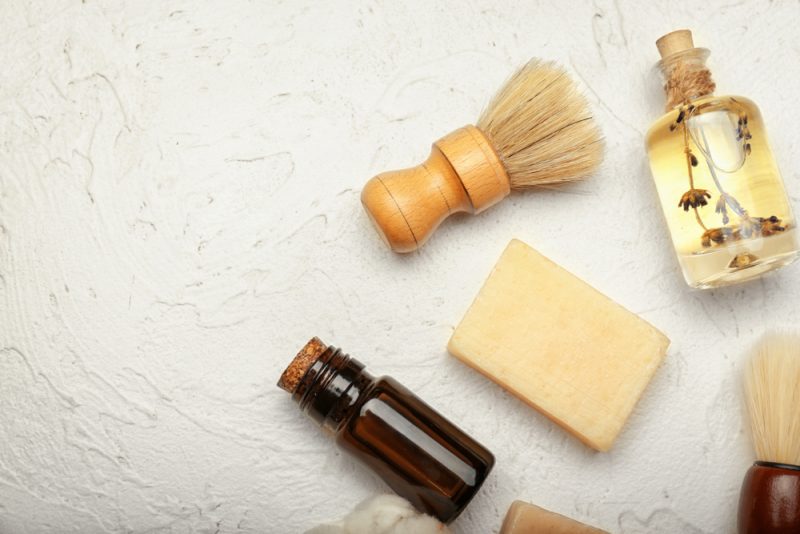 What Are Shaving Soaps?
First made popular in the early 20th century, shaving soaps are a special kind of soap developed for shaving that usually comes in a bowl with a built-in soap dish. They have been around for decades and decades but have recently seen a resurgence in the last few years as more men want to go back to an old-fashioned shaving experience free from chemicals found in most ready-made shaving creams.
Shaving soap is made with natural ingredients, most commonly containing tallow (a type of hard animal fat), water, glycerin, and essential oils to give it its scent.
Because they are made from natural ingredients shaving soaps are often more than just a simple bar of soap – many include moisturizers or other beneficial nutrients for the skin.
What Types of Shaving Soaps Are There?
There are several different types of shaving soaps, and which you choose will depend on your skin type and what type of shave you want to get. When choosing the best shaving soaps for your needs, consider the following:
Hard shaving soaps. The original type of shaving soap is found in most old-fashioned barbershops. Using hard soaps requires a traditional shaving brush to create a lather.
Soft shaving soaps. Mild shaving soaps are lathered up using a brush, just like the hard shaving soaps. The difference is that soft shaving soaps are usually made using a glycerin base rather than tallow to get a richer, creamier lather.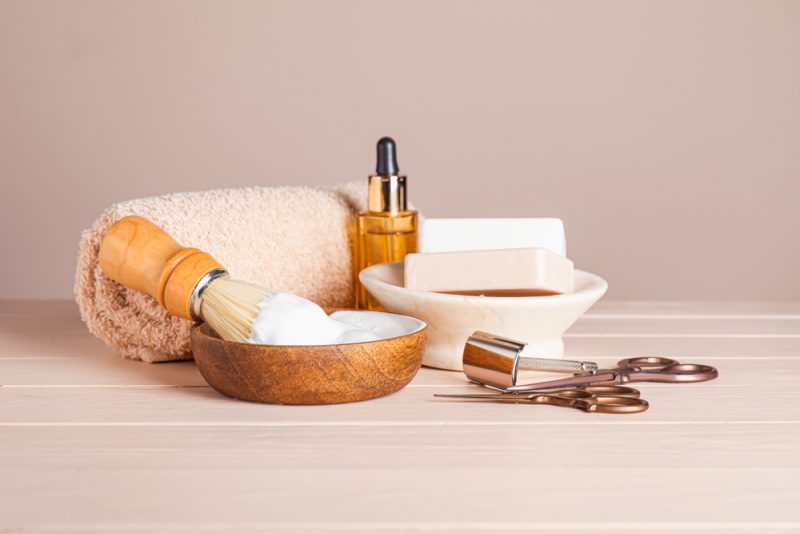 What Type of Shaving Soap Should I Use?
Shaving soaps tend to be made using tallow or glycerin. Tallow-based shaving soaps are usually harsher on the skin and may not provide as much lubrication and moisture for your skin during a shave. On the other hand, glycerin-based shaving soaps have been shown to soften hair follicles making for a more effortless shave.
If you have sensitive skin, consider using glycerin soaps instead of tallow soaps. Glycerin-based shaving soaps won't leave your skin feeling dry and itchy after a shave like most hard shaving soaps do.
If you are looking for something that has a scent or moisturizer, consider purchasing a shaving soap that contains:
Essential oils such as peppermint, rosemary, or eucalyptus. These oils allow for a close shave without irritating the skin. Additionally, essential oils are great for keeping the skin moisturized.
Natural oils such as jojoba oil, hemp seed oil, or sunflower seed oil. These natural oils are great for nourishing the skin and adding a bit of moisture after you shave.
Vitamin-rich oils such as coconut oil, argan oil, or wheat germ oil. These oils will naturally condition your skin while adding a pleasant scent to your shave routine.
Spice extracts such as cinnamon. Cinnamon is a natural antiseptic that can help keep skin moisturized and kill off bacteria.
Natural fragrances such as violet, lavender, or sandalwood. Natural fragrances are perfectly safe to use on your skin and provide a pleasant post-shave scent.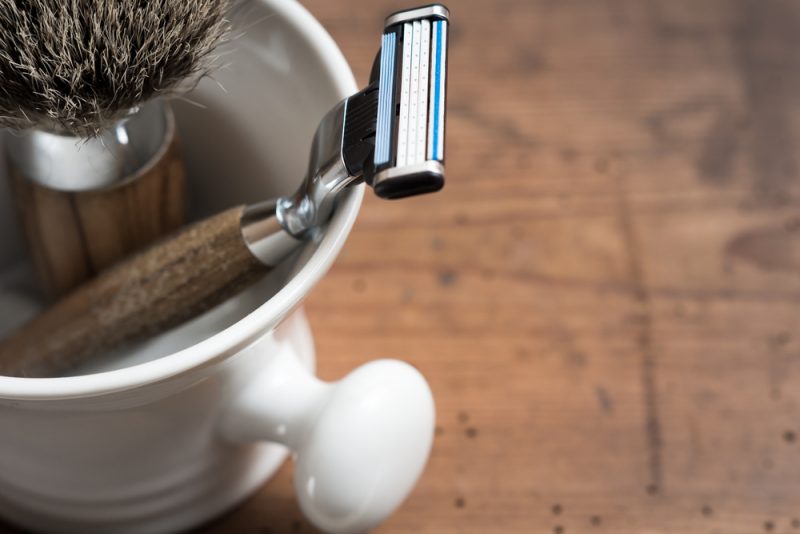 How Should I Use Shaving Soap?
While using shaving soaps, consider keeping a small cup or bowl of warm water at your side. If you accidentally let the shaving soap dry up, simply re-lather using a bit of warm water and continue with your shave routine.
Lathering shaving soap directly on your face isn't always the best idea because it can cause problems if the lather dries up before you finish. Instead, try creating a lather on the shaving brush and apply it to your face in circular motions. You can either use your hand or brush as a way of building the lather inside of a small bowl or container.
If you want an incredibly creamy and rich lather, try resting your shaving brush at the bottom of a cup and let it soak up some hot water first. Then, use a circular motion to build the best lather. Additionally, you can put a small amount of water on your shaving soap for a few minutes before working the brush into a lather.
To apply shaving soap to your face, place a small dollop of shaving cream on your wet fingers and massage it into your skin. This will help to provide the right amount of moisture for a rich lather that offers excellent lubrication.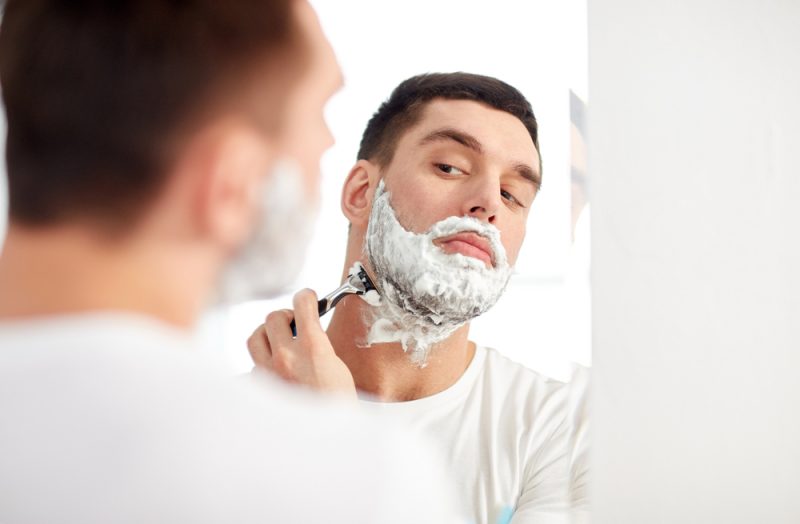 Safety Razor + Shaving Soap: How to Use a Safety Razor with Shaving Soap?
A safety razor is named so because it has a single blade protected by a piece of metal. They require you to change the double edge blades every few shaves, making for less waste than disposable cartridge razors. A good quality safety razor will be durable, easy to hold, and give a soft yet close shave.
One of the most important things about using shaving soaps is that you need to keep your safety razor wet throughout the entire shave. Keeping your safety razor blade wet will ensure that the soap doesn't dry up and clog your blade.
Be sure to use light pressure when shaving with a safety razor. If you apply too much pressure, you run the risk of cutting yourself and causing nasty nicks that can lead to infection.
An excellent way to test the lather's readiness is by rinsing your face and starting with a light application. Then, if you don't feel any slickness, reapply lather and try again.
If, At First, You Don't Succeed, Try Again!
Classic wet shaving requires some trial and error before you can find the most suitable tools and supplies for your skin and hair. If you're new to using shaving creams or soaps, consider purchasing a few different kinds and brands to try so that you can see which works best for your skin and hair.