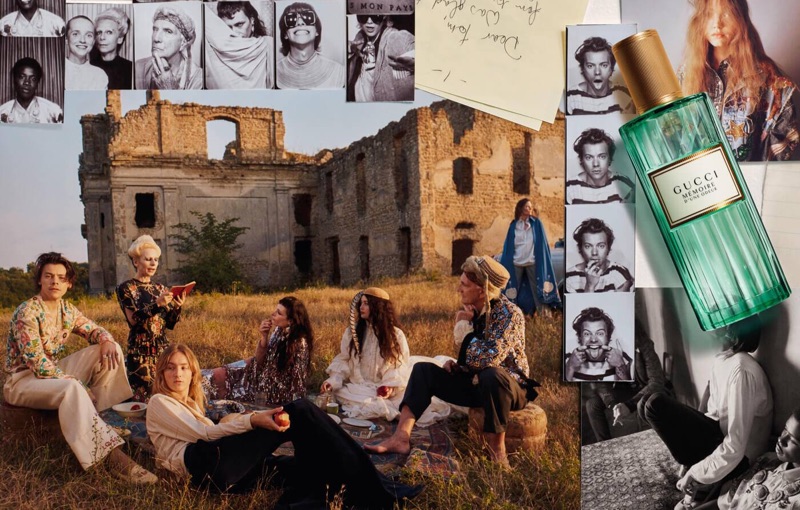 Continuing his relationship with Gucci, singer Harry Styles is the latest celebrity tapped for a fragrance campaign. Styles joins models Aaron Sirainen, Cheikh Tall, Elibeidy Dani Martinez, Ellia Sophia, Harris Reed, Katea Gramma, Mae Lapres, Mae Lapres, Matïss Rucko, Oleg Ulrich, Olga Zapivokhina, Tex Santos-Shaw, Tessa Bruinsma, Thomas Riguelle, Unia Pakhomova, and William Valente for Gucci Mémoire d'une Odeur.
Related: Harry Styles is Eccentric for Gucci Pre-Fall '19 Tailoring Campaign
Designers Harris Reed and Zumi Rosow, artists Ariana Papademetropoulos and Olimpia Dior, musicians Stanislas Klossowski de Rola and Leslie Winer appear in the outing as well. Taking to the Roman ruins of Canale Monterano, the lot shares a serene moment captured by photographer Glen Luchford. Reflecting the power of memories and a family of free spirits, the advertisement embodies the sentiments behind Gucci's first universal fragrance. Genderless, Gucci Mémoire d'une Odeur is profoundly defined by its main note of Roman chamomile.
Harry Styles for Gucci Mémoire d'une Odeur Fragrance Campaign