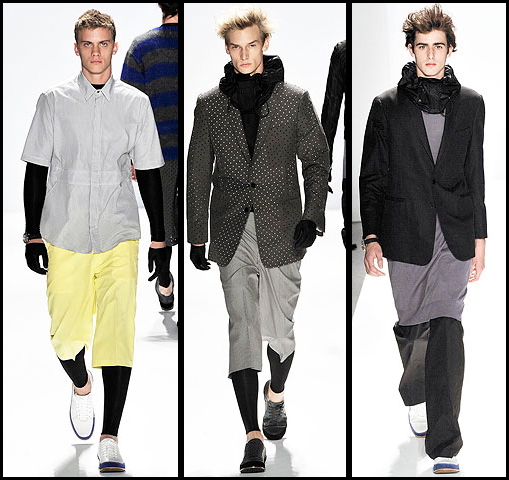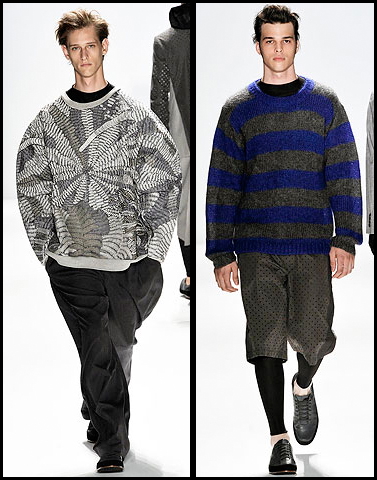 Duckie Brown's runway show was a hot mess of positives and negatives.  I think it's the small details combined with poor styling that rub me the wrong way.  I'm a huge advocate of leggings for men, but not when they are made out of lycra or any other similar materials.  The leggings are quite distracting and break the flow of the fits.  I find it hard to even pay attention to the other pieces.
In addition, the proportion of the oversized shirts is too much; they are too long, especially when paired with a full trouser.  However, I do like the longer shorts and the polka dotted blazer.  It's very Ann Demeulemeester.  The oversized sweaters are nice, but they are too thick for spring.  Also, the presentation of the sweaters would have looked better with a slimmer silhouette for the bottoms.  Instead of stylish, overall it just looks ill fitting.
The more I look at this collection, the more I feel like it is a mash up of conflicting collections because of the styling.  The collection is much stronger when imagining the appropriate pieces worn together.  Just imagine the possibilities when you take into account these examples:  gray sweater with gray shorts, striped sweater with yellow shorts, polka dotted blazer with polka dotted shorts.  As presented, I don't like this collection.  However, rearranged and re-imagined in my head, I do like it.  What do you think?
Pictures from Men.Style