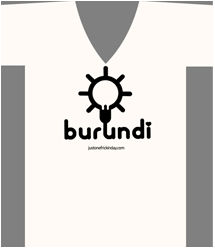 Charitable organization, Just One Frickin Day (JOFD) has united six labels to create t-shirts that are being sold to raise funds for a solar powered hospital in Burundi;one of the world's poorest countries. The labels include Chris Benz, Giambattista Valli, House of Diehl, Phillip Lim, Rag & Bone, and Rogan. The t-shirts are made of 100% organic cotton. Each shirt design is a numbered limited edition of a hundred.
A more detailed look into JOFD's mission:
Our aim is to make a big difference for selected worthy causes around the world by unifying and concentrating resources available to us, focusing on only one or two projects at a time. This website has been created as a vehicle by which to collect donations and to provide you with unique offerings that are fun investments for your future.

Our first project is to raise awareness and funds to help build a solar powered hospital in Burundi, which is arguably the poorest country in the world. We are focusing on Burundi because the story and the people behind this partnership has inspired us to help and become involved.

The Solar Electric Light Fund (SELF) is a not for profit focused on providing better opportunities to millions of individuals living in extreme poverty through access to reliable energy. In 2007, SELF collaborated with Partners In Health (PIH) and successfully solar electrified five rural health in clinics in Eastern Rwanda. SELF is once again teaming up with PIH, as well as Burundi-based Village Health Works (VHW), to solar electrify a newly renovated modern health center in the village of Kigutu which will ultimately serve 60,000 people ensuring a path to a brighter and more healthy tomorrow.
The shirts are available for purchase on eBay. They are $60 each + shipping. For eBay links, please visit the official Just One Frickin Day website.