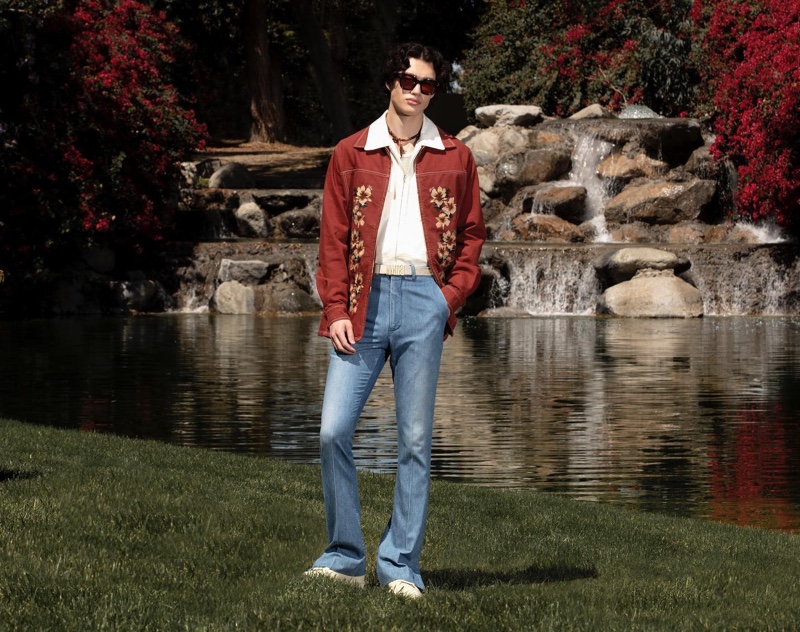 AMIRI delivers a range of men's jeans with a denim range that comprises bold interpretations of rock 'n' roll and skater styles and rich LA landscapes. Furthermore, AMIRI jeans encompass the spirit of the developing borders of a city immersed in culture, art, and activism that disrupts the classic denim narrative. 
The AMIRI aesthetic is worn, with tactile, damaged, and redressed patterns in fluid partnerships of craft and fabric. Mike Amiri, fashion darling and disruptor and a two-time contender for Council of Fashion Designers of America Menswear Designer of the Year, developed the company with the notion that we are our own invention and who we choose to become.
AMIRI jeans are the most refined and raw forms of ourselves, casual luxury clothing that are long-lasting. Let's explore some of the best styles of AMIRI jeans for men: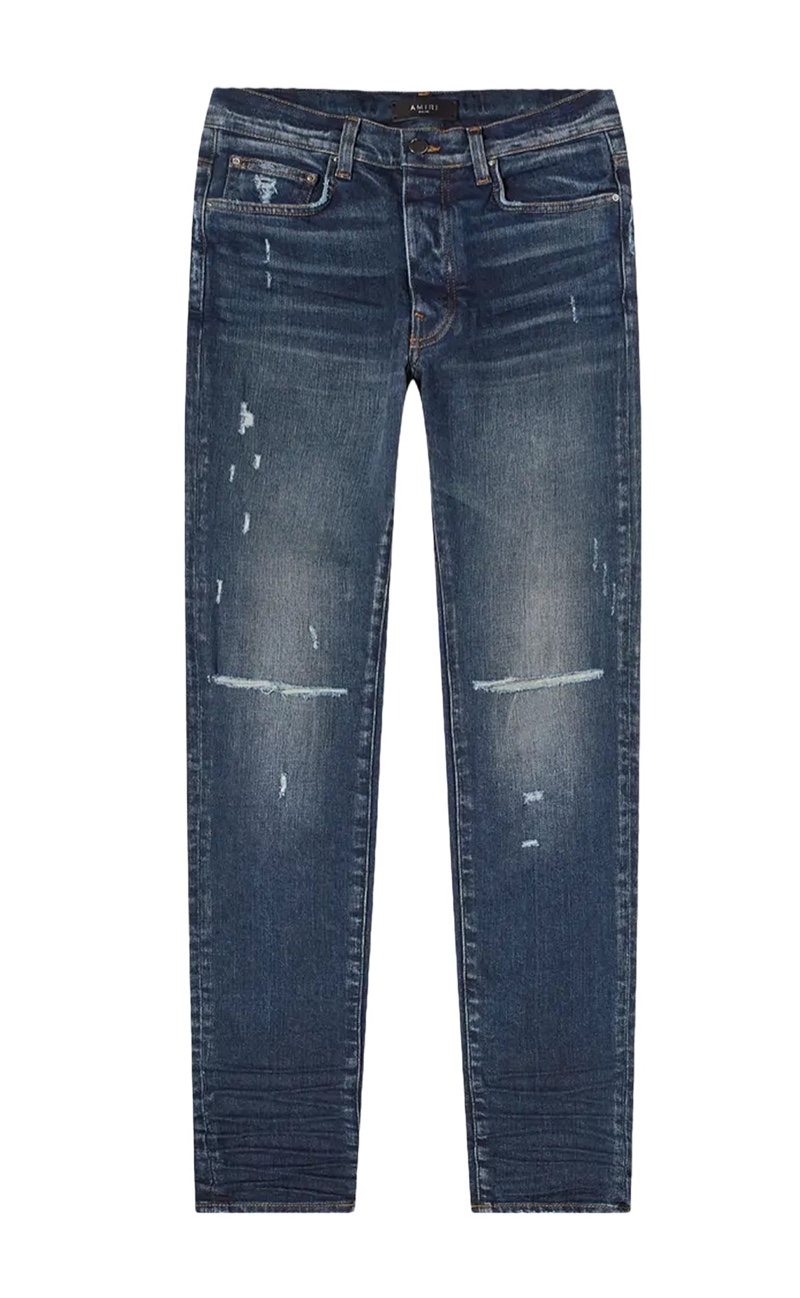 Amiri Slash Jeans 'Deep Classic Indigo'
AMIRI Slash Jeans in deep classic indigo, made in Los Angeles from excellent Italian denim, almost define the brand's DNA. They are the iconic AMIRI jean, combining the finest raw materials into a cut and distressed denim that screams rock 'n' roll, music-inspired motion, and on-tour aesthetics.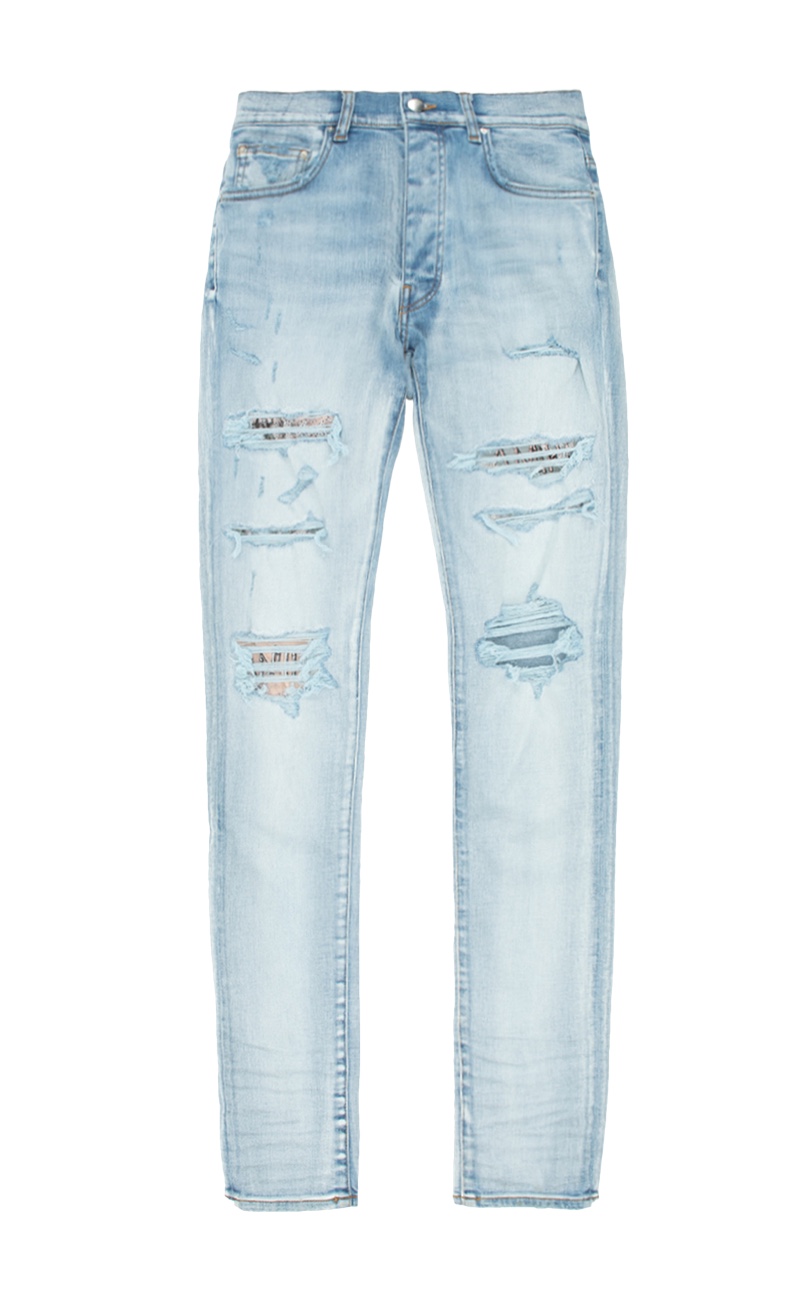 Amiri Hibiscus Artpatch Jean 'Light Indigo'
Hibiscus Artpatch jeans by AMIRI brighten the mood with a brighter Indigo color and vertical hibiscus stenciling reminiscent of street art and flowery flare. Its 12oz Italian stretch denim is intended to move with you, and its unique pattern erupts with nature's purpose and originality.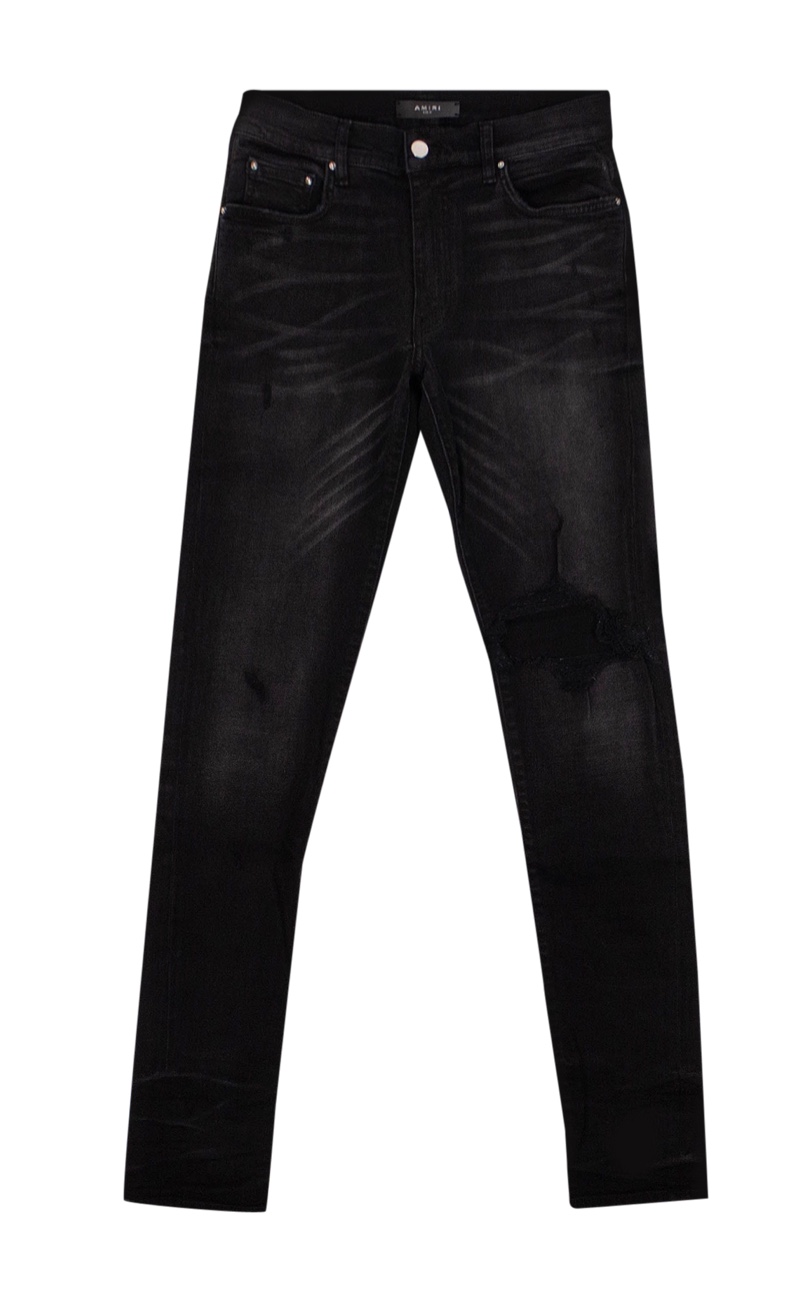 Amiri Broken Jean 'Black'
The AMIRI Broken Jean in smoldering black is a mid-rise slim shape with single knee distressing and a buffered leather logo patch on the back waistband. Their inky tint is for every day, every night, and event and is understated and simple in their vintage feel and blank canvas appeal.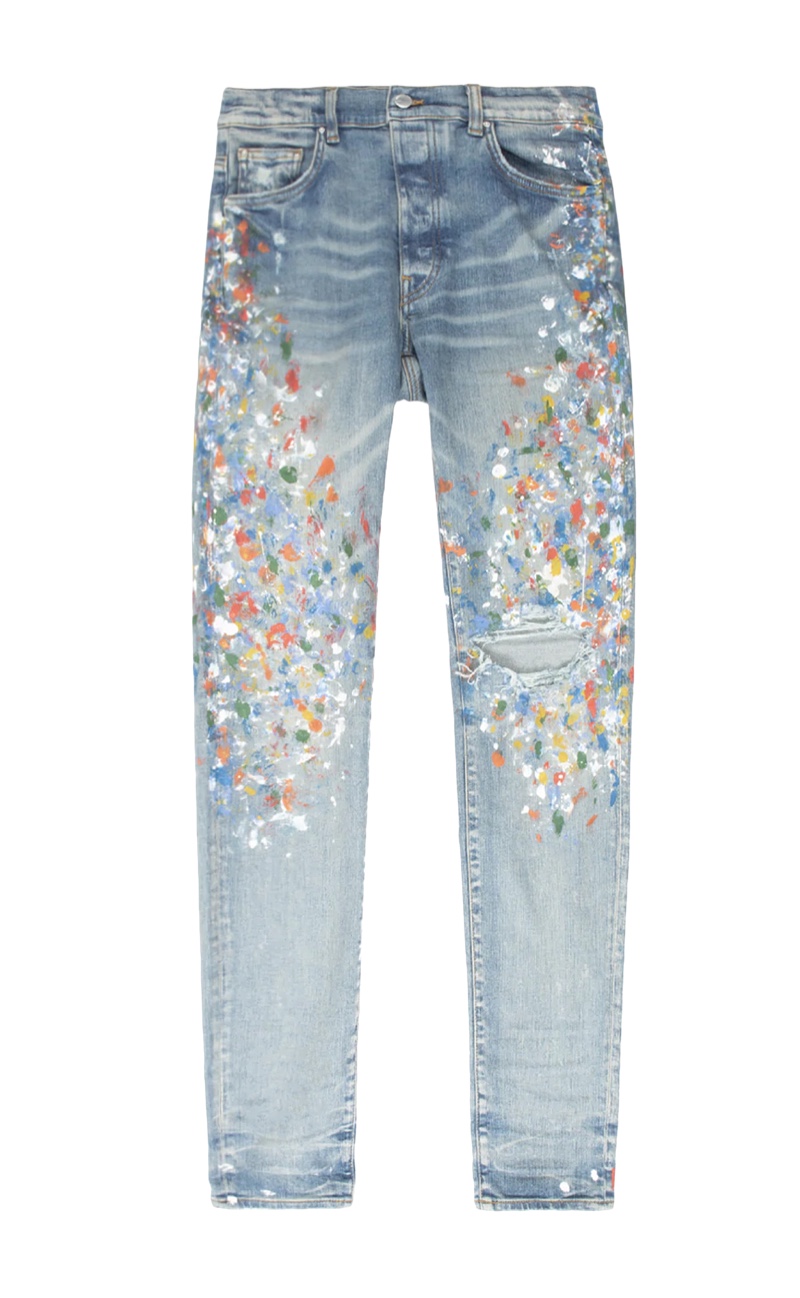 Amiri Skinny Painter Jean 'Clay Indigo'
AMIRI's Skinny Painter Jean in clay indigo is thoroughly aged and abrased representation of the brand's characteristic Italian stretch denim and classic five-pocket shape. This denim pattern, distressed at the knee and enlivened by multicolored paint splatter, exemplifies the afterglow of artistic endeavor, the studio to the street look of the artist at work and play.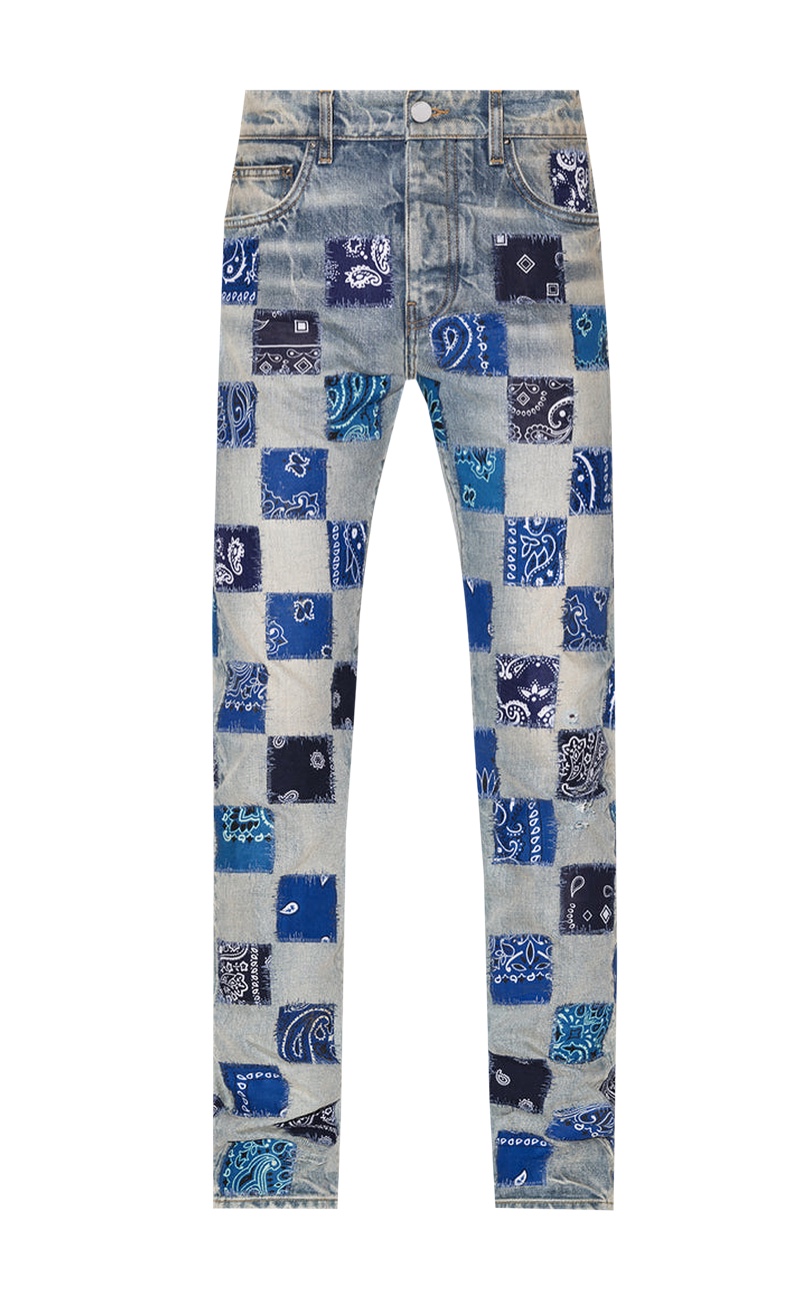 Amiri Bandana Check Jean 'Clay Indigo/Blue'
Finally, the Bandana Check Jean in clay indigo or blue has a more traditional straight leg fit. It's a striking representation of pastiche in design, with a checkerboard design of bandana patches down and around each leg.
AMIRI Denim Jeans
AMIRI, as a label, has contributed to reinventing high-end denim collections that elegantly transition from catwalk to sidewalk. Mike Amiri defines luxury as "experience, authenticity, and transparency." AMIRI jeans are worn for pleasure, not place, and are thus appropriate for all occasions. AMIRI's design aesthetics are influenced by street culture, music, art, and the diversity of cities in motion and fashion spheres in flux.
AMIRI jeans are for functional innovators and individuals from all walks of life to wear like a brand founded by creative misfits for whom belief generates reality. Every AMIRI denim design is an encouragement to be yourself, oppose conformity, and appreciate the beauty of your convictions. Shop more Amiri jean styles at GOAT.