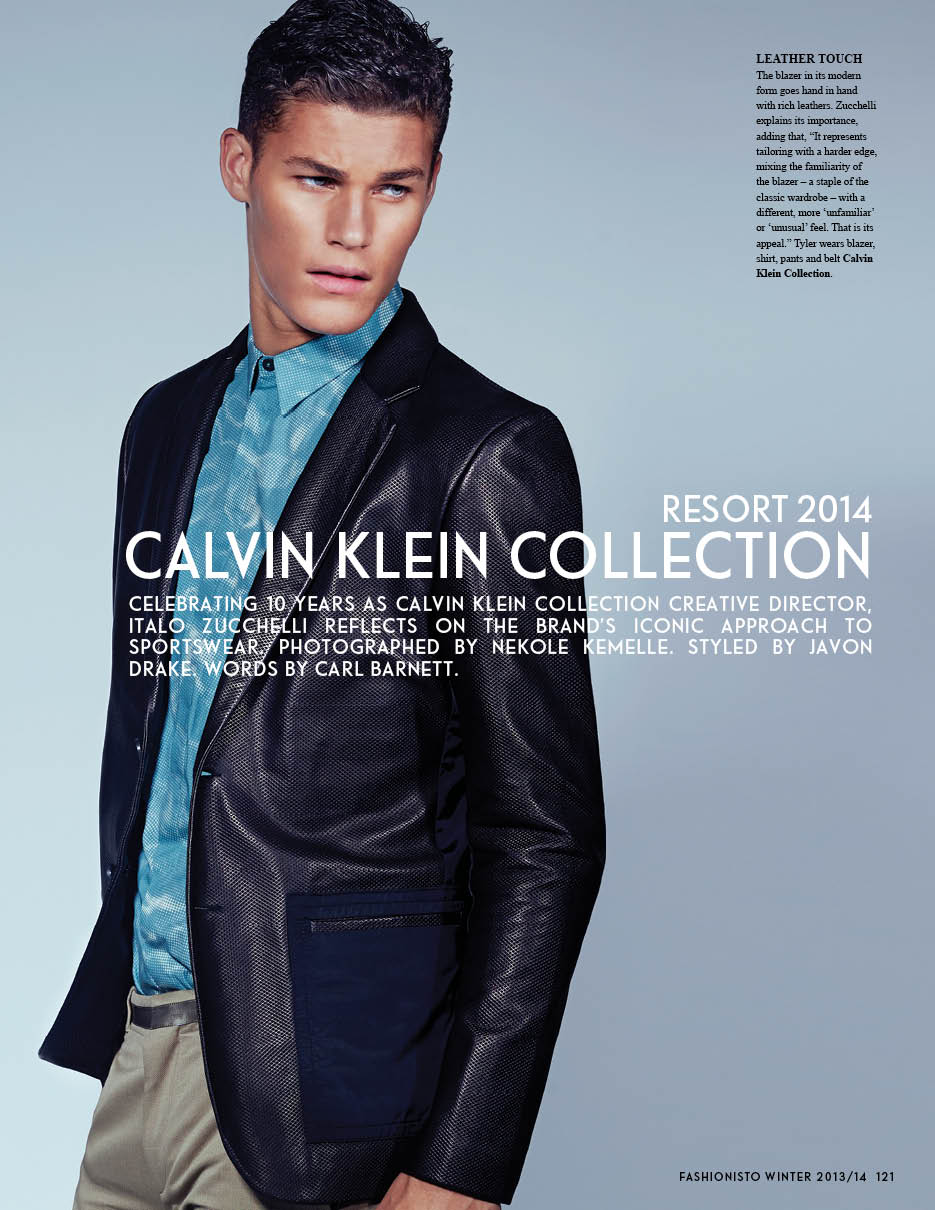 Calvin Klein Collection Resort 2014–Following four seasons working directly with American designer Calvin Klein, Italo Zucchelli assumed the role of Calvin Klein Collection menswear creative director in 2003. Beginning with his first collection that same year for the spring/summer 2004 season, the Calvin Klein man under Zucchelli's vision has gradually evolved. Zucchelli recalls, "I spent my first two or three seasons finding my own voice, and have been building on it ever since." Solidifying a vision, the house's classic approach to menswear has matured with a certain playfulness found in Zucchelli's use of colors and textures.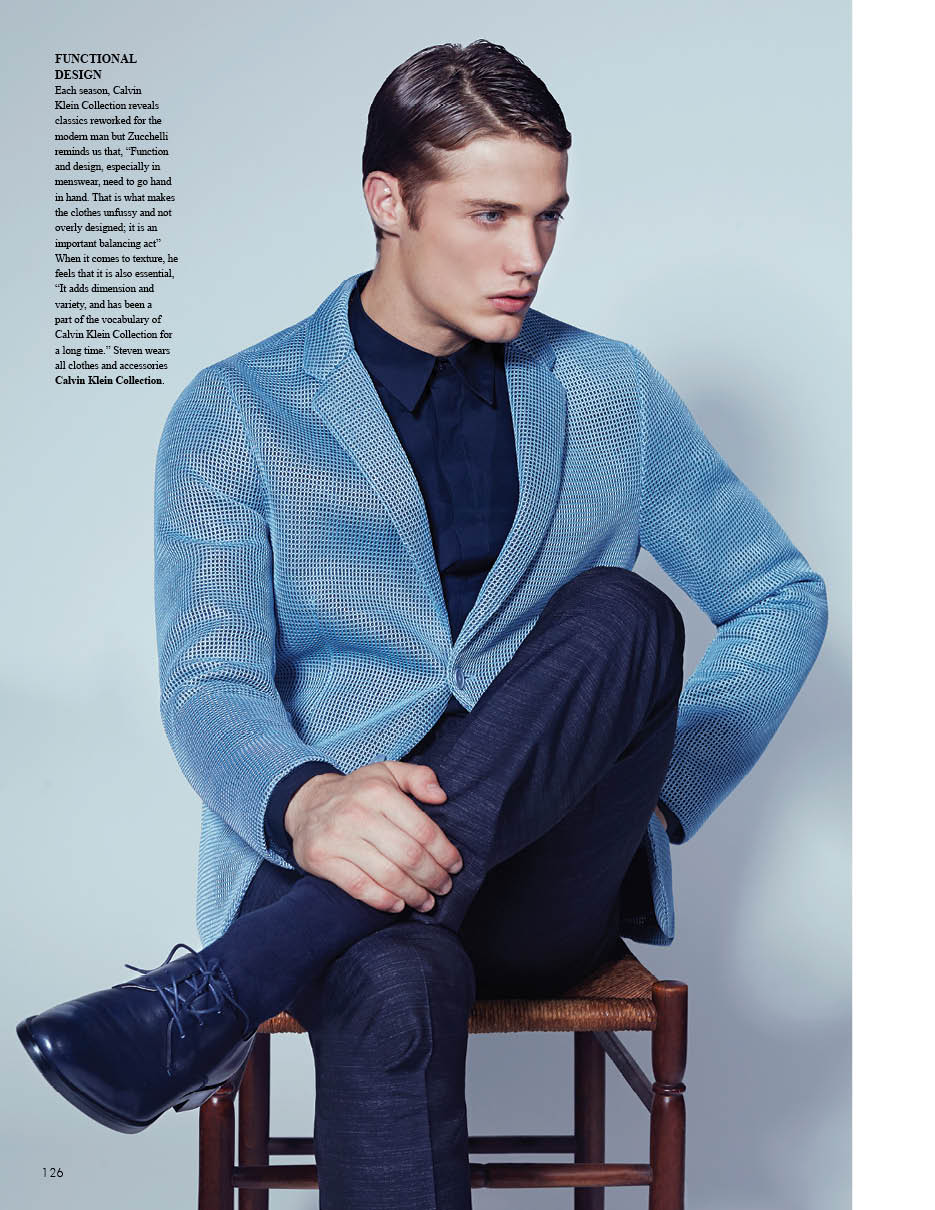 Reflecting on his ten years spent as creative director, Zucchelli states that with each collection, he has "established and reinforced the brand's aesthetic…" He adds, "Calvin Klein Collection has always been about consistency and repetition – keeping that in mind, I have added more research and innovation, while balancing everything as much as possible." Integral to the Calvin Klein brand is the practical applicability of American sportswear. Presenting it internationally, Zucchelli finds that "The appeal of 'American sportswear,' which is at the very core of the Calvin Klein aesthetic, is universal, because it is iconic. It has been a starting point and an inspiration that I have translated in a broader and more elevated way, which makes it desirable on an international scale. In each collection, I mix classic elements with design and innovation."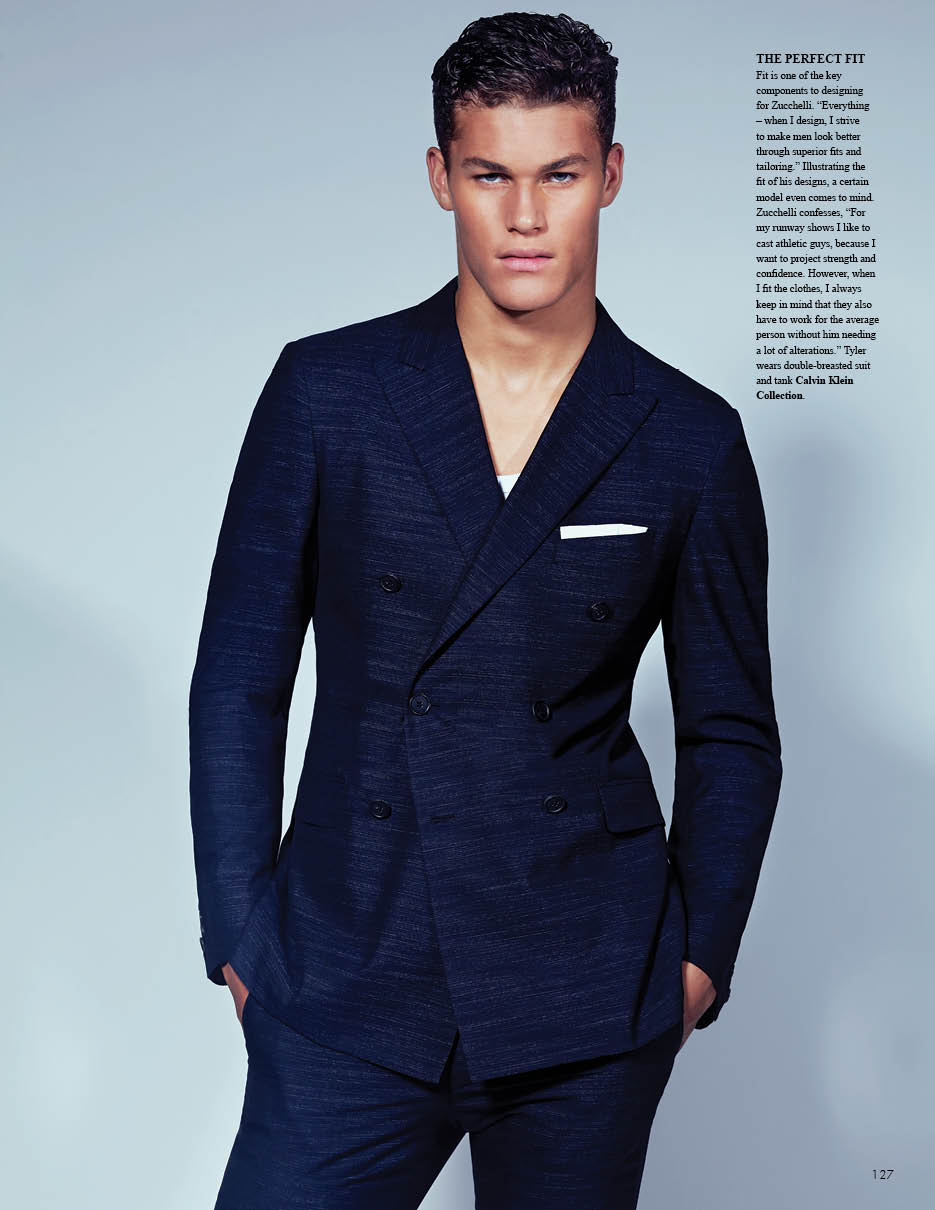 Remixing the house codes, Zucchelli begins the design process for each season with an inspirational trip. "During my travel, I collect vintage pieces, books, art exhibit pamphlets and other interesting objects. Afterwards, I review everything and formulate an overall concept for the season that encompasses the color story, fabric selection and initial designs." Zucchelli elaborates, "When the first prototypes arrive and the textiles are in the development phase, I begin refining, editing and adjusting. The process becomes an evolution that is very stimulating and creative." Creating the spring/summer 2014 collection, Zucchelli turned inwards and found inspiration at New York's Fire Island. Inspired by the relaxed atmosphere of summer and the circling blue views of the sky and sea, his tenth anniversary collection easily came together. Zucchelli's vision for Calvin Klein Collection comes full circle, offering essentials such as the jacket or shirt with a bonded tech stretch while blues hues and prints capture the joyful days and nights of summer.
Originally published in
Fashionisto
#9
Words
Carl Barnett
Photos
Nekole Kemelle
Styling
Javon Drake
Grooming
Leah Bennett
Photo Assistant
Jason Rowe
Style Assistant
Hassan Boone
Models
Steven Chevrin and Tyler Maher @ Soul Artist Management