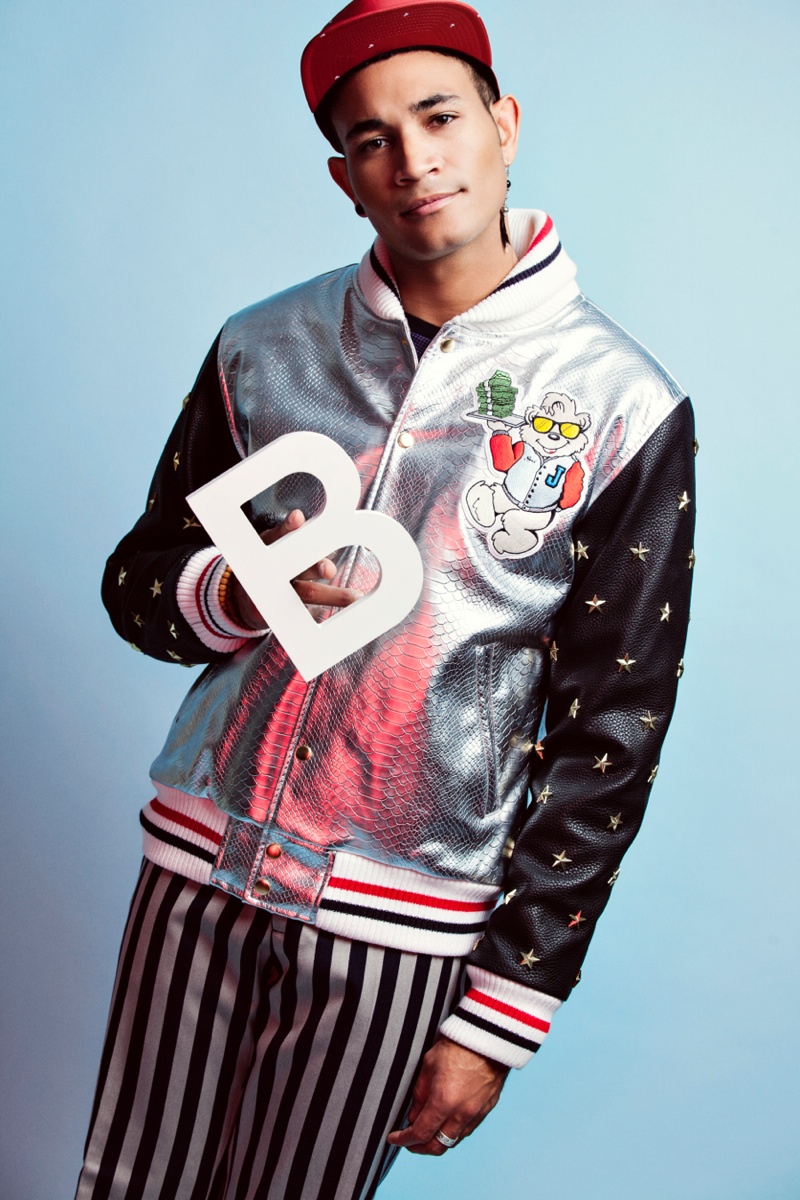 Bryce wears shirt American Apparel, club jacket Joyrich and pants Marc Jacobs.
What is the biggest take away from participating with the other contestants?
The biggest take is the other contestants. We became a family. I see Damian, Sam, and Hannah the most now but we've all managed to keep well in touch. Second biggest take away: learning to not give a shit. Having been the first one kicked off for attitude, I caught a lot of heat from fans. Most people hated me and my voice and they made sure to express that online haha. It fucked my confidence up all over again for a little while. Then at some point I said to myself…dude…who gives a fuck? Turns out that was the right question cuz I stopped caring about being liked and started back up making the music I wanted to make. Now I'm at the point where negative comments literally don't effect me at all. It's fucking awesome; something I owe completely to The Glee Project.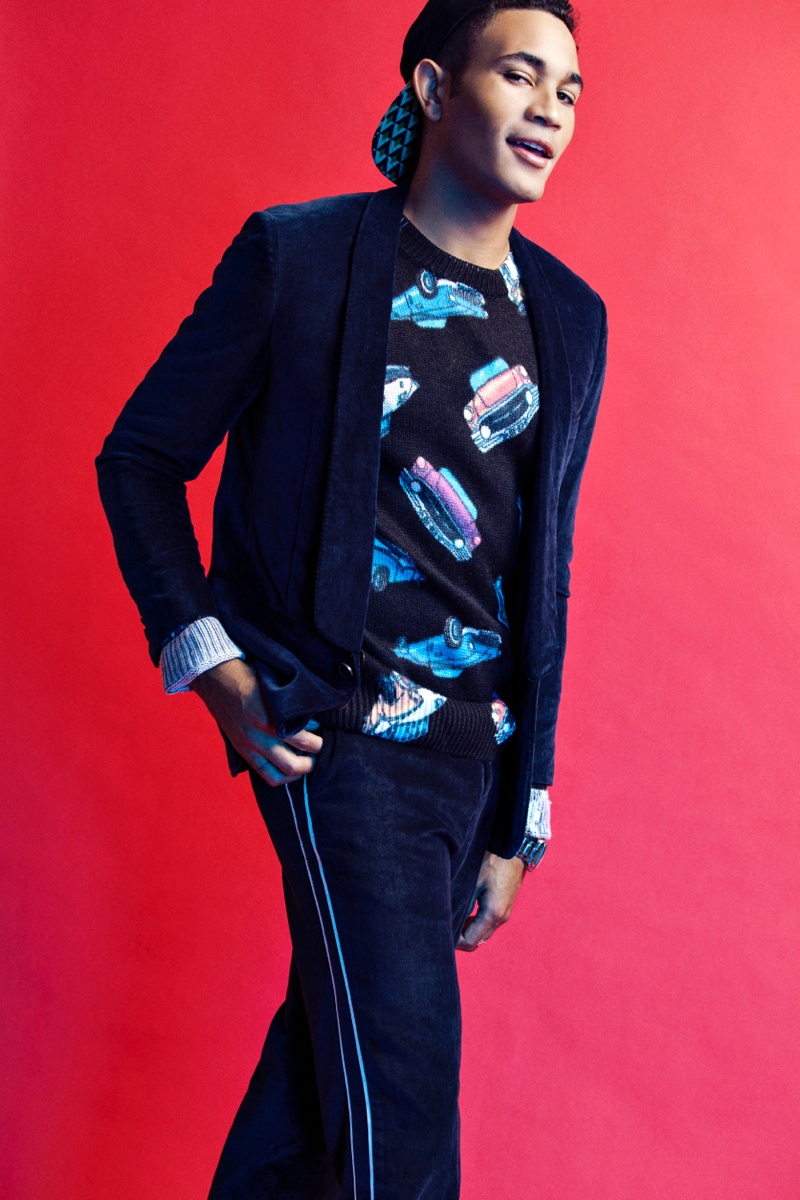 Bryce wears suit Hugo Boss, pullover Joyrich and snapback Young & Reckless.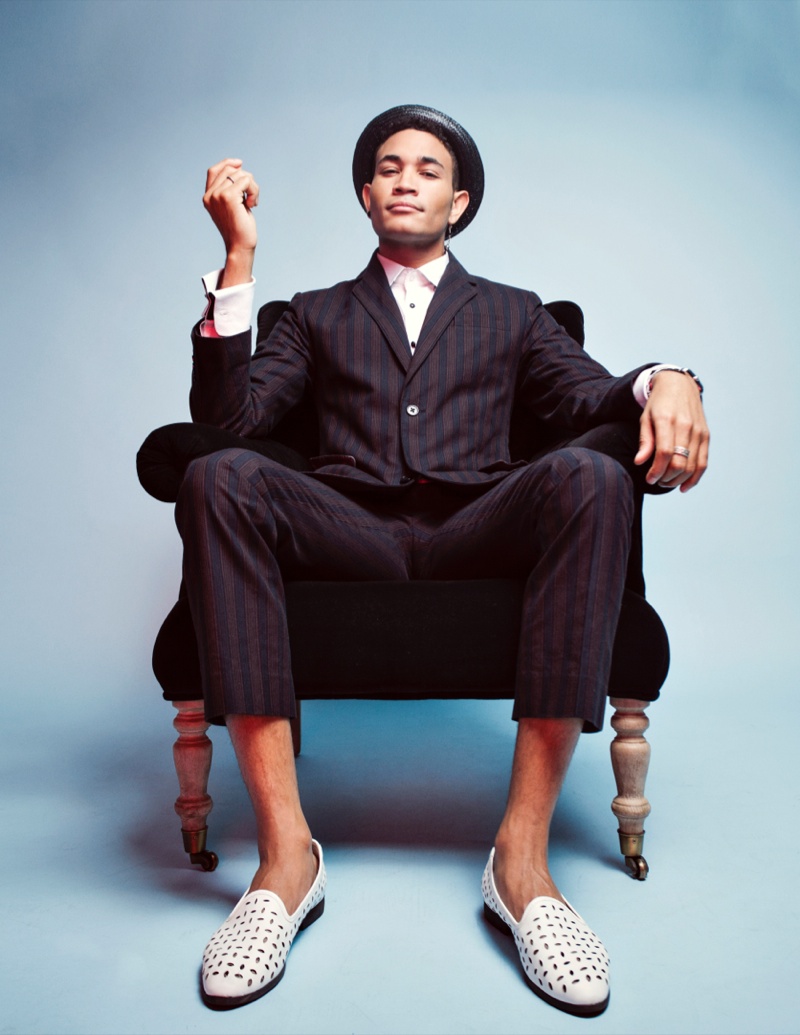 Bryce wears suit
Marc Jacobs
, button-up
Topman
and
shoes
YRU
from Style House 13.
We look at artists today and see them rushing through there careers, sometime so fast that mistakes can take them two steps back. Since The Glee Project, it seems that you have been focused on polishing your craft and your art. Take us through life after.
Well let's see. I spent almost a year sleeping on the couch at Damian and Cameron's apartment in Los Angeles. Acting wild, Over-Drinking, over-partying, stressed out, out of shape, and nearly broke. Still writing and recording with my friend Nick, but the songs weren't getting us enough attention, so I felt even more stagnant. About a year and half ago I got a call from one of my best buds Nolan from college. He'd recently gotten signed as a producer under the Grammy winning team, The Messengers. He believed I had huge potential to be great and hashed out a plan to start developing my sound as an artist with him producing the music. He got me a personal trainer, voice lessons, and introduced me to Matt Maltese and Nils Gums, who became my managers. Now my team and I have gotten really good at doing as much as we can on our own and keeping things moving at the right pace. We're not really worried about talking to labels yet either. We are all confident in myself and the music so we feel no need to rush anything.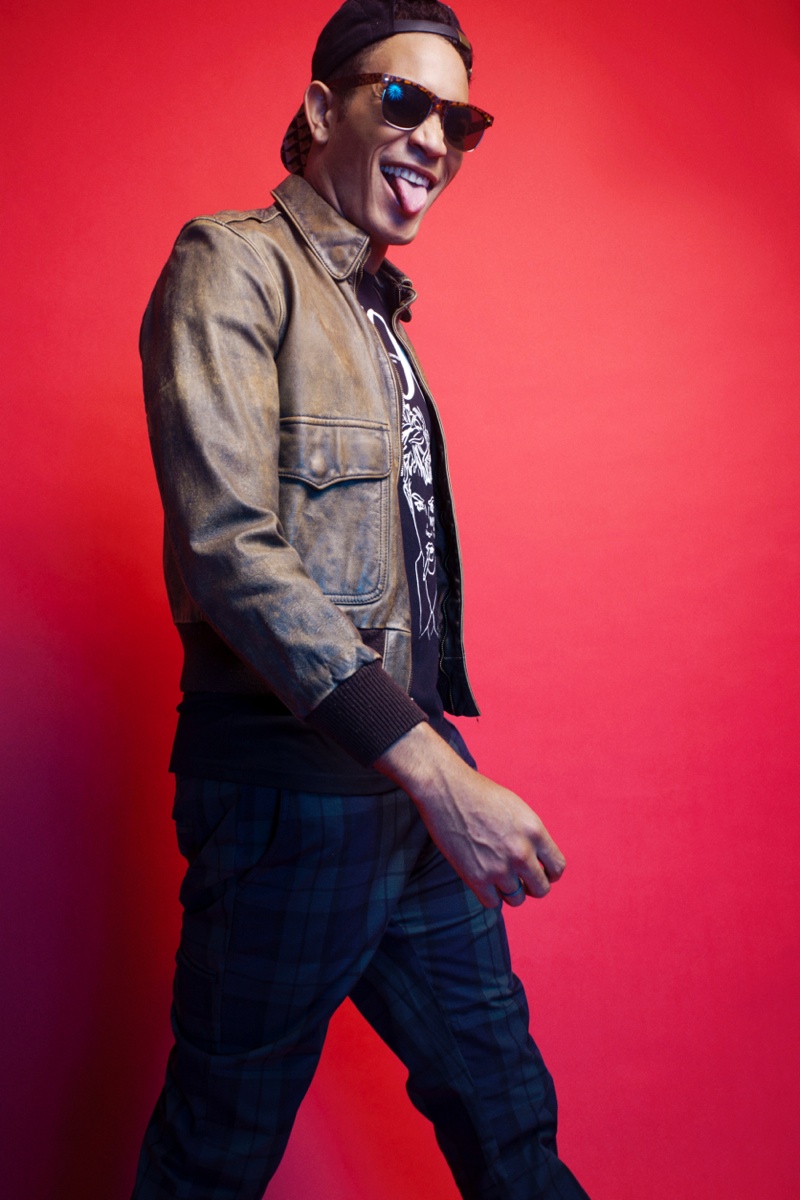 Bryce wears
leather jacket
Diesel
from Style House 13, graphic t-shirt
Joyrich
from Halfman and pants
Ralph Lauren
from Style House 13.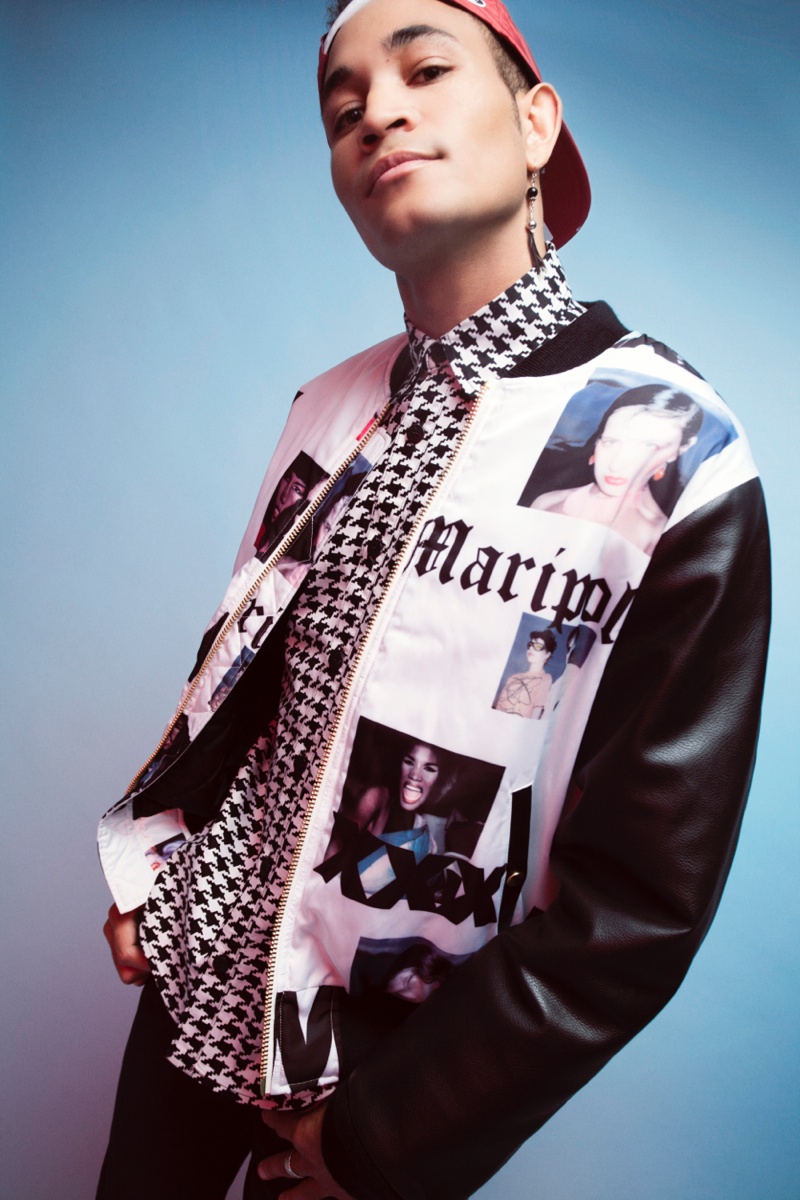 Bryce wears button-up Paulie Gibson, graphic club jacket Joyrich, pants Zara and snapback Urban Outfitters.
Can you tell us more about your tour with Karmin?
It's a fifteen show national tour to promote Karmin's upcoming record, Pulses. We started in Baltimore and are working our way back to the west coast. It's my first tour and I couldn't be more excited. Karmin is super amazing especially live and I really appreciate them letting me open for them.
Aside from performing with Karmin, are your followers expecting an album soon?
I released the music video for my song "Where The Wild Things Are" which was shot in Chicago. Also my first music video for my song "Take Me Home". Both on my YouTube channel. I also have my first EP "Lazy Fair".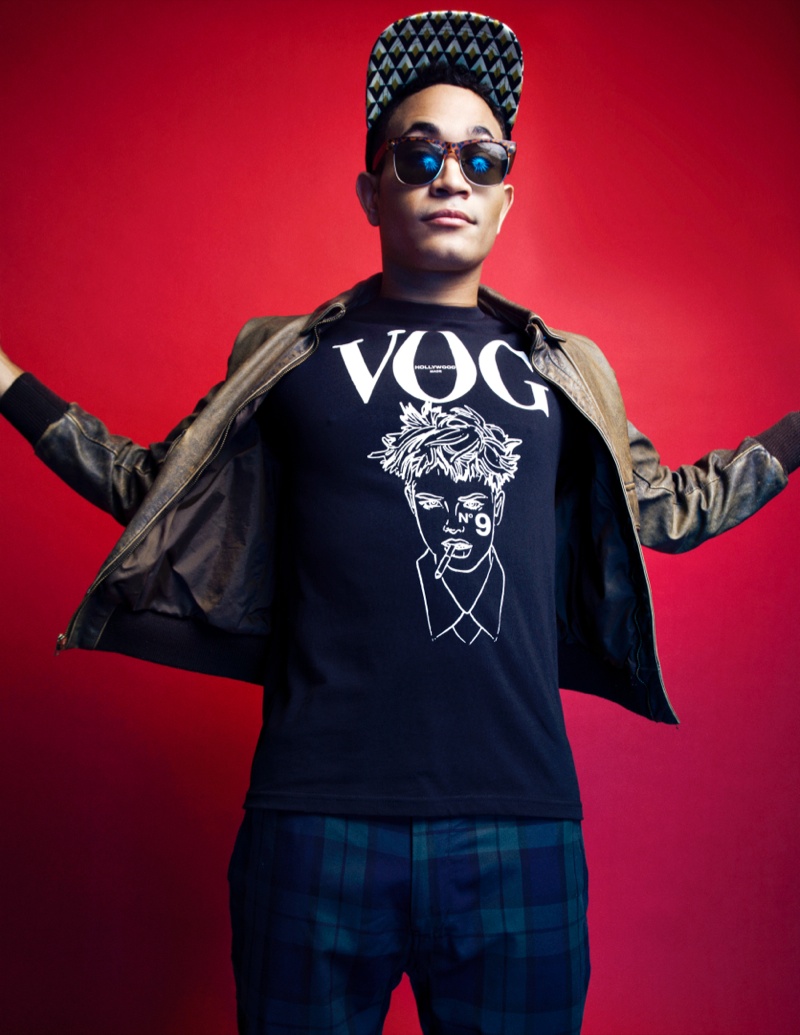 Bryce wears leather jacket Diesel from Style House 13, graphic t-shirt Joyrich from Halfman and pants Ralph Lauren from Style House 13.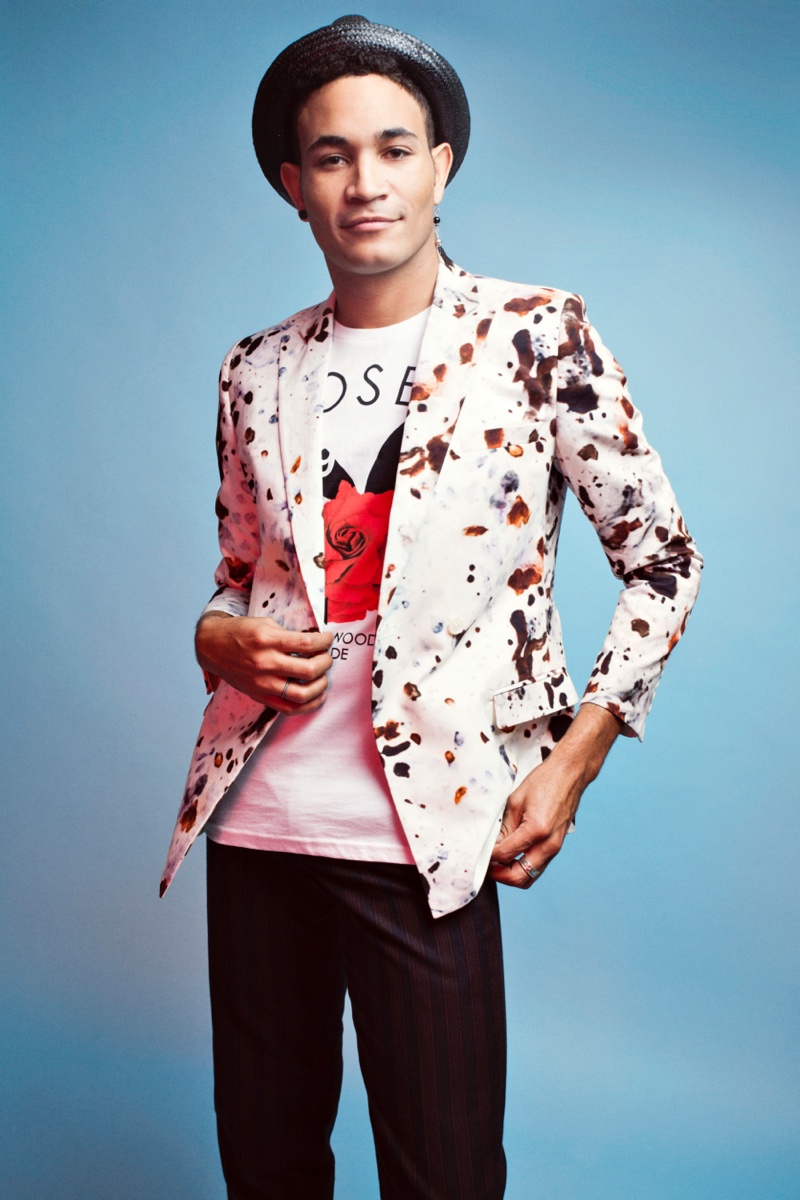 Bryce wears blazer Topman, graphic t-shirt Joyrich from Halfman and pants American Apparel.
Who are some of your musical inspirations from the past and present?
I'm inspired heavily by the music of the 90s. Artists back then just wrote great songs and didn't seem to take themselves so seriously. I don't think most of the radio songs these days will still resonate with people ten years from now the way 90s hits do today. I'm hugely influenced by the vibe and lyrics of The Beatles, Third Eye Blind, Kid Cudi, Blink 182, Incubus, Jamie T, Motion City Soundtrack and Drake.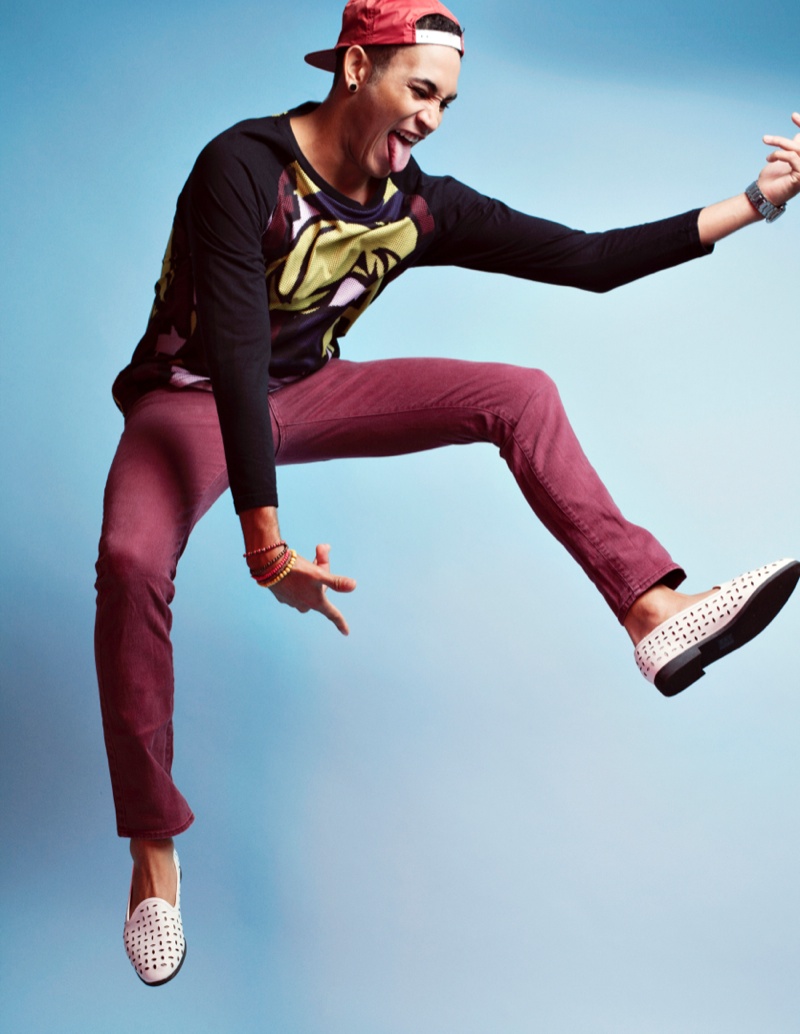 Bryce wears graphic baseball tee Joyrich from Half Man, pants American Apparel and snapback Urban Outfitters.
Collaborations seem to be a thing that artists tend to explore through different mediums, are you expecting any collaborations for the coming year?
Absolutely! I would love to get a Aaron Bruno (AwolNation) or Tyler the Creator feature. I also really wanna work with Chance The Rapper, Wallpaper, Frank Ocean and New Politics. It would be cool to do another collab with G-Eazy too.
How do you balance your music with your other obligations?
Luckily right now music really is my one obligation. Like everything in my schedule revolves around it. I run at the gym so I won't run out of breath on stage. I go out with friends on the weekend to a new place to see if it sparks writing inspiration. I love women but I don't have time for a girlfriend so yeah…I really have no other obligations.
Fashion, just like music goes through seasons and through changes. What's going on with your personal style?
My clothing style has already evolved greatly with the help of my man Wilford Lenov. My closet is full of shit I never would have tried on a year ago. Some are my favorite items. My music changes as I change. New experiences, unexpected events, new memories, old memories, new mistakes, old habits, new lessons, friends, love interests…all of it plays a part in what I make. All I know is that I haven't written my best song yet…but I really hope I've written my worst.
Pages: 1 2