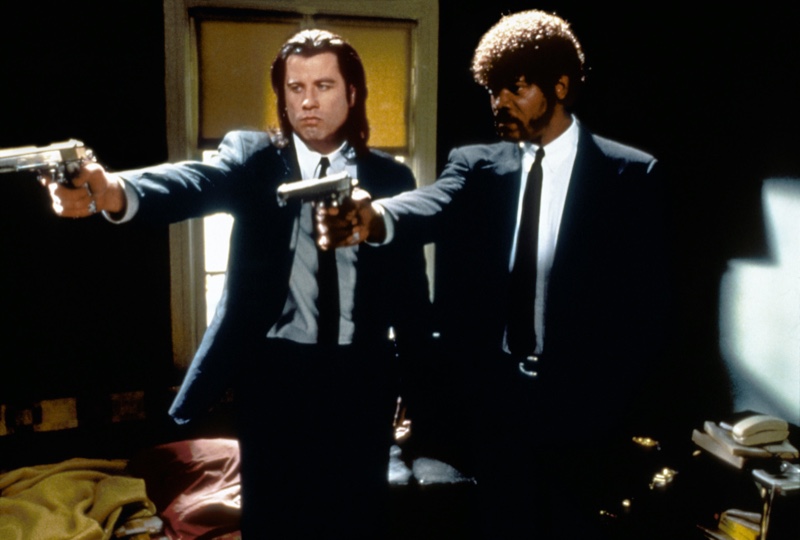 Part of what creates an intriguing movie is, without a doubt, the fashion in it. With the appropriate attire, the impact of the film gets turned up a notch. There's nothing quite like the black suit to set the mood when it comes to movies dealing with mafia bosses and secret agents.
Related: DISCOVER HOW TO SHOP FOR AN AFFORDABLE SUIT
From the men of Reservoir Dogs to Transporter's Frank Martin and Pulp Fiction's Vincent Vega, the black suit and tie have contributed to a powerful presence on screen that has left a lasting impression in pop culture. Here are seven of the top seven black suit appearances in cinema; read on to see if you can recognize any of them!
Reservoir Dogs
Quentin Tarantino's 1992 film Reservoir Dogs not only made him a director to watch but found a place in fashion film history with its timeless approach to style. Mr. Orange (Tim Roth) and his crew made a strong impression in their matching white shirts, black suits, and ties. Furthermore, they completed their looks with iconic Ray-Ban sunglasses.
Men in Black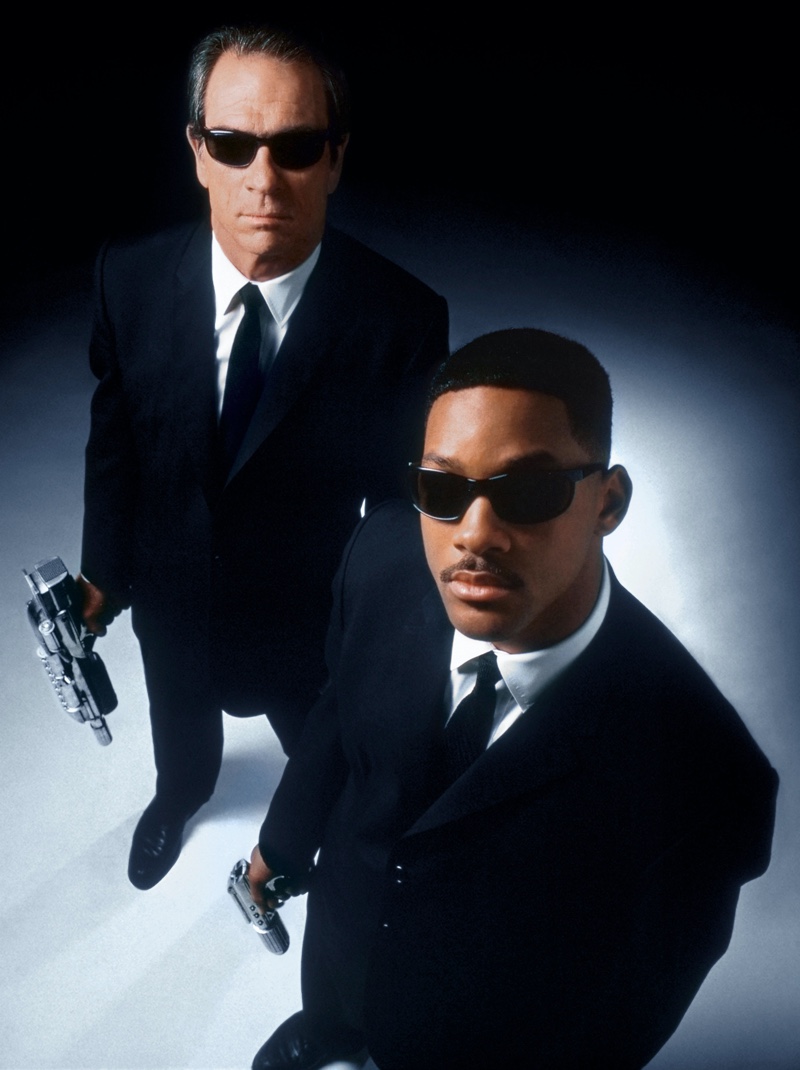 Jay (Will Smith) and Kay (Tommy Lee Jones) continued the cinematic legacy of the black suiting number in Men in Black (1997) and the two follow-up films. The MiB agents are famous for their all-black attire (notably including underwear, socks, and leather shoes). The only piece of clothing that isn't black is their dress shirt. The men in black's reason behind choosing this set are because black doesn't leave any impression behind, which makes it convenient for "neuralyzations." 
The Matrix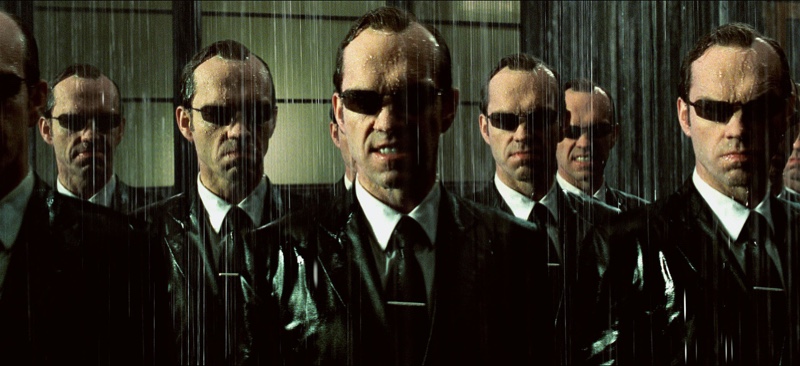 When it comes to style, there's definitely strength in numbers and it's no different for a villain. 1999's The Matrix introduced us to Agent Smith (Hugo Weaving) and his well-dressed clones. The ultimate nemesis for Keanu Reeves' Neo, something was frightening about Smith's impeccable black suit. Can we say sartorial PERFECTION?
Pulp Fiction
Without a doubt, one of the most iconic portrayals of the black suit in a movie would be when Quentin Tarantino resurrected the black suit and tie for his 1994 classic, Pulp Fiction.
The crime drama saw Vincent Vega (John Travolta) and Jules Winnfield (Samuel L. Jackson) as a menacing duo in black. These "black suits of armor" can be distinguished through subtle characterization, which effectively depicts both Vincent and Jules' demeanors in their ways.
The Transporter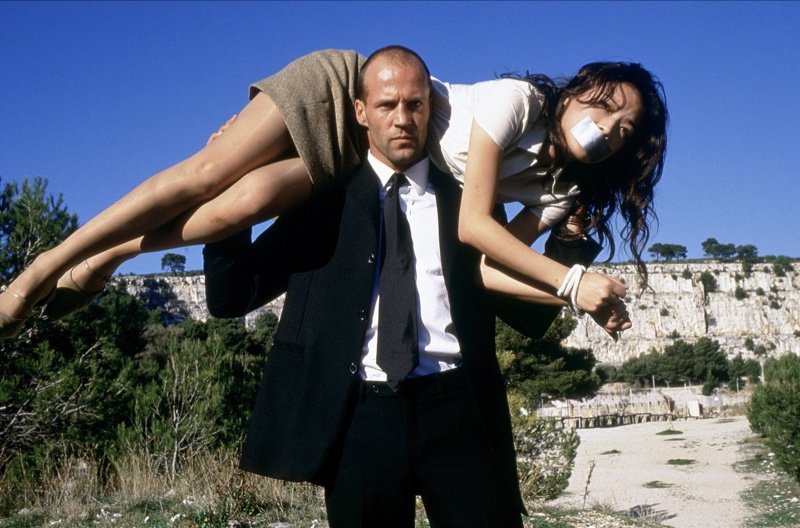 No one quite clears a room like Frank Martin. Jason Statham first appear in the iconic action role in 2002's The Transporter. Martin's use of the black suit shows remarkable durability in the action role. It also show's the importance of style to create a larger-than-life persona. Would Martin be as impressive if he was fighting in sweatpants? We'll let you think that over!
John Wick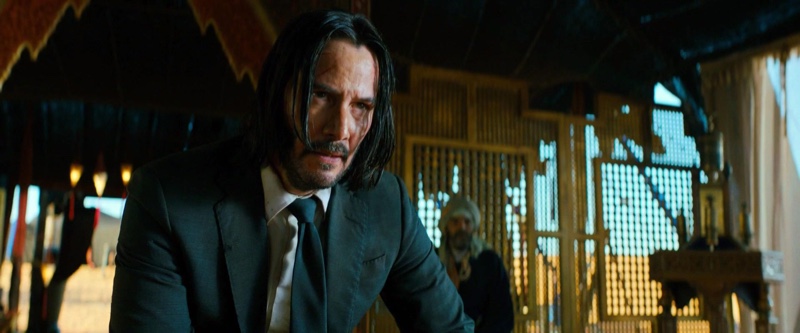 Keanu Reeves has the special ability to inhibit roles in a way that you can't imagine anyone else in his place. This is the case with John Wick, the 2014 American thriller action film, directed by Chad Stahelski. The first of a highly successful franchise, the films would be incomplete without the John Wick suit. The iconic black in this film takes inspiration from shadows to give the perfect image of a mysterious yet elegant assassin. These suits are a very dark shade of grey, but they appear black to the eye. 
Logan
2017's Logan showed the title character in a new light and here enters the power of fashion. Starring Hugh Jackman clad in a black suit, Logan wouldn't be complete without the two-piece. Taking a temporary stab at a normal life, our introduction to Logan is in a black suit for the working man. However, Logan's suit is stripped away for a surprising film with a lot of heart!
In Conclusion
It seems as though black suits in cinema are more common than previously thought. What was your favorite black suit appearance? Each of these movies has distinctively portrayed the black suit, and one thing remains for sure; the black suit will remain an icon in cinema for decades to come.