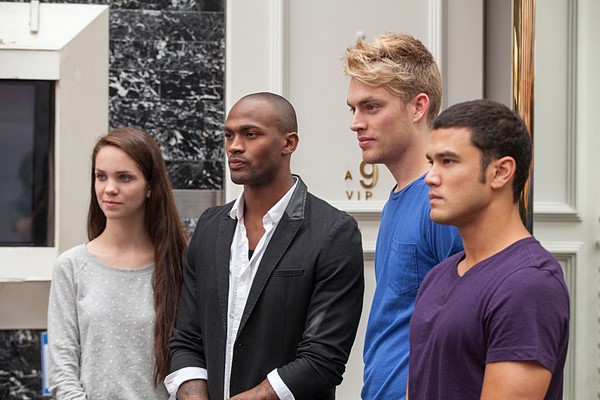 For part one of the finale, Tyra challenged the final four; Will, Keith, Adam and Lenox, to appear in a commercial for her new cosmetics line, self-titled if course. Previously eliminated contestants were brought back to appear in the commercial. For an added bonus, all-star Allison Harvard was invited to appear in the shoot as well.
Tyra Shoot
Following the commercial shoot, the final four met with Yu Tsai to shoot their potential GUESS advertisements. Clad in denim, the models delivered their best for Tsai, who eventually asked the final four to come together for a group photo. That's when the big surprise occurred. Tyra, Kelly and Miss J entered the set. Tyra announced that they had watched the entire shoot and she had selected their best photos. Immediately going into a judging panel session, Lenox and Keith fell in the bottom two with Adam receiving best photo. Lenox was eliminated, making the final three all guys, paving the way for the first male winner of America's Next Top Model.
GUESS Shoot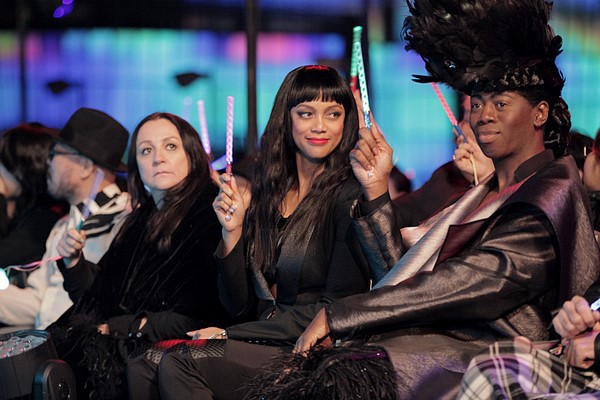 Hitting the catwalk for the final runway show, the final three brought their A game with no one having an OOPS moment. Returning to judging panel, the top three's body of work was reviewed to see who has proven themselves as a model.
Final Runway
Stepping before the judges, dressed in head to toe black, to find out their final fate, Adam was the first to be eliminated, leaving Will and Keith as the top two. Ultimately, Keith took home the crown, becoming the first male winner of America's Next Top Model.