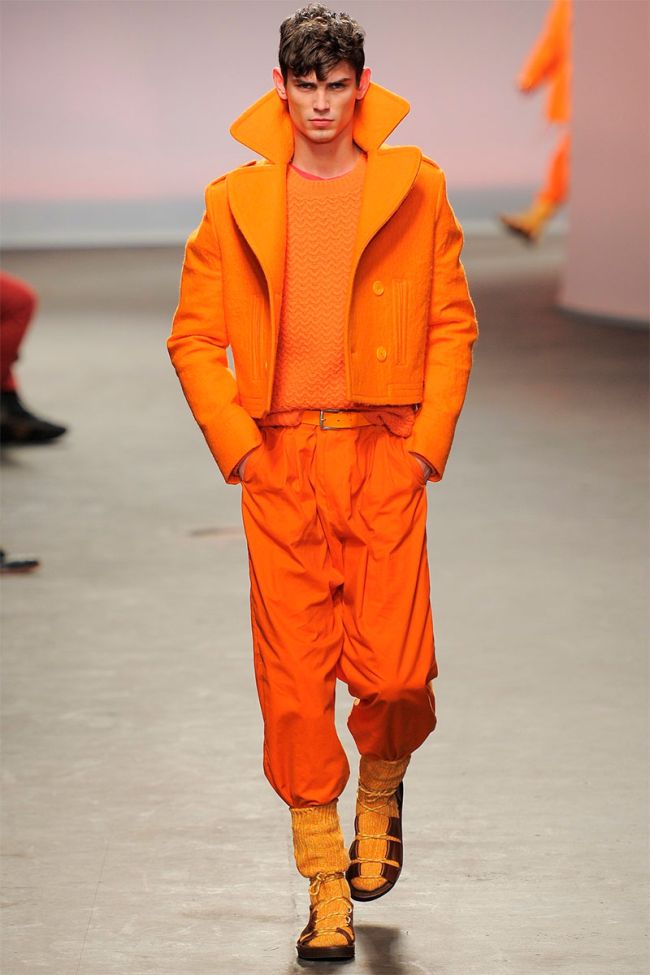 The Gentleman Explorer–The Topman Design show opened with a clean palette of Arctic white with oversized and cropped parkas complete with fur trim, which was the key item of the fall/winter 2013 collection. As the show continued the colour palette evolved from layering in creams and puttys into spicy oranges, bright reds and ox blood, finishing with sophisticated tailoring in midnight blue. Knitwear in bright yellows and fuchsias in boiled wools provided texture. Trousers have a looser silhouette with double pleats and belted at the waist in drill cotton and waxed finish. Outstanding accessories include oversized backpacks with metallic leather detailing complete with hip flask, compass and iPad case, and heavy leather explorer boots with metallic trim. / Written by KENNY HO.
[iframe width="760" height="428" frameborder="0" scrolling="no" src="http://vds.rightster.com/v/01z0zgmwx2quov?target=iframe&autoplay=0" allowtransparency="true" webkitAllowFullScreen mozallowfullscreen allowFullScreen][/iframe[/iframe]div class="tiled-gallery type-rectangular tiled-gallery-unresized" data-original-width="800" data-carousel-extra="null" itemscope itemtype="http://schema.org/ImageGallery">
Enjoyed this update?