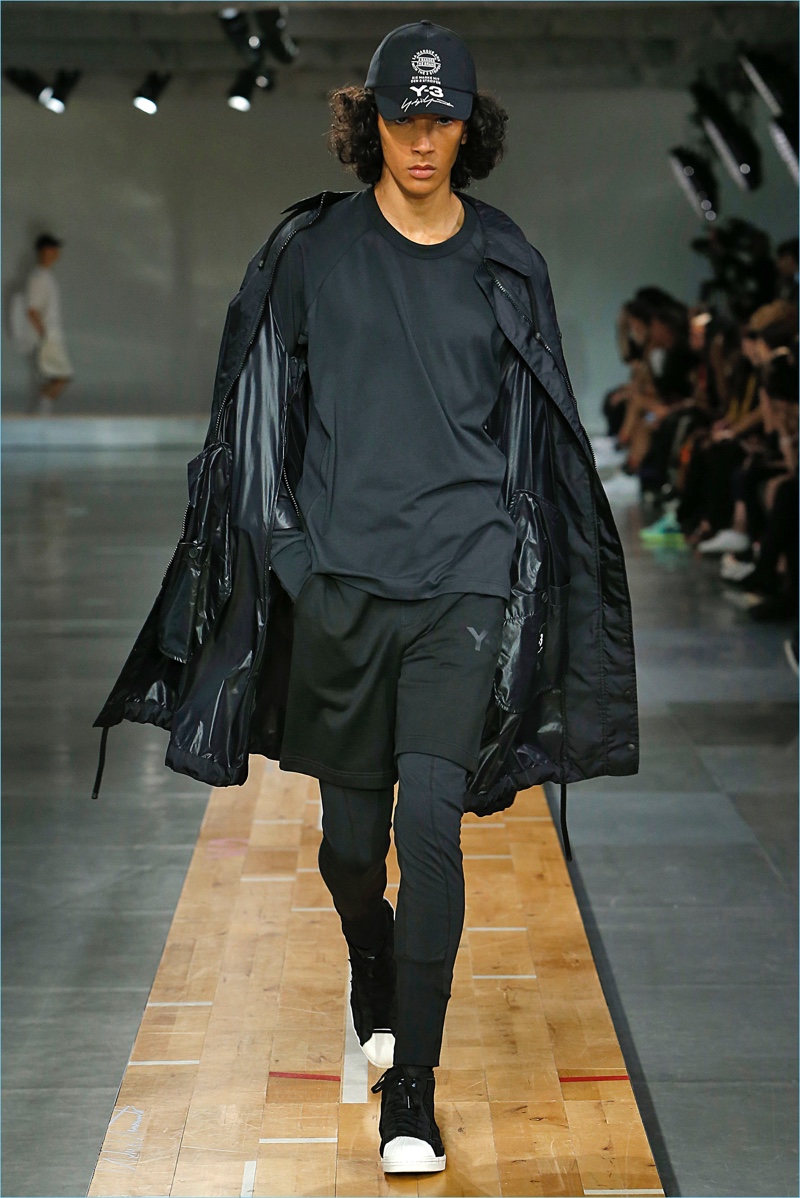 Y-3 returns to its roots for spring-summer 2018. Designer Yohji Yamamoto presents a clean straight-forward approach to sporty attire. Simple lines come together with a black and white color palette for an easily accessible season. The co-ed fashions work hand-in-hand with an emphasis on casual everyday style. Designing in modern terms, Yamamoto's lineup includes elongated shirts, joggers, and oversize coats. Highlights of the collection put the focus on footwear with Y-3's Suberou, Bashyo, Kusaris, and Saikou styles.
Related: Spotlight on Y-3 | Everett Williams Receives a Sporty Style Update
Y-3 Spring/Summer 2018 Collection
Cité de la Mode, Paris – In 2003, the iconic Japanese designer and the German athletic trailblazer created sport-style—an entirely new sector of apparel and footwear—and has continued to lead the market. On the eve of its anniversary show, Y-3 debuts a Spring/Summer 2018 collection that once again reinvents the category of fashion sportswear. As Yohji has simply stated,"Y-3 has been the Uniform of the Street since 2003."

This season, Y-3 reconnects with street culture and reaffirms sport-style as its true essence and intention. Presented at Cité de la Mode on June 25th, the Spring/Summer 2018 collection fuses the language of Yohji Yamamoto and adidas in new and intriguing ways.

Apparel makes a statement with a series of original graphic motifs including a bold stacked logo in multiple languages. Men's and women's pieces communicate a strong, urban attitude—as seen in exaggerated bombers, cool coach jackets, seamless hooded sweaters, street kimonos, Tyvek outerwear, and lightweight nylon coats.

The legendary artist Mr. Taishi Hayashi—a Y-3 collaborator since the beginning—returns with a sumptuous series of all-over botanical prints, which swirl across long button-down shirts, sarouel pants, cropped jackets, and satin tanks. On the opposite end of the aesthetic spectrum, a black-and-white story in bold, cut-and-sew stripes lends new life to an adidas signature.

Y-3 fearlessly innovates in footwear, unveiling an expansive new range that draws equally on the imagination of Yohji Yamamoto and the technical prowess of adidas.

The SUBEROU is a summer-ready, slip-on style trainer on a new Y-3 runner tooling, complete with statement graphics on its tongue. The BASHYO, a slim, midcut style, combines stretch canvas, leather, and rubber for a mixed-media effect. The new SAIKOU merges the minimalist style of Y-3 with adidas boost™ cushioning, featuring a flexible, sock-like Primeknit upper and a suede toe cap. The KUSARIS innovative side-facing lace system ensures extra stability while its adidas boost™ tooling creates a responsive feel.

In a landmark collaboration between Yohji Yamamoto and adidas, Y-3 looks to the future—acknowledging a decade and a half of pioneering while focusing squarely on what comes next.