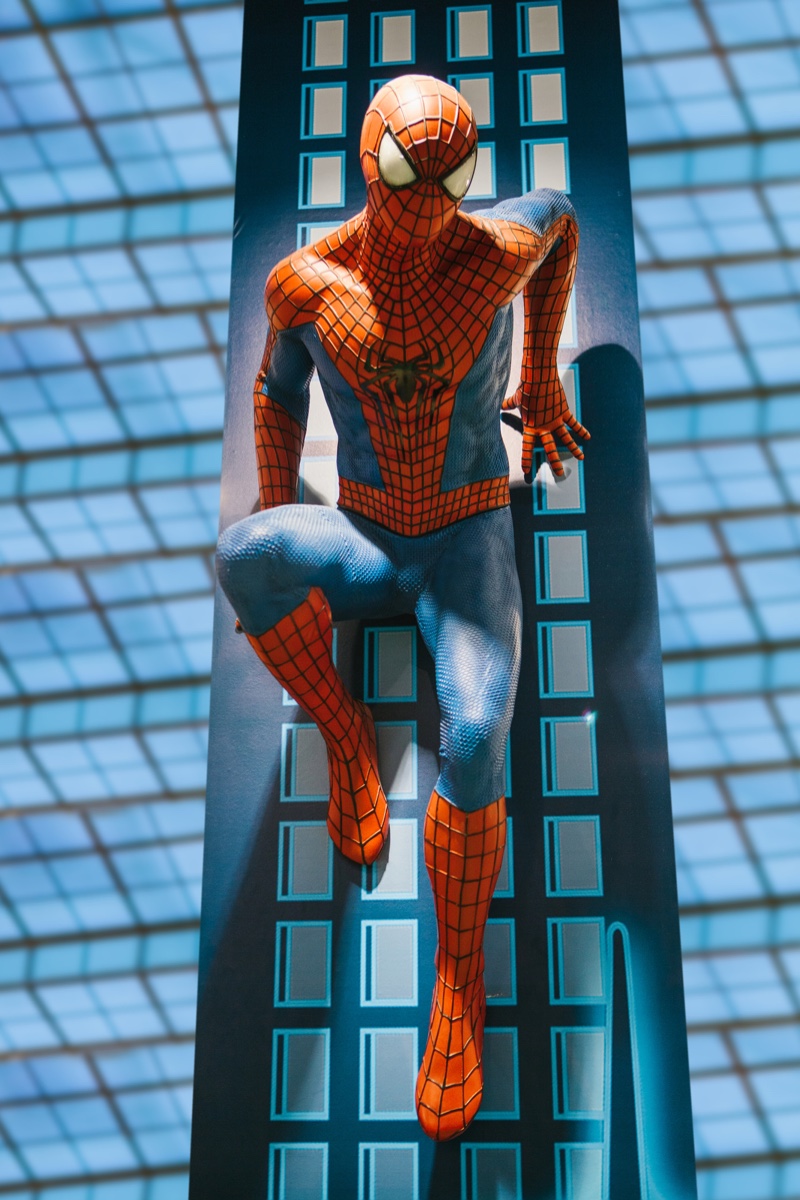 We all know that Spiderman can do whatever a spider can. Eating flies and spinning silk webs out of his body may seem a little farfetched but there is no doubt that as superheroes go, the concept of a young Peter Parker being bitten by a radioactive spider and developing some odd superpowers has appealed since the character burst on the comic scene in August 1962.
It was a period when the Western world was obsessed with things that were glowing and radioactive at the height of the Cold War and all the fears that went with it.
But it was not a passing fad and the appeal endures to this day. Indeed Spiderman morph suits  – spandex costumes that hug the body – are among the most popular costumes available to hire throughout the world.
Who wouldn't want to be associated with swinging through the city, firing webs from your wrists and getting to save the girl?  
Let's face it, if you have the physique a well-cut Spiderman outfit has a romantic, man-of-mystery trope about it. Morphing into an athletic superhero, who has special powers, more than one personality and a sensitive side that women adore has a lot of pulling power.
In Spiderman's original story, American teenager Parker, who was a sickly orphan, is attacked by a radioactive spider. As a consequence, Parker develops superhuman speed, strength, and agility and the capacity to cling like a spider to walls.
Legendary writer/editor Stan Lee and his illustrator Steve Ditko conjured up Spiderman as a story to fill in for a cancelled anthology series. A teenage hero had previously not existed in comic books. However, Parker sparked powerful responses from his teenage audience which inspired an ongoing series and, as history will judge, an impressive media empire, that now comprises video games, many animated and one live-action TV shows as well as an ongoing film franchise, as well as a Broadway musical.
Spidey's radical departure from established comic-book conventions was striking. Here was a teenager who had not been relegated to a sidekick status beside some older, more-hackneyed hero. No this was a character who displayed enhanced speed and boosted strength.
To make the character even more appealing and astounding Parker was also written up as possessing a precognitive "spider-sense" which alerted him to any approaching danger. With his inherent scientific talent, Parker was able to synthesize a "web fluid" that was uniquely adhesive as well as constructing a duo of web-shooting devices attached to his wrists that allowed him to fire the web into a variety of useful shapes and forms. Parker also personally designed and put together the famous red-and-blue outfit that became Spidey's most obvious and visible trademark.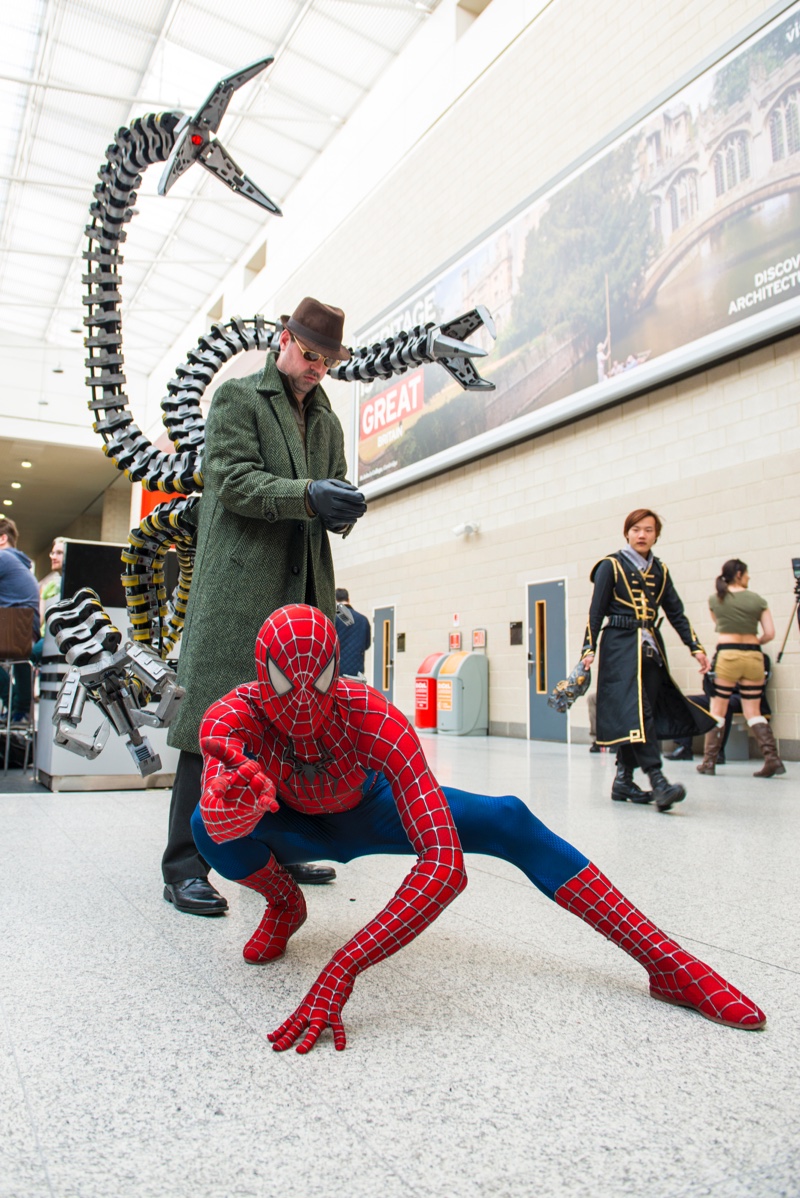 It seems amazing now that Martin Goodman, Marvel's publisher at the time, was not initially bowled over by this idea of a teenage hero adopting the center stage. Goodman even questioned the idea of Spiderman suffering from neuroses, demonstrating romantic deficiencies, and suffering from chronic concerns about his money. Goodman even thought the audience would be repulsed by the spider motif!
As we now all realise author Lee's instincts were what prevailed and Spidey's debut in the comic Amazing Fantasy was a resounding and immediate success.
It was revolutionary! From the outset, Spiderman behaved in a way that significantly deviated from what had gone before as far as superhero norms were concerned. He did not selflessly dedicate his superhuman gifts to the general betterment of humankind and crime-fighting. No, the newly powerful Spidey trades on his talents by achieving celebrity on TV. After performing in front of the camera, Spidey refuses to tackle a thief from stealing the TV station's box-office receipts.
Then Spiderman's world collapses when another criminal murders uncle Ben Parker, leaving Peter's only surviving guardian, Aunt May, a widow. Grief-stricken Spiderman then is able to track down his uncle's killer, only to discover that the murderer is the same thief who he had allowed to escape from the TV studio.
It is at the end of this original story that the moral tone of Spidey's existence is described as a lean, silent figure slowly fading into the darkness, becoming aware that with phenomenal power comes great responsibility!
SO HOW DO YOU PULL OFF THE SPIDERMAN LOOK
There are some key elements of advice that everyone who wants to impress while wearing Spiderman Halloween costume really needs to digest.
It starts with getting a suit that properly fits. Going full Spiderman requires a Spiderman outfit that isn't so tight you almost suffocate but doesn't sag in all the wrong places. It has to fit snugly and show off the curves you want to promote. A cheap suit will look – well cheap! You want your Spiderman morph suit to end up showing you looking like a superhero.
To make sure that you are the right shape to make an impression then you probably need to hit the gym. To become a convincing Spiderman the gym for a few days is a no brainer to hone that impressive six-pack.
If cutting it as a superhero is more of a joke than don't worry excessively. People who are built more for comfort than spectacular speed and allowed just to have fun!
Because Superheroes are wont to disguise their identity from everybody except their nearest and dearest you need to ensure that your Spiderman morph suit is authentically all-in-one. It would ruin the effect if you add an inappropriate and unnecessary mask that is bound to make you appear more like a South American wrestler like Jack Black in Nacho Libre than a swashbuckling superhero.
It's also key not to forget the practicalities. To be blunt your supercool look as a superhero can be pretty quickly ruined if you haven't planned how you are going to use the john in your costume!
Spiderman's appeal as one of the most popular superheroes in the world is down to the everyman character on which he is based. It's hardly surprising therefore that so many of us want to appear to be a bit of a Spidey superhero now and then – and what better time than Halloween!