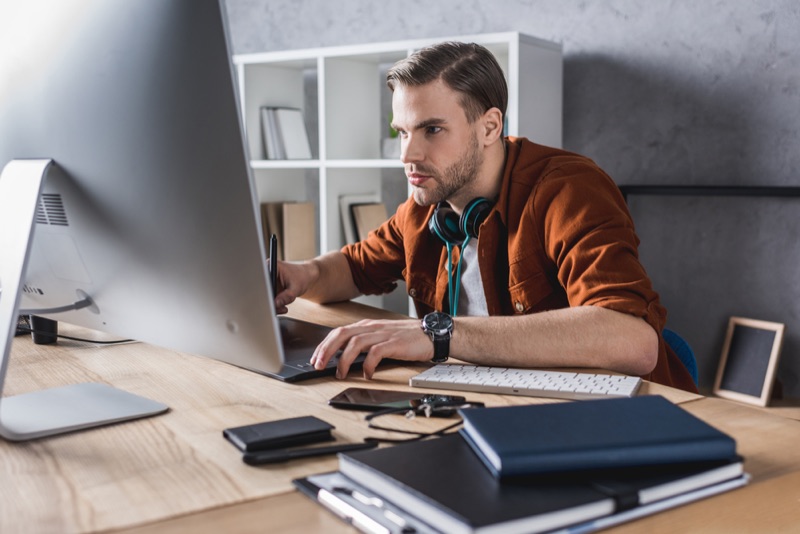 If your daily work routine still involves getting up at the crack of dawn, forcing down breakfast and a coffee, and then driving to your office still half asleep, we have good news for you. In the very near future, that dreadful routine may no longer rule your life. Recent research from America indicates that 43% of all workers do some remote work. In other words, they now spend at least some of their time working from home.
To a lot of people, that sounds like living the dream. It means you can wake up later, take breaks whenever you want to, and go about your work without the constant feeling that someone's looking over your shoulder. So long as you can keep yourself motivated, and stay clear of distractions, you might even be more productive than you would be in the office. That all sounds great, but it leaves a key question. What are you supposed to wear to do it?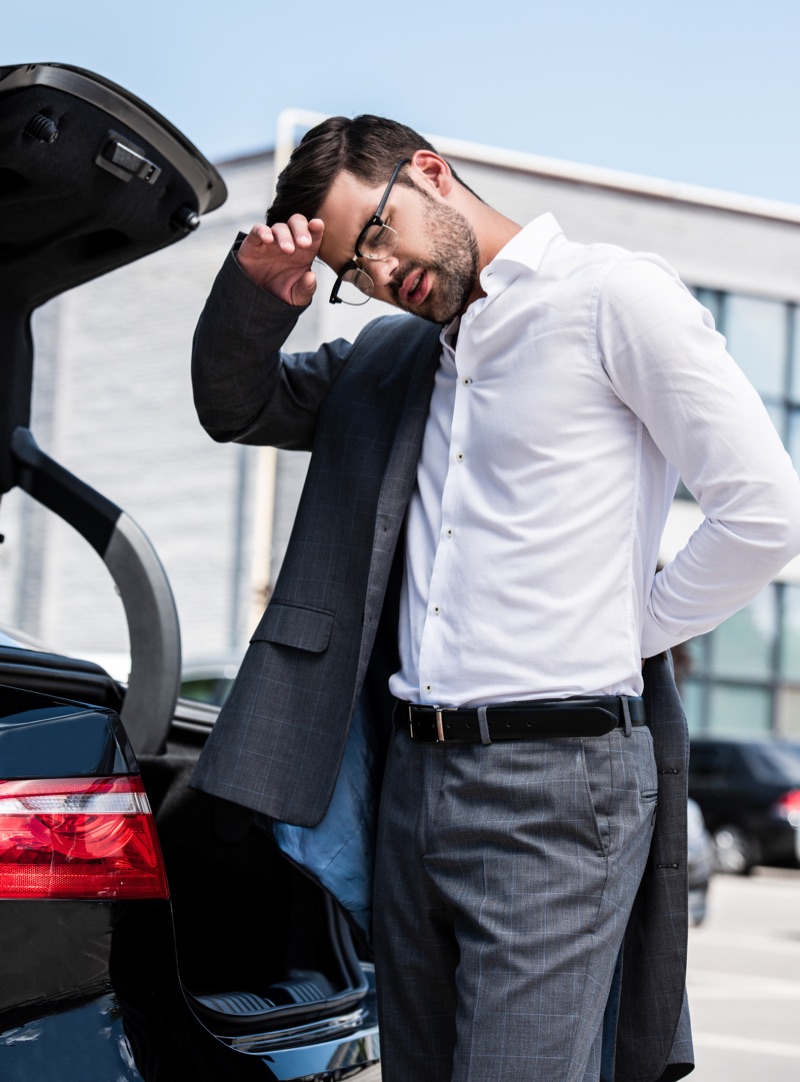 Say Goodbye to Suits
There are precious few people who enjoy wearing a suit to go to work. We all love to dress up now and then, when the occasion demands it, but the chore of ironing shirts, polishing shoes, putting on a tie so tightly that it becomes uncomfortable isn't one that most of us relish.
Everybody should have a couple of stylish suits in their wardrobe, but they should be clothes that we wear to impress, not to go about the tasks of our daily lives. Plus, good suits are expensive, as we all know. Even wearing two or three on rotation throughout the year soon sees them becoming faded and tired.
As a home worker, leave your suits in the wardrobe and get them out when you need to look your sharpest. Weddings, formal occasions, big business meetings – fine. Working on spreadsheets in front of the television? No, thanks.
Steer Clear Of Pajamas
On the other end of the scale, there are pajamas. We wear pajamas to go to bed for an excellent reason; they're comfortable. Putting on a pair of soft silk pajamas is like giving yourself a big hug. Many of us get out of the suit and put pajamas on the moment we walk through the door; it's how we separate 'work mode' and 'home mode.' Therein lies the danger. If you associate pajamas with comfort and relaxation – and who doesn't – then your mind is conditioned not to do any mental 'heavy lifting' when you're wearing them. Maintaining the right attitude is an essential component of being a successful home worker. If you dress like you're half out of bed, you'll work like you're half out of bed.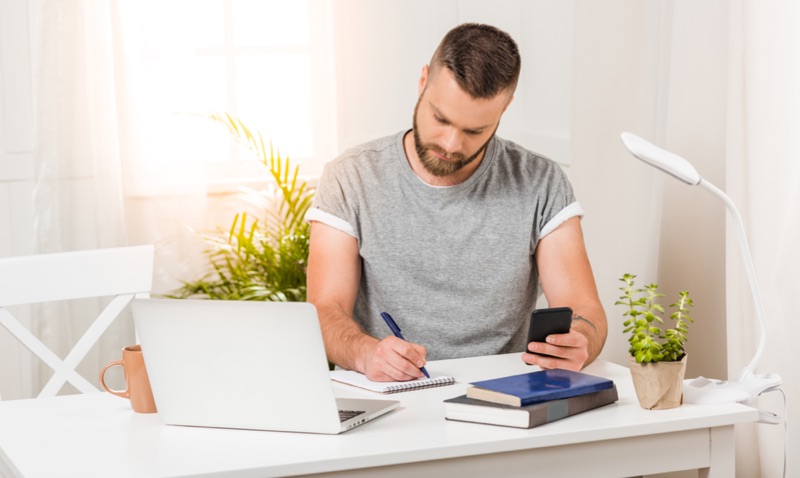 Productivity and Style
Going back to the science of work and clothes for a second, there was another study done in Manchester, England, which demonstrated that 61% of office workers are more productive on 'dress down days,' where they can, within reason, wear what they want to wear to come to work. Herein lies the answer. If you've worked in an environment that usually required formal wear, but had regular dress down Fridays, you'll already know what kind of clothes you'd put on that morning. You'd probably wear a similar outfit to the kind that you'd go for a night on the town in if slightly dialed back.
That's probably what you're looking for as a home worker. Stay away from sweatpants, and leave your gym shorts and a tank where they belong. Find yourself some nice, comfortable jeans and pair them with a smart t-shirt; maybe even a blazer. Dress like you're going to go outside at some point during the day. The act of getting dressed up will have a similar effect on you as putting your suit on does typically; you'll mentally start to prepare for the day. Good 'working from home' clothes are clothes that you wouldn't have to change out of if you got a phone call and needed to leave the house in five minutes time.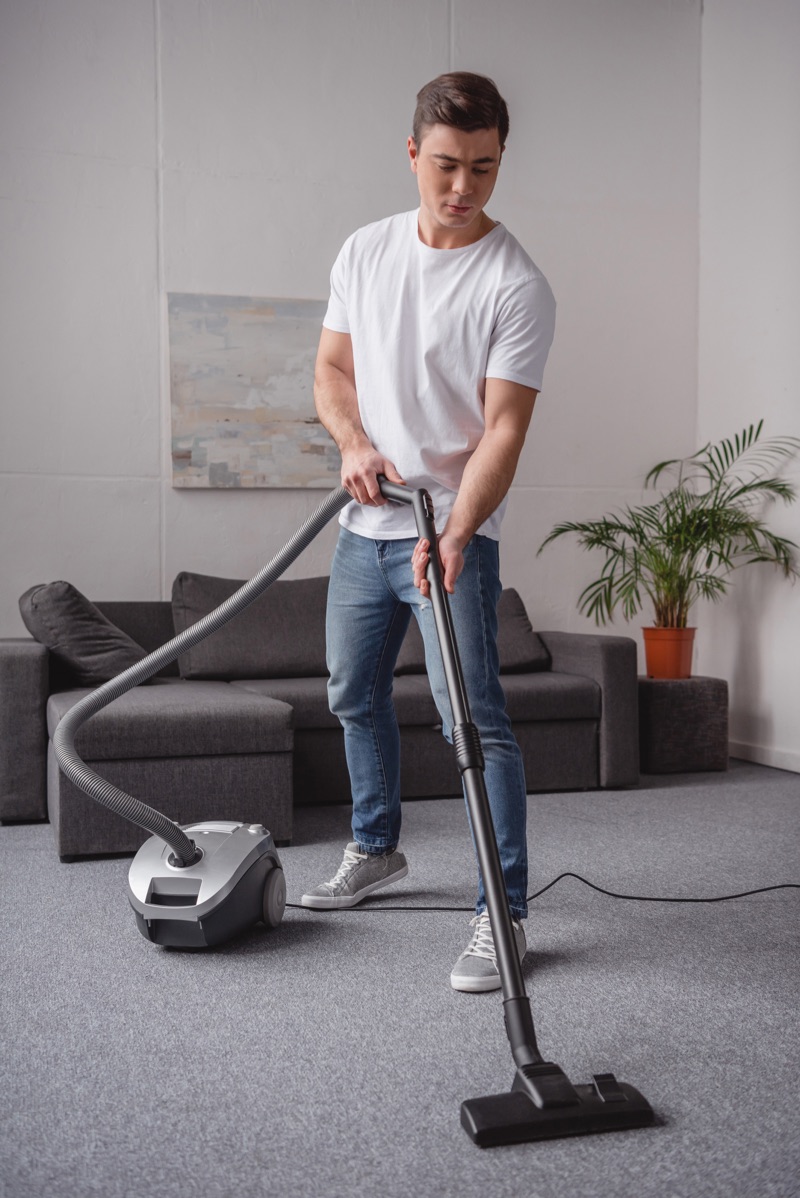 The Knock On Effect
The plus side of taking a smart-casual approach to work from home is that it will also make you more inclined to get more done around the house, or even in your leisure time. How many times have you come home from work, knowing jobs are needing to be done around the house, but you never get round to them because you've changed into your lounging wear and you're 'done for the day'? Your mindset changes when you're in the wrong clothes to do the job.
You'll find that if you're sat at the computer looking sharp, you'll be more switched on to the task in hand. If you've been meaning to phone your energy supplier for the last few weeks about changing your tariff, you'll find yourself more motivated to do it. Lingering correspondence that you've meant to get on top of for days is more likely to get done. That light bulb in the hall that's needed changing since last Wednesday? Suddenly you don't feel like getting up a ladder would take more energy than you're willing to give.
You should find you have more focus on your leisure activities and hobbies, too. If you indulge in creative writing, and you see yourself sat at the computer alert and switched on once all your work is done, all of a sudden you find time to work on it. A lot of us fancy ourselves as armchair betting experts. If you're the sort of person who frequently kicks yourself because you meant to put a sports bet on and never got round to it, and now all the results you predicted have come in, and you've made no money on it, you'll be more likely to just get it done in time if you're in 'work mode' around the house. If you're a slot machine player, and you're a regular visitor to Rose Slots, when do you think you'll be most successful? Half dressed, with one eye on the screen and the other on the television, or completely switched on and at the moment? If you were heading out to the casino, you wouldn't go there in clothes that you'd paint the house or go for a run in. You'd make sure you looked like the sort of stylish, successful gambler you aspire to be. So, by all means, log in and play the games, but do it in your 'at work' mode. You might find that your strategies are more successful.
That's the single most important thing about working from home, playing from home, or doing just about anything from home; it's all about mindset. Get yours right, and great things can happen.