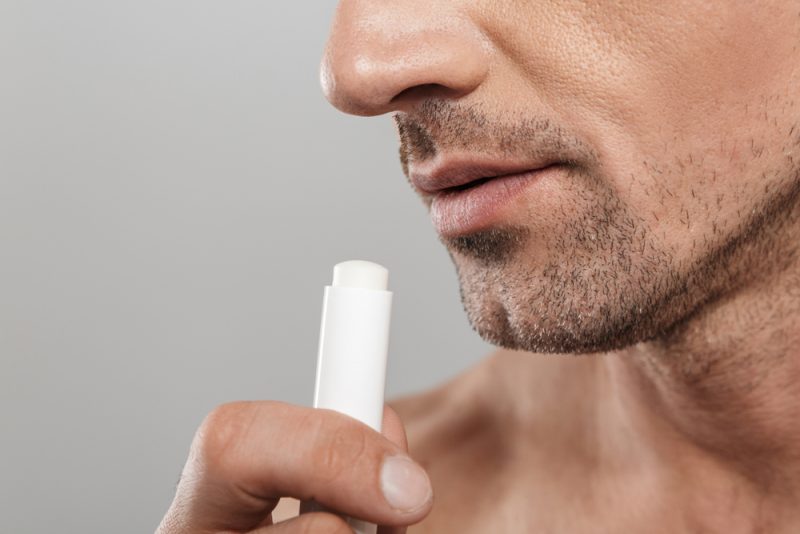 Much of the lip care industry is targeted to women. Lipstick, tints, liner, and gloss are almost exclusively marketed to women. Aside from Chapstick and Neosporin, what are men to do? A man is just as likely to be affected by dry or damaged lips like a woman. Perhaps more so if you factor in outdoor jobs such as construction and agriculture, which are dominated by men.
Faced by constant exposure to the sun, wind, and various irritants related to the environment, protection is needed. Cracked, dry lips are not attractive for either gender. Men can have healthy soft lips with just a few small additions to their daily habits.
Tips for Healthy Lips
1. Hydrate. Drink enough water.
Drinking enough water and keeping your lips hydrated is especially important in dry, hot environments. If you have ever taken a vacation to Nevada or Arizona, you will immediately notice dryness in your lips within a few days. Drinking enough water is a good start. Dermatologists recommend 6 to 8 glasses a day.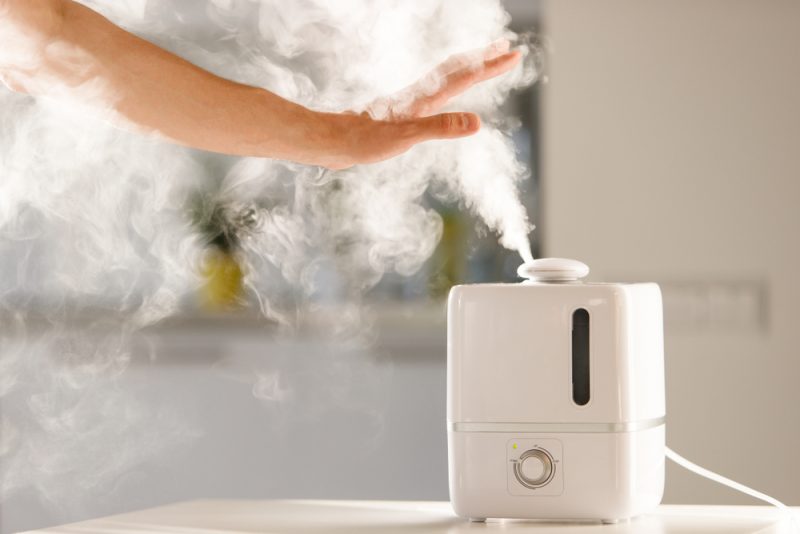 2. Use a humidifier when you sleep.
We get that this isn't practical when traveling, and perhaps it's more hassle than a single man is willing to go through. But is a general recommendation a dermatologist will give for maintaining skin elasticity. Not only is it excellent for all of your skin, but it will also help prevent dry, chapping, and cracking lips.
During the cold months, we tend to crank the heat, and this is quite rough on the body. The humidifier will help out your skin in general. According to SFTD, a person 150 pounds in body weight should consume approximately 65 ounces of water daily. You can use this as a rough calculation and keep in mind your environment if you need more or less.
3. Apply a moisturizing product to your lips.
We tend to recommend going with a lighter balm over a thicker one. The thicker one will do the job of protecting your lips, but it isn't beneficial with hydration. A lighter balm helps keep hydration all day, especially for guys working outside. They penetrate the lips better.
There are a lot of great balms on the market that will do the trick. Some brands we like are Bert's Bees, Carmex, Kiehls, and Blistex. Those are probably all brands you have seen in your local stores that are unisex. Those should all be colorless, which seems to be the general go-to, but you be you.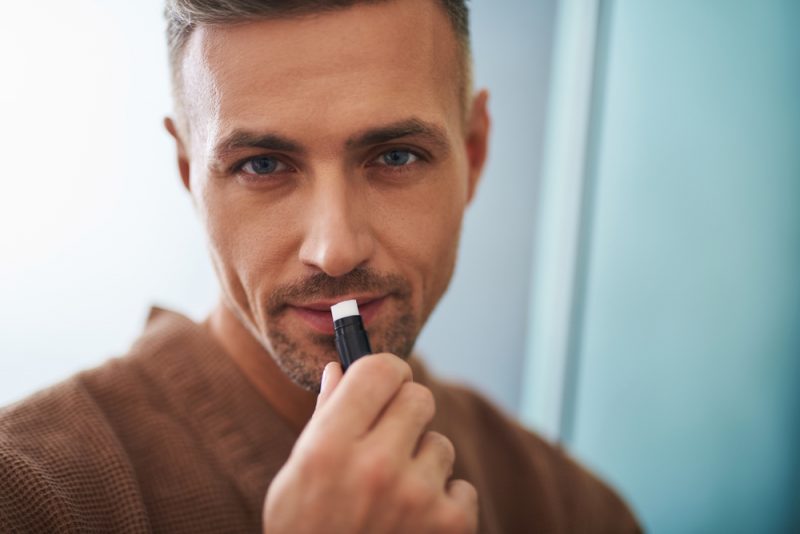 Pro tips:
1. We recommend you stay away from flavored lip balms. The tendency will be to lick your lips, which then results in further dryness. Sweeteners also can cause allergic reactions.
2. Read labels before you buy products you put on your lips. This is an excellent tip from WebMD: Don't forget always to scan labels. Make sure you're using a balm that is SPF 30 or higher (recommended by the American Academy of Dermatology) and avoid products that contain parabens and fragrances. Both can cause lip-irritation.
3. If the moisturizing lip product your using isn't working, it's possibly time to change. Many of the products that are made for lips have a petroleum base, which gives some temporary relief, but it doesn't restore the lip's natural moisture, which it needs to do. If what you're doing isn't working, trying another product that better suits your lips could be the key. If nothing is working or the condition is particularly bad, see your dermatologist quickly to get some assistance.
Our Product Recommendation for Men: Neosporin on Lips
No, this isn't the regular Neosporin. This is a specific night therapy that Neosporin makes specifically for this, for putting on your lips. It's not too girly, and it does the trick when it comes to hydrating and moisturizing. It has vitamins and helps with chapping, scaling, and dry lips.
Summary – A Little Effort Goes a Long Ways
Your lips are essential. Not only can they be incredibly irritating for such a small part of your body, but they are also one of the most visible parts of your face. Thankfully, they are much easier (and cheaper!) to take care of than your teeth.