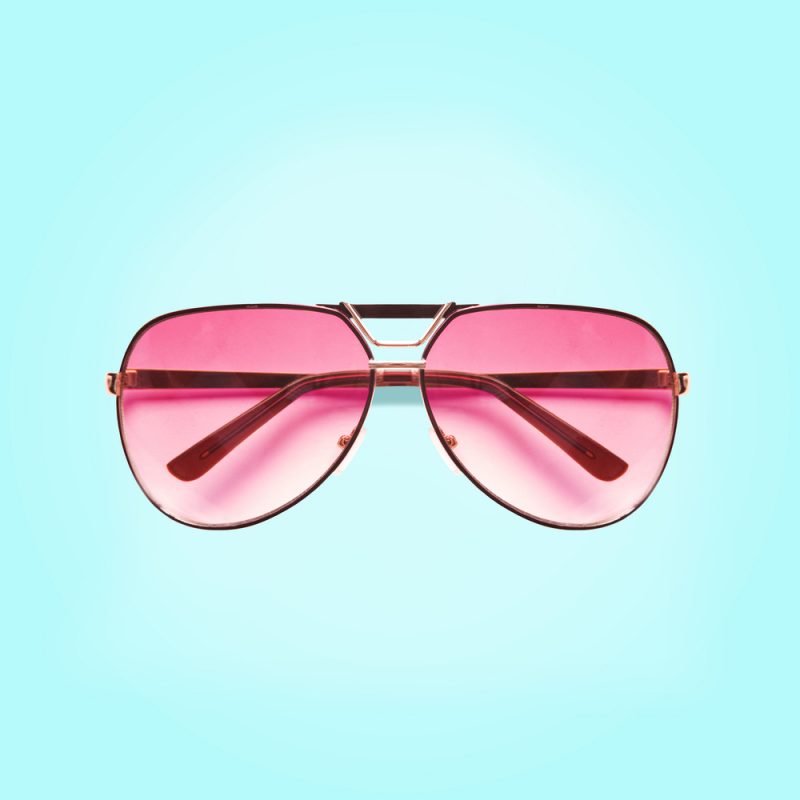 Indeed it is enjoyable to be giving in to the latest trends and to change up your personal style. Those pink aviator sunglasses are even perfect when you want to sport out a classy look that is undoubtedly going to make you feel good and make you look great at the same time. In this work wherein accessories are already making all of the difference, then getting a fresh new pair of pink aviator sunglasses might be what you need. 
How Pink Aviator Sunglasses Impacts Your Look
It can give you that sense of authority. Aviator sunglasses, in general, are made for demanding power. This is what separates them from other types of accessories. These pink aviator sunglasses are one of the evolutions of aviator sunglasses that were initially invented for navy pilots during World War II. The aviator sunglasses have been continually evolving through the ages, especially when personalities like Jimi Hendrix to Jack Nicholson have adopted wearing aviator sunglasses as part of their style.
After about 100 years since its inception, these aviator sunglasses are still one of the classic favorites of both men and women everywhere. This holds true, especially for those who want to attract attention. Thus, when the situation is going to call for a classic look, you should go and get your best pair of aviator sunglasses, or style it up a notch by going for that pink aviator sunglasses and then you now go and do what you do best.  
It is practically made for almost every situation. Apart from all of the other types of sunglasses, the aviator sunglasses give a classic look for every man, woman, and child both the young and old. This is because aviator sunglasses gives that certain appeal where it can look just as good on the mature adults as they do when worn by teenagers. Also, aviator sunglasses will never make you feel out of place or inappropriate. To get aviator-style glasses overnight visit overnight glasses.
They are also unisex, which means that aviator sunglasses can be worn by both men and women. A stunning woman when wearing pink aviator sunglasses are not going to look more masculine when wearing them, and men will not also look less of a man whenever they are wearing them.
The aviator sunglasses, with its gender-neutral factor, are one of the many features why aviator sunglasses are one of the most popular sunglasses there is in history.  With this type of versatility has become one of the strongest traits of the aviator sunglasses because regardless of a person's age, gender, and personality style, aviator sunglasses have the ability to complement every person in every look.
Pink aviator sunglasses are made to be worn with style. Whether you are rocking a pair of aviator sunglasses because wearing them is making you stand out, or because they bring out the best in any outfit that you wear, and then you are not alone on this one. You can choose to wear your pair of pink aviator sunglasses when you want to feel chic, and you want to amplify your fashion statement. Or you can go a darker look or icy blue and gold look. Whichever look you prefer, there are still a lot of reasons that will remind you why it is good always to grab your pair of aviator sunglasses every time you are stepping out of your house. 
Style the Perfect Pink Aviator Sunglasses for Your Face. As mentioned in the early parts, aviator sunglasses have been one of the most popular sunglasses styles. Even with its fame, the style that aviator sunglasses have has been challenging to some people, especially when they will have to wear it already actually. In the world of sunglasses, there are a few styles that are more popular than the aviator. However, it is still undoubtedly one of the most iconic and famous sunglass silhouettes of all time. 
As a brief history, the aviator sunglasses were originally developed for fighter pilots during World War II so that it will provide the pilots with outstanding eye protection and visibility high about the clouds. Since then, it has become a timeless favorite of most people from movie stars to those people who are rocking street style. 
Is the aviator the right sunglass style for you? In general, the answer would probably be yes. This is because as a pair of sunglasses, the aviator showcases an excellent choice for most people by provided that you can manage to find the right size and proportions for your face. So, even though the style can be the right choice for most people, there will be some people who may find it harder than others to find the perfect aviator for their faces. 
Who is a natural fit for classic aviator sunglasses? The classic design of a large teardrop shape and its smooth corners, the aviator sunglasses have been an ideal choice for people who have the following types of faces:
People with tall and narrow somewhat oblong faces.

Because of the taller height of the teardrop shape, the aviator lens will be able to provide a great balance to people with oval faces because it will appear taller than full.

People with V-shaped or heart-shaped faces.

Because of the form of the aviator lens, it then directs attention downwards and out towards the lower corners of the frame. With this, it can provide excellent contrast for anyone who has a face that appears wider in the upper half of the face than it does in the bottom half. So, as an example, if you are a person who has a narrow or pointy jawline, or someone who has a prominent brow line, then wearing a pair of aviator sunglasses is going to look good on you.

People with angular, sharp or bold-featured face

Because of its smooth and sweeping lines, the aviator sunglasses are going to be a great choice when it comes to softening the aesthetic of people that have sharper and more pointed features.
Who usually struggles when it comes to wearing aviator sunglasses
People who have naturally prominent cheeks.

Because of the tail lenses and often the sharp curve of the aviator sunglasses, one of the most common complaints when it comes to wearing aviator sunglasses is that they are going to sit on the wearer's checks, and then it will lift in the air when they smile.

People who have a low nose bridge.

If it seems that the bottom half of your face appears to be broader or more prominent than that of your top half, that is, your jawline is broader than that of your forehead, then wearing aviator sunglasses will accentuate this look, and this may even draw further attention to the bottom of your face.

People who have strong prescriptions.

If you are considering the use of aviators as prescription sunglasses or eyeglasses, then you should take extra precautions. Because of the large lens surface and the durable wrap, it can eventually create problems, especially when you have a strong prescription.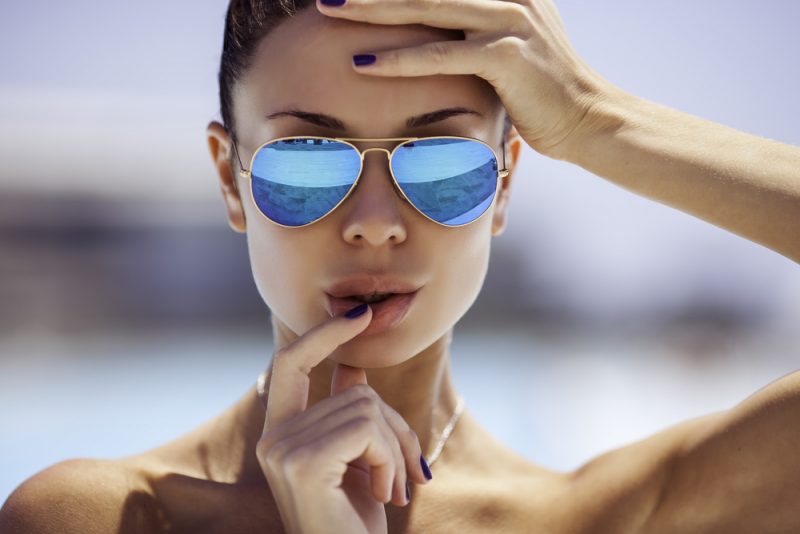 Some Amazing Aviator Sunglasses for Women
Eva Aviator Sunglasses
These are chic rose gold aviator sunglasses that were created by Tom Ford. These have the obsession-worthy shade of rose gold as the frame. These shades command the perfect definition of sophisticated aviator sunglasses and how its style has translated well into mature city fashion. 
Double-Wire Aviator Sunglasses
This type is an innovative kind of aviator sunglasses that are characterized by their double-wire frames. This shade has been designed by Karen Walker, and it features the label's signature arrows at the side of each of the lens thereby connected the frame and the lens together. 
Metal-Trimmed Aviator Sunglasses
This type of black acetate aviator sunglasses was designed by Givenchy, and they are styled to be very causal while maintaining it as being a great accessory. The metal nose bridge of this aviator sunglass is also a significant aspect as it gives the aviator some character while still keeping the overall silhouette simple. 
Isidora Aviator Sunglasses
Although this design has a light brown tint, it still offers 100% UV protection and also promises to shade your eyes where it is most needed. The light shade of the Isidora aviator sunglasses is complemented by the double-bar rose gold frames making it as one of the sophisticated aviator sunglasses.
Thin Mirrored Aviator Sunglasses
This one is another chic and sophisticated option. They are thinly framed in gold, and the overall style of the sunglass is lovely yet straightforward. With the silvery hue of the lenses, this makes the sunglass a perfect total pair for your sophisticated everyday styles, or even when you just one to go for a fresh throwback look. 
Blue-Tinted Aviator Sunglasses
It is undeniable that Victoria Beckham sure knows how to keep modern trends classy, that is why these blue-tinted aviator sunglasses have become the quintessence of class and sophistication. It even has another shade known as "Flash Blue." And because their lenses are somewhat opaque, this makes them a beautiful focal point in contrast to its thin gold frames.