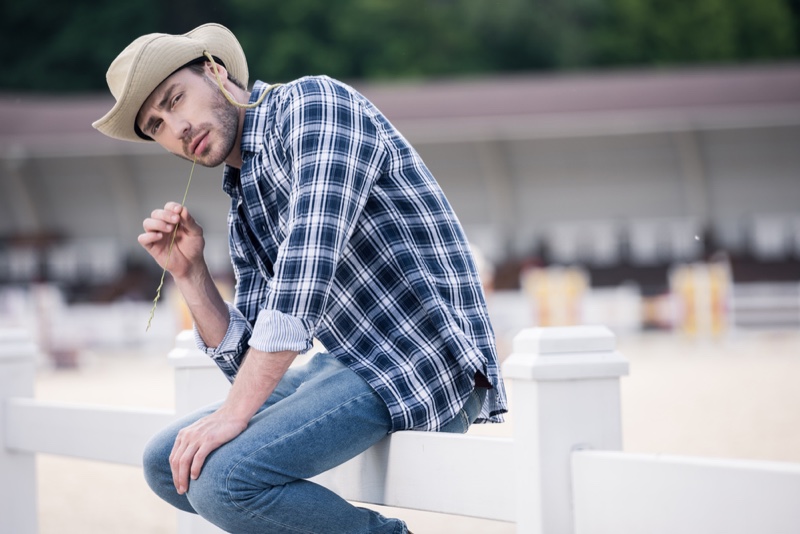 All women want to date a cowboy. It's one of the most common fantasies among all generations of ladies. However, some of them don't have the chance to meet a real cowboy, so they must settle for well-dressed men who are rocking the cowboy look.
However, being dressed as a cowboy during winter months is anything but easy. Therefore, we're going to provide you with some cool tips that will help you create your own winter cowboy outfit. In that name, here are the 5 best ways for you to achieve a stunning western look this winter.
Black Cowboy Boots Are Always
the
Perfect Choice
One of the most important parts of every cowboy outfit is footwear. To achieve the best possible western look, you have to find a perfect pair of cowboy boots. Now, winter months are usually quite cold, so you should opt for the classic black cowboy boots because you can combine them with every single coat and a pair of jeans you have. Not only are these boots sexy, but they are also powerful and elegant and you can wear them on every occasion. Consider toe shape as well. Mens square toe cowboy boots add ruggedness while pointed toe boots are more classic.
A Warm Checkered Shirt  
Is there any item that screams "country fashion" more than a checkered shirt?  We don't think so! Furthermore, a checkered shirt/classic jeans combo is something every woman likes to see. However, instead of thin and short-sleeved shirts that you wear during summer, you should acquire a thick and warm checkered shirt that will give you a classic cowboy look while protecting you from the harsh and cold weather.
A Long Leather Coat
There's nothing cooler and sexier than a long black leather coat combined with black cowboy boots. Besides being warm all the time, you'll look like a mysterious gunslinger from a cool western movie. Not to mention that this type of dark and elegant look works well with the ladies!
Brown
or
Black Leather Vest
If you like leather, but wearing a long leather coat is too much for you, no worries – you can always get a leather vest that will give you that classic western look. This vest will keep you warm and comfortable at all times and you can get it in any color. However, we suggest you choose the one that's either brown or black. It will go well with all the shirts and jeans out there.
The Classic Denim Shirt
These days, people are trying all sorts of things so they would look unique and original, but if your goal is to maintain a vintage cowboy look during winter, you should probably consider wearing the classic denim shirt. This piece of western attire is very practical because it can be combined with almost anything in your wardrobe. Also, most of these denim shirts are thicker and warmer compared to the regular ones, which is a good thing, especially when it's cold outside.