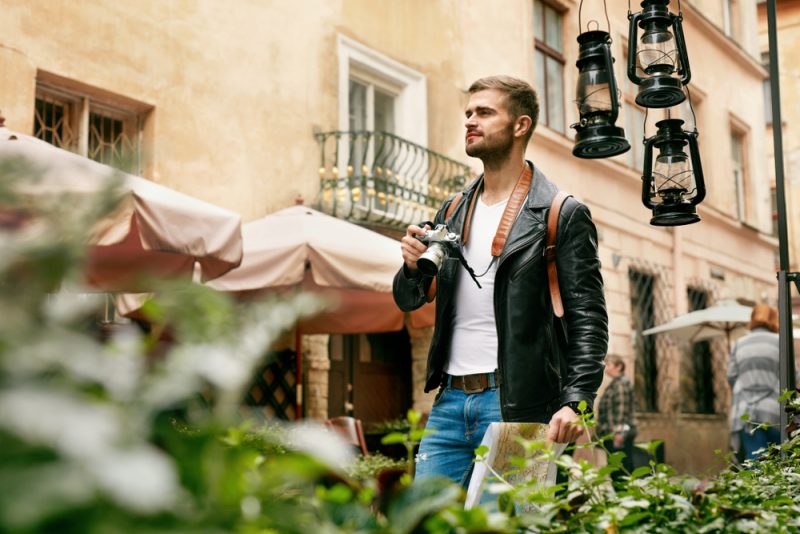 Your destination and the length of your trip enters the equation, but at the end of the day, everything required to make you look fantastic can fit into your carry-on bag. If you can bring a suitcase, of course, that's a huge bonus, especially with TSA guidelines on liquids and being able to have more options. But you can still be the coolest looking guy wherever you go, with everything you fit into your one bag. We'll dive into exactly how that's possible with our tricks and tips on how to pack. 
Men Should Look Fashionable Wherever They Travel
In this case, it comes down to quality over quantity. Bring items you can wear in different circumstances. 
A blazer is a must for every posh gentleman. You don't know what kind of events or dinners you could be invited to, and the right blazer works for just about every occasion and looking fresh sitting up in business class. 

The right pair of travel chinos can be used in casual and slightly more formal settings, depending on what you pair them with. 

A merino wool sweater is a must (unless, of course, you're going to Thailand or somewhere hot). In a typical temperature environment; this is a classic that looks good in most settings. 

Good all-around shorts that look posh, but could also be used for activities that might get you sweaty. Like the merino sweater, but in reverse; If you're spending a winter in Sweden, you probably don't need the shorts. But if you stay in one of these hotels in Orlando (FL), you bet you will need them, as it tends to get super hot and humid.

They say shoes mack the man. We recommend at least one good pair of loafers that can go with an upscale setting or a laid back dinner. A pro tip would be to bring a pair that goes with your blazer. Loafers, cruiser shoes, or even boat shoes can work perfectly. 

Since we're on shoes, you have to have a good pair of trainers for walking around town if you do some sight-seeing. Suppose you're a guy who goes to the gym in your hotel even while on vacation; this is another fair use. 

Nice leather duffels look posh and are also incredibly convenient as a carry on since they are roomy and can act as a sort of second carry on. Replace your

travel bags

every few years, so they don't look ragged. That's the last thing you want as a well-dressed man – having a beat-up old carry on bag.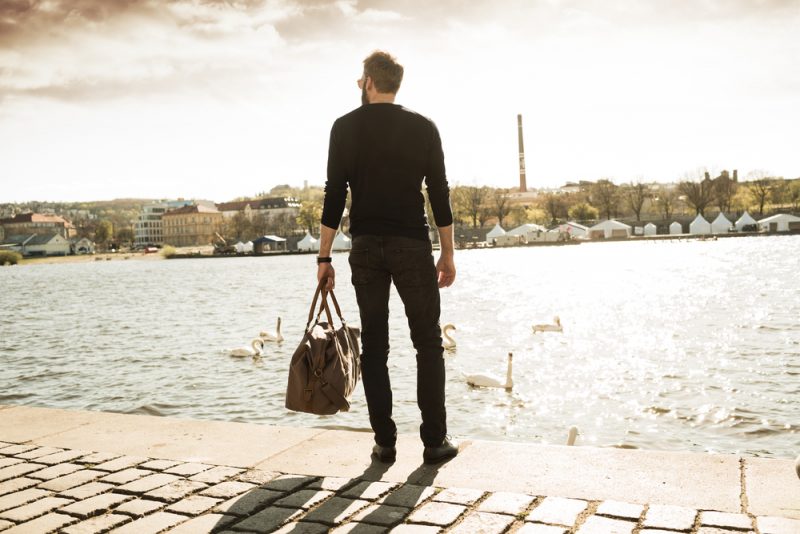 What to Wear While Getting There
There's no reason you can't look fresh on the plane with your blazer and loafers. You could also opt to go all the way in on comfort with your running shoes. Some essential travel tips for long flights are to bring wrinkle-resistant items, and even that can handle a little bit of spillage when it happens. You don't want things hard to get in and out of that can slow you down at security, and you don't want anything to fit where you can't sit comfortably tightly. 
Having a coat or blazer is vital to bring with you since planes can get unreasonably cold and on the same token, should you end up in an incredibly warm area, you will want to be comfortable. Bear in mind this can happen in airports, on layovers, and any other places you might be delayed along your journey. If you liked this and you have your lady coming along, you might want to also check our travel essentials for ladies' articles.