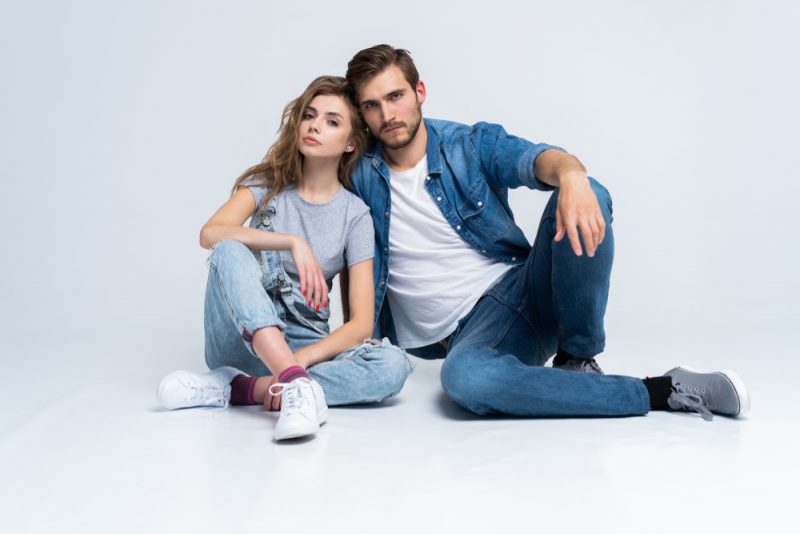 If you think you know all there is to know about men's jeans, then you're either a genius or a liar. In this article, we want to give a quick A to Z summary about all-things-jeans. Because, of course, who doesn't love a good pair of jeans? Stylish, comfortable, affordable, jeans can match with everything in your wardrobe and never go out of style. They're sure to be as popular in another hundred years as they are today.
So, let's take a look at the A to Z of men's jeans:
A – Acid wash: This is a finishing technique created in the 1980s, which is done by first soaking pumice stones in chlorine, then using these for a stonewash to give a second-hand, worn-in appearance (a bit like bleaching). Don't worry; no actual acid is used in this technique!
B – Belt loop: Without these, we'd still be using suspenders or braces to hold up our jeans! Belt loops were first attached to jeans in the 1920s, and these (usually five) handy, little fabric strips make belts possible to be worn. Belt manufacturers were overjoyed.

C – Cotton: Thanks to cotton, we were able to create denim, as most jeans these days are made from 100% cotton.

Photo Credit: Shutterstock

D – Double denim: What's cooler than cool? Double denim. A look that is hard to pull off but works when it does, pairing denim jeans with a denim jacket (mainly if they are the same color), is a bold and memorable look.

E – Ecru: Ecru jeans are mostly denim jeans that have not been dyed, as ecru is the natural color of cotton. Because most jeans are dyed, ecru is relatively hard to find, although not impossible.

F – Five pockets: Where would we be without jeans pockets? Two at the front and two at the back is a common sight, and then we have the infamous tiny pocket placed within the front-right pocket. Created in 1890 for pocket watches, we now sometimes put coins in there and then forget about them.

G – Genoa: Jeans are said to have originated in the small port city of Genoa, Italy. It is said that the Genoese navy wore blue cotton trousers (bleu de Gênes = jeans ) that inspired the manufacturing of denim jeans we know today.

H – Honeycomb: Nothing to do with bees, but a honeycomb pattern often appears on raw denim jeans around the knee area. This is due to the creasing when someone sits down, for example, and creates the pattern as a result.

Photo Credit: Shutterstock

I – Indigo: This is the dye that gives blue denim jeans their color. Blue jeans often fade after wearing and washing, as the indigo dye doesn't wholly penetrate the cotton yarn. The synthetic dye is more common nowadays than real indigo dye.

J – Jeans: Is it cheating to use the word

jeans

in an A to Z about jeans? A little bit, but as we love jeans so much, they deserve the J spot. Blue, black, flared, skinny, slim fit, boot cut… it doesn't matter to us, as denim jeans are one of the most versatile fashion items in the world.

K – Kaihara: Based in Japan, Kaihara Denim is one of the leading manufacturers of denim not just in its home country, but the entire world. Kaihara Denim is a supplier for many of the famous jeans labels you're probably wearing right now.

Photo Credit: Shutterstock

L – Laundry: Jeans have a reputation for being better when they're not washed very often, with some labels stating that once a month is fine. Some people don't like to wash them for fear of shrinking or fading their jeans, but as long as you're not doing this twice a week, then your jeans will continue to look great for a long time.

Get the know-how here

for how to wash jeans correctly.

M- Mom jeans: A jeans trend that has exploded in recent years, mom jeans typically have a high waist above the navel, and aren't as tight around the zipper, leg, and crotch areas as most jeans. Usually coming in a lighter blue color, it's safe to say that mom jeans aren't just worn by moms anymore.

N – New jeans: We both love and hate the idea of getting new jeans. It's great because we can try out a new style or color, but it's also not fun to try on 50 pairs of jeans and visit different stores to find the ones that are just perfect.

Photo Credit: Shutterstock

O – Open-knee: Very cool if you live in a hotter climate or it's summer, open-knee jeans expose your knees with rips and give a great rock 'n' roll look that is incredibly trendy right now.

P – Pajama: Pajama jeans are a thing, so you can wear snug pajamas that look like a pair of jeans wherever you go, and nobody (hopefully) will be able to tell the difference.

Q – Quality: Just like everything in life, there are well-made jeans, and there are poorly made jeans. Brands like Levi's and Uniqlo are considered some of the most trustworthy and fashionable jeans manufacturers, although both have designs for a range of budgets.

R – Ripped: For a while, it was common to buy jeans and make them a bit edgy by putting in rips and tears around the thigh and knee areas. This look caught on fast, and you can find many jeans nowadays with rips already made, saving you some time.

Photo Credit: Shutterstock

S – Skinny jeans: Popular with both men and women,

skinny jeans

have taken off in a big way, and every wardrobe benefits from a pair, providing that you're comfortable wearing such tight pants. Still, these are a cool rock 'n' roll style that will always be well-liked.

T – Tailor: Many people don't even think about tailors when it comes to jeans, but these professionals can adapt your jeans exactly how you want them. As it's challenging to find the perfect pair for your body, tailors can shorten or tighten jeans as you see fit.

U – Upcycle: Old jeans should never be thrown away, but either donated to a thrift shop or even upcycled. Look at the creative ways that

denim can be upcycled

.

V – Vintage: Sometimes, the old ways are the best, as vintage jeans have a look and feel about them that just can't be found in a brand new pair of jeans from today. Seen on eBay or in thrift shops, vintage jeans can vary in price but are still great to wear.

W – Waxed: Waxed jeans are made with a finish that looks like candle wax, with a shiny, stiff, and almost rubbery appearance that resembles leather pants.

X – XX: Levi's famous 501 jeans were initially called 'XX jeans' to signify that they were extra, extra strong.

Y – Yoga jeans: While you don't necessarily perform the tree pose in yoga jeans, they are called such because of their extra stretchy and comfortable qualities.

Z – Zipper: Sometimes it breaks or refuses to cooperate, but a zipper is a cool way to fasten jeans, unless you prefer the button fly, of course.