Cannabis consumers have been able to cultivate a cool reputation since the middle of the 20th century. Still, as cannabis consumption becomes commonplace, stoners need to try a little harder to captivate the mind and senses of those around them. Fortunately, the growing cannabis industry offers plenty of undeniably cool products that new and old stoners alike will want to get their hands on. Here are a few choice picks for cool, clever products that every stylish stoner needs:
Pipes & Bongs
While rollies like joints and blunts will always be effortlessly cool, having a signature pot piece can feel sophisticated and mature. However, there is a nearly endless supply of pipes and bongs available online in Seattle dispensaries and headshops around the country. Desperate stoners can even make their own pieces using bits and bobs around their homes, like apples or blocks of ice.
However, those concerned about the style of their pieces should consider the following three outrageously hip pipe brands and styles:
Summerland
Summerland specializes in ceramic weed-ware — but unlike the rough-and-ready ceramics you might find in your neighborhood headshop, Summerland's pieces are simple, graceful, and retro-chic all in one. Their bongs, in particular, are like minimalist works of art and were they not available for practical use, they might look perfectly at home in a modern art museum.
Tetra
Tetra offers a few different pipes that are futuristic and fantastical in their shape, color, and material, but our favorite by far is the Nomad. This sleek strip of metal is comfortably weighty in hand and imaginatively convenient for travel.
Miwak Junior
Miwak Junior is a cannabis brand devoted to mixing art and weed so seamlessly that even stoners don't notice. Their pipes are a strange mix of aesthetics from Japanese minimalism, pre-Columbian sculpture, and Space Age materials. The shapes and colors of Miwak Junior's pipes are unlike anything most stoners have seen, making them a must-have for stylish stoners interested in standing out.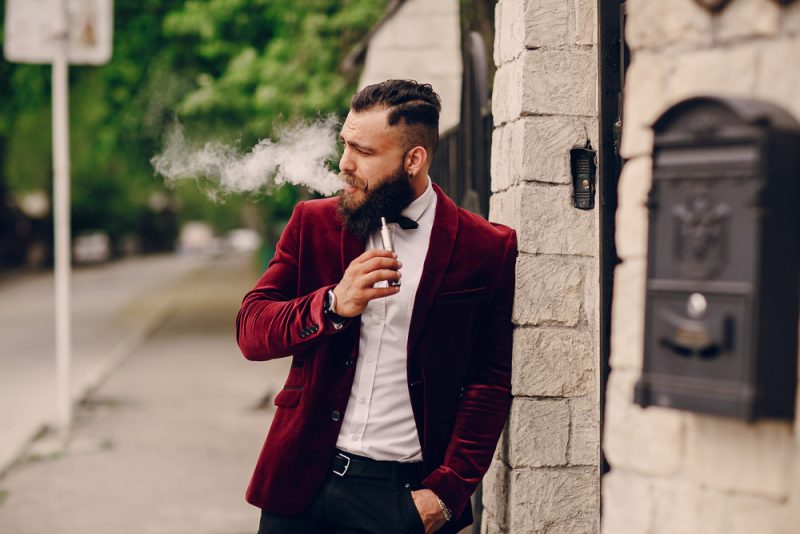 Vapes
Surprising to some, cannabis vaporizing has been around for decades, but vaping innovation has driven more stoners than ever to leave their lighters in the dust within the past few years. No longer are dry herb vaporizers clunky machines that take up valuable desk space; vapes come in sleek, handheld devices that actually improve the cannabis experience over old-fashioned inhalables, like joints and pipes.
Even better, some vapes look undeniably cool. Those who enjoy the benefits of vaping might consider these options:
G Pen
There are several reasons the G Pen Pro is one of the highest-rated dry herb vaporizers on the market. The vape is easy to use, durable, and undeniably chic, with a straightforward design that fits almost any aesthetic.
Magic Flight
Magic Flight's Launch Box is technically a dry herb diffuser, which is like an old-school vaporizer. Unlike other vapes, the Launch Box is handcrafted from wood, giving it a more rustic style, but its fast heating time and quiet operation help it compete with the highest-tech vapes.
Topicals
Stoners who want the physical healing effects of cannabinoids without the psychoactive effects throughout their mind and body might consider filling their homes with topicals or cannabis products applied to the skin. Though topicals don't make a user high, they can provide feelings of relaxation and pain relief.
Fortunately, the best cannabis topicals also tend to have exceedingly attractive packaging, making them delightful to place around the home or carry around for public use. Stoners should consider searching dispensaries (or cosmetics stores) for the following:
Lord Jones
Rapidly becoming the most beloved cannabis topical brand, Lord Jones effortlessly combines high-quality, potent CBD lotions, bath salts, and other topicals with attractive and distinctive branding made for consumers who want to feel like royalty.
Frigg
Frigg is a black-owned hair brand striving to make healthy skin and hair care stress-free. The brand's Attuning Hair Potion uses a mixture of non-psychoactive cannabinoids to reduce irritation in the scalp and smooth follicles. At the same time, other oils and herbs provide an aromatic experience to soothe the soul.
Foria
While other cannabis topicals might focus on athletic recovery or beauty, those available from Foria aim to improve sexual wellness. Foria Awaken is a CBD-based arousal oil meant to help increase sensitivity. At the same time, Foria Intimacy uses only two natural ingredients to improve lubrication — two products useful to have on hand for romantic occasions.