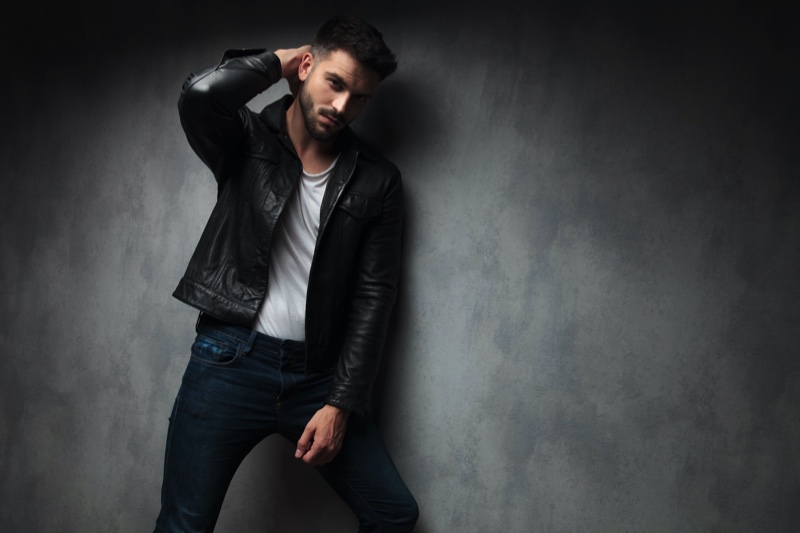 Whether you gained a few pounds courtesy of the Covid lockdown, or you've just been a fan of stretch denim for longer than you remember, you'll be delighted to learn that stretch denim jeans for men aren't just making a come-back; they're the trendiest pants on the 2022 scene.
Why stretch jeans?
Why did Chris Chafin writing for Men's Journal, go off on a rant about men's jeans? He was railing against denim pants "so stiff they cut into your stomach."
Folks in the business of trend tracking agree: Stretch is where it's at. Comfy. Forgiving. Flexible and supremely wearable.
This comes as no surprise. Stretch jeans have been a staple item in the fashion industry for quite a while now.
Almost all premium brands will put just a touch of stretch into their jeans to add comfort, flexibility, breathability, and softness.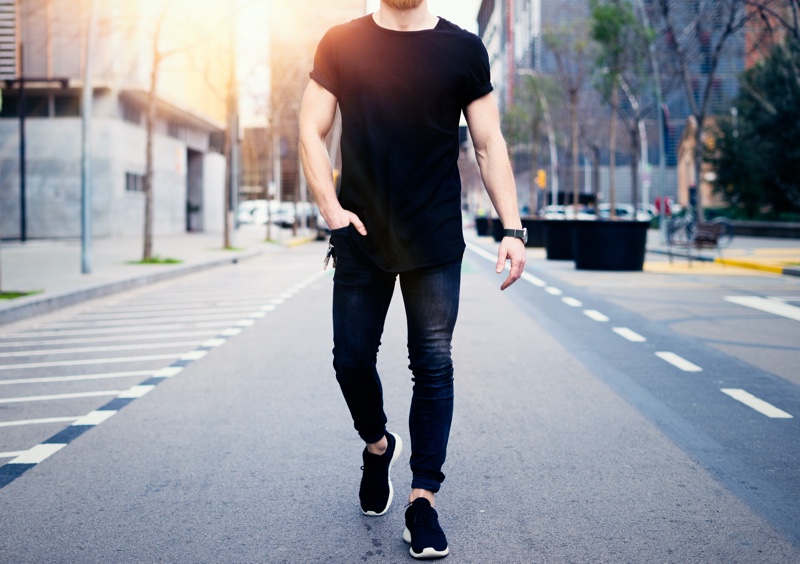 What materials are used to make stretch jeans?
The main material, as you may already know, is good ol' cotton. Most, if not all, jeans are primarily made from cotton.
Why cotton? Well, first of all, it's a natural fiber that comes from the cotton plant and has been used in the fashion industry for decades.
That's for good reasons. Cotton is not prone to tears, is extremely durable, breathable, and looks absolutely great.
Back in the 70s, 80s, and 90s, most jeans were made 100% out of cotton. But as the fashion scene evolved and more and more consumers were looking for comfort while still looking snappy, the addition of stretch to wardrobe essentials (such as jeans) has become an industry standard.
To get that stretchy feeling that most consumers love, the manufacturers typically add elastane into the mix. Elastane, or otherwise known as Lycra or Spandex, is a synthetic fabric composed of Polyurethane. And it is THE ultimate component to add when stretchiness is desired. Not only for jeans, but it also works for underwear, sportswear, socks, and all types of activewear.
Ideally, the ratio of cotton to stretch is between 95-99% cotton and 1-5% stretch.
This can make even the tightest jeans feel comfortable.
Who can wear stretch jeans?
Anyone and everyone can AND should wear stretch denim jeans. You, me, the neighbor from across the street, or the English teacher from college.
Are you on the skinny side? Cool, skinny stretch jeans will fit perfectly.
A bit more chunky? No problem. Go for a relaxed fit with a bit more stretch to get a great fit.
Are you an athlete or big into fitness? Awesome. Especially athletic body types can benefit immensely from men's stretch jeans, as they tend to have quite developed legs.
You see, stretch jeans can be worn by ANYONE, and they are popular amongst all age groups. So age has no place in this conversation.
What brands are good?
If you are big into streetwear and more cutting-edge fashion, you can't go wrong with Nudie, G-Star, or APC.
If you are more muscular than the Average Joe, you should check out brands like SizeUpApparel. They have developed a tri-stretch mens stretch jeans line that will fit perfectly for those quads while looking gorgeous.
If you want to go out on a limb and reinvent yourself by adding a pair of premium brand jeans to your wardrobe, then Replay is a great choice here.
For high-end jeans, we can recommend Rag & Bone or Acne.
No matter what brand you ultimately decide to go with, you can count on being noticed.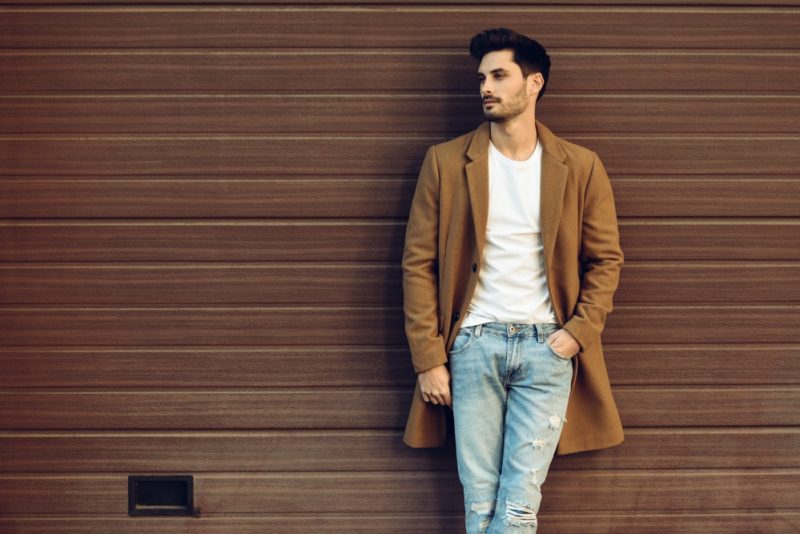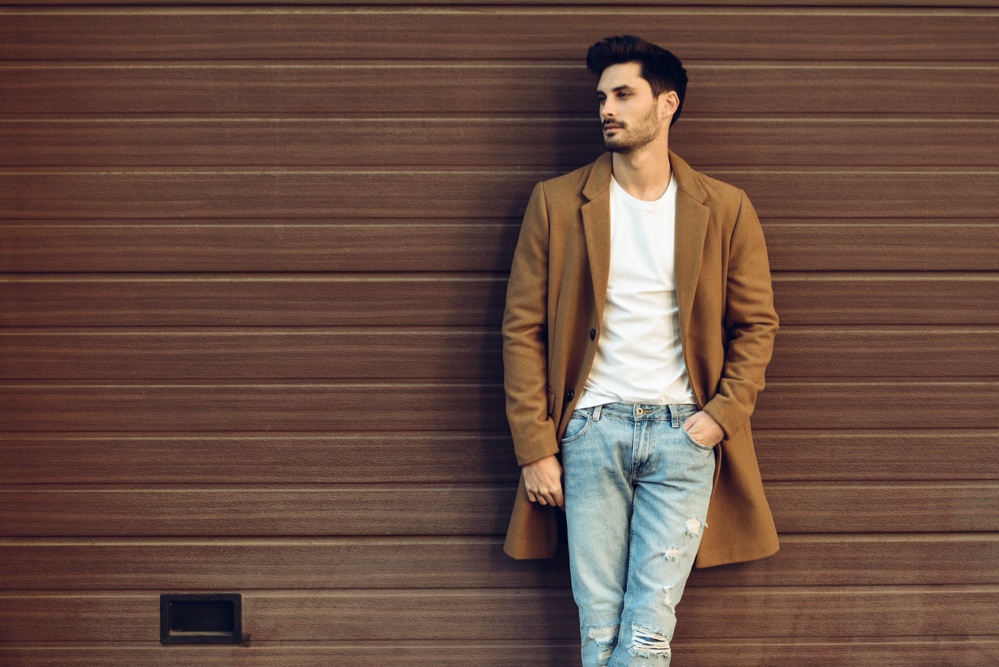 What can you pair with stretch jeans to look trendy?
A better question would be, "What can't you pair them with?"
Whether your closet is home to nothing but streetwear hoodies, you're a dress shirt fanatic, or you switch up your looks depending upon where you like to show up, if you can come up with a garment that won't work with normal blue or black stretch jeans, maybe you need to hit up Farm and Fleet next time you shop for threads.
Stretch jeans can be paired with almost anything – even the absolute basics will always look good.
For instance, a dark or light blue jeans will look great with:
A white or black button-down shirt
A grey sweater
A white t-shirt
Olive jackets
Brown turtlenecks
A black v-neck
Black or brown shoes
White chucks or Van's
Almost anything will work with blue jeans, except maybe more blue.
But hey, fashion is ultimately very subjective. So you do you, and don't let anyone tell you otherwise.
Quick FAQs
How often should I wash them? When they fail the smell test or are visibly dirty, it's time to do laundry. But you should avoid washing your jeans after every wear.
What color should I go with? You can't go wrong with a pair of dark blue jeans. But to have a bit more versatility, you should also consider black, grey, and light blue jeans as staples in your wardrobe.
Can I throw them into the dryer? Well, that depends. You should check the label on your new stretch jeans. Otherwise, air drying is always the preferred option.
Why are some jeans more expensive than others? Aside from brand recognition (which makes up most of the price), the price can be influenced by the raw materials and the manufacturing process. Big brands like Levi's or Uniqlo can produce at scale, which lowers overall costs. New or smaller brands won't have that luxury, so that the price will be respectively higher.
Conclusion
Stretch jeans have become a fashion staple for both men and women. If you have never worn stretch jeans before, you will be surprised how stretchy they really are.
And you don't have to stick with the regular brands like Levi's & Co. With the growth of social media, more and more small fashion brands entered the world of fashion with cutting-edge styles and incredible fits.