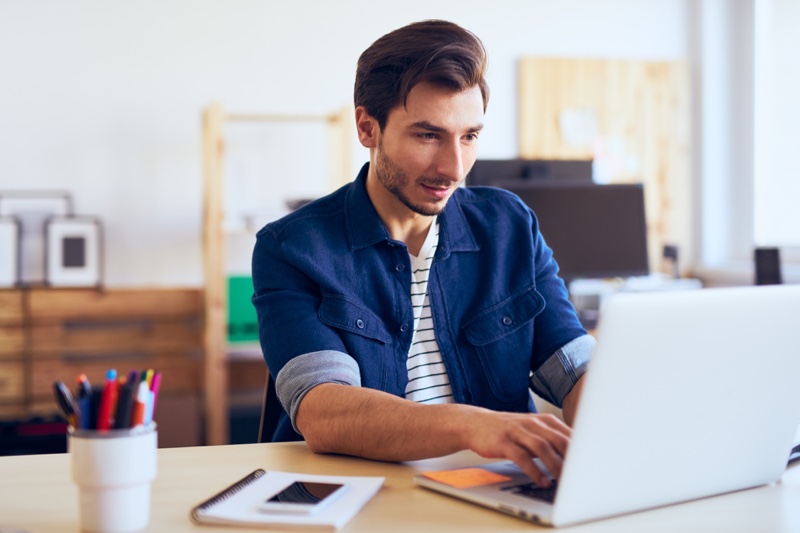 Perhaps you are looking for a side-hustle or a little extra income, or perhaps you want to create your own clothing brand with a serious ambition to make it a multi-million-dollar brand.
Either way, if you have the time and it does not cost too much money to get something like a T-Shirt or clothing range up and running – you may as well give it a go?
Even if it doesn't work out, you have learnt some new, very cool skills, that you could even sell as a service in its own right.
Shopify or Woocommerce?
Setting up the shop itself is quicker using Shopify. WooCommerce is easy enough, but only if you are familiar with WordPress websites in general.
For Shopify, you just start a free trial and get going, whereas, with WooCommerce, you will first need a WordPress website. To get a WordPress website, however, first, you will need a hosting provider and a domain name provider.
WooCommerce may need more maintenance too. Shopify is definitely more simple to get started with.
With WooCommerce and WordPress, it's a lot easier to completely customise and create a bespoke site. If you can't code or update a theme or template yourself, there are thousands of WordPress developers to be found on Facebook Groups and sites such as PeopleperHour.com
Today we have chosen to look at WooCommerce because:
– It's free
– Creating a WooCommerce site teaches you lots of transferable skills
– It is easier to personalise
About 60% of websites in the entire world are made using WordPress. If you know a lot about WordPress, then you have the skills and knowledge that you can use in the job market.
Buy a Domain & Hosting
To explain what hosting is – imagine that your website is like a house, the hosting would be the land for the house, the domain would be the address. WordPress itself would provide both the foundation and basic structure of the house.
Metaphors over, for now, head over to a hosting provider such as HostGator.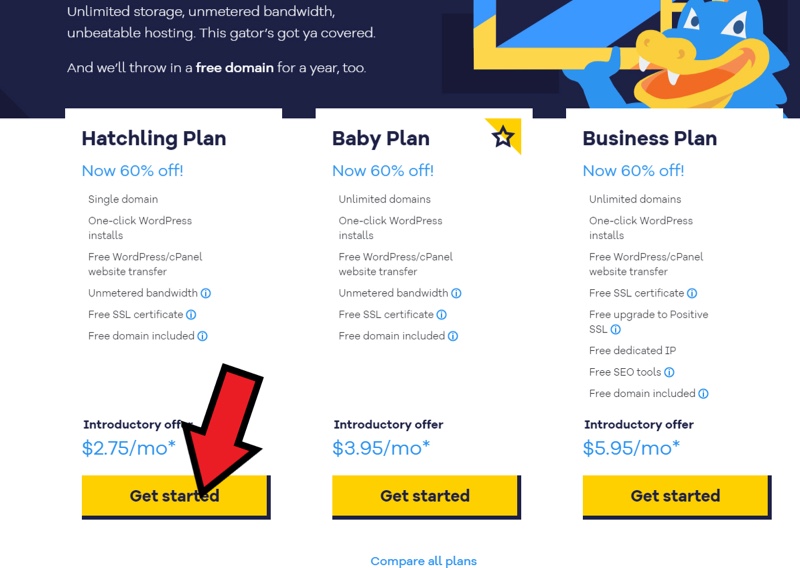 Click on "hosting" then "Shared hosting" then the "Hatchling Plan".
You can always upgrade to a more expensive plan, at a later date.
After you have clicked on "Get Started", you will be taken to another screen and prompted to enter the desired domain name. A domain name is the name of the website, for example, my old website was NiceMMA.com
At this time, I would only buy one domain, probably with the .com suffix and I would buy the domain privacy feature too.
Carefully choose your billing cycle and hosting plan using the dropdown menus, and enter your details to create a HostGator account. The default is 36 months, or 3 years, which is probably a bit of a commitment for most people!
In terms of the add-in or add-on features, I would only use the free https hosting, everything else I would uncheck.
When you are happy with everything, click checkout and purchase your domain and hosting.
Install WordPress
Login to your HostGator account, click on the "Hosting" tab and click to install WordPress with 1-click.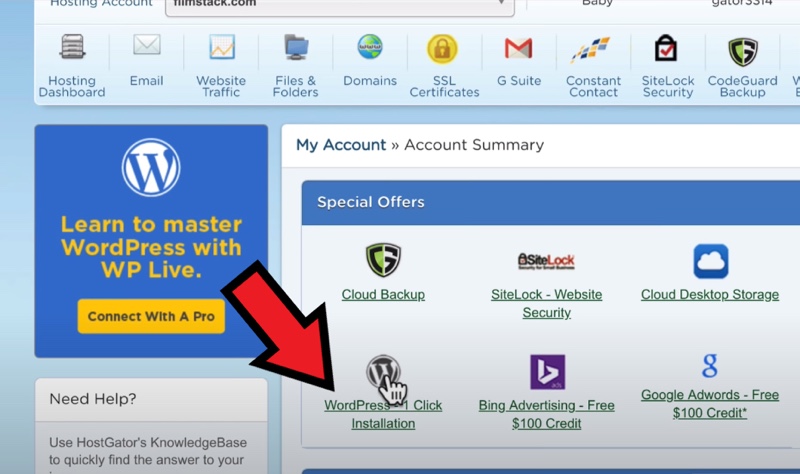 When prompted – select your domain and leave / directory option untouched for now.
Click "next" and enter your details to create an admin-user. Keep these details safe – screenshot them or write them down.
Agree to terms of service and click to install.
This may take a few hours for it to go live on your domain.
Login to WordPress
The quickest way to login to a WordPress website is to go to yourdomain.com/wp-admin
So if my website was nice-mma.com, I would go to nice-mma.com/wp-admin
There I would login with the admin-user details that I created earlier.
To create a new password, click "Users" in the left-side-bar and then scroll down to Account Management and enter a new password.
Install WooCommerce
Go to "Plugins" , then click "Add New" and then search for "WooCommerce".
Click install and then activate
On the left-hand-menu you should see "WooCommerce" added.
Click on WooCommerce and click to activate the setup wizard.
Then you will just need to go through each step and add in your details.
You will need to add a few personal details, then add your PayPal email address so they know where to send payments, and you will need to set how much you will charge for shipping of products.
Once it is all setup – you will need to start adding some products!
Adding Products
It might be worth looking into where your Printful T-shirts and clothes will be shipped from and how long it may take to get to your customers. If you use Google Shopping Ads to advertise your products, you will need a returns policy, contact address and telephone number , clearly visible on your website.
If you are running your shop as a side-hustle, you could always use a virtual address and receptionist to handle calls whilst you're at work. You can find out more regarding Printful's shipping speeds here.
The easiest way to add clothing products to your website, is to use a third party service such as Printful.com
You should first make sure that WooCommerce is updated to the latest version (which it will be if you've literally just installed it).
Go back to the side-menu, click "plugins" again and then "Add New".  Not search for "printful".
You should see the Printful for WooCommerce plugin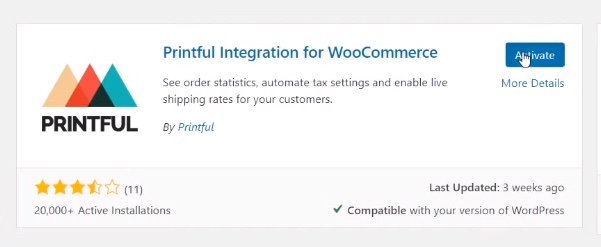 Install and activate the plugin.
Now you should see "Printful" appear in the side-menu.
Click "Printful" in the side-menu and you should be prompted to change the permalink settings. Change these to anything but "plain" and remember to scroll down and click "Save Changes" once you've selected a new permalink structure – for example "Post Name" should work fine.
You will also have to enable the WooCommerce Legacy API.
To do this click on "WooCommerce" in the side menu, then click on the "Advanced" tab and then click on –  | Legacy API|  – now click the box to enable the Legacy API and click "Save Changes".
Now when you go back to Printful on the side-menu, you should see a big "Connect" button, to connect Prinftul to Woocommerce.
Click "connect" and then "approve".
You will now be prompted to create a new Printful account or sync to your existing one.
If you do not have a Prinful account, now would be a good time to get one – just fill in the details.
When you are done, you should be taken to a screen, that gives you the option to "Add Product".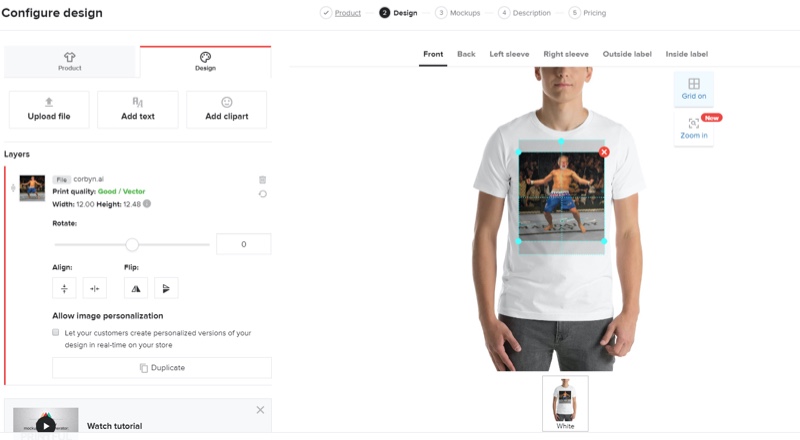 Click "Add Product" and for this example – choose "Men's T-shirt".
Next you can upload your own design work, this is where the creative magic happens.
It is always best to upload your artwork in 'vector' format, so that it can be scaled up and down without losing any quality. You can convert pngs and jpgs to vector format online using a website such as vectormagic.com
You can simply drag and drop you designs into Printful, choose sizes and colour options for the T-shirt and choose who will model the T-shirt on your shopfront!
Choose the image formats and then edit the product description. It is a good idea to write a unique and detailed description if possible. The generic ones that many Printful customers will end up using – won't rank well on Google.
Next, choose your pricing. You can choose how much to add onto Printful's standard prices, which in turn will equate to approximately how much profit you will make on each sale.
Once you have finished – the T-shirt should automatically be imported into your WooCommerce store as a product.
And there you have it!