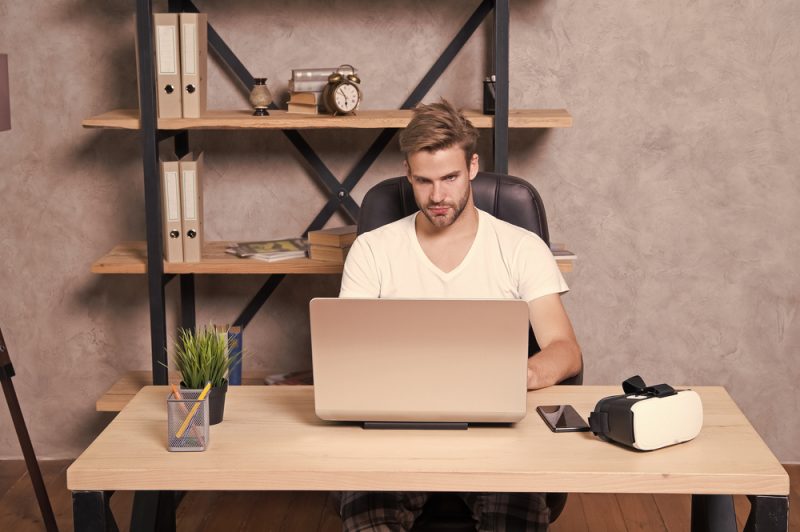 What Is the Idea Behind Creation of SmarterQueue Software?
How much time do you spend creating and posting content on your social media platform? Probably a lot of time, right? SmarterQueue's software offers a time-saving solution. It is true that as an online entrepreneur, you have to share your products, services, advice, blog posts, affiliate links, and other resources on social media to reach new audiences and customers.
This means that you have to keep posting content on your page several times throughout the day, even re-posting it to reach a new audience. And this is a lot of work considering that other aspects of your business demand your attention.
Also, coming up with content to post and organizing it is no easy task, and that's where SmarterQueue comes into play. This tool helps online entrepreneurs and marketers automate the process of publishing and re-posting on social media platforms. Want to know how this tool performs and how it works? Keep reading our honest SmarterQueue review.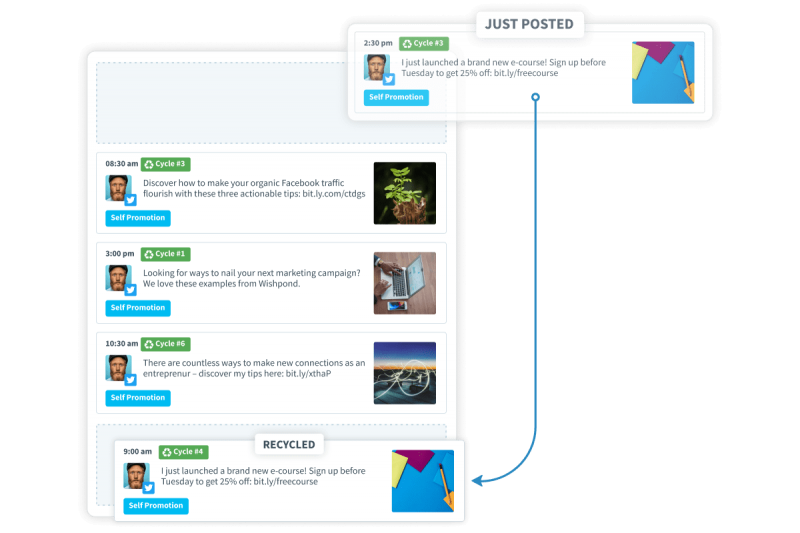 What is SmarterQueue, and How Does It Work?
SmarterQueue is a tool that helps you schedule the posting of your evergreen content on social media. This means that once you create an initial social media post, this tool re-posts it for you automatically for unlimited times at set intervals without you having to be involved.
In other words, this tool ultimately manages your social media marketing tasks, thereby saving you many hours. It also increases traffic to your web pages.
In addition to scheduling content, this tool comes with built-in analytics that helps you to gauge how different posts are performing, where they are performing best, at what times most people are engaging with your post, etc. With these detailed analytics, you will be able to make the most out of your social media marketing.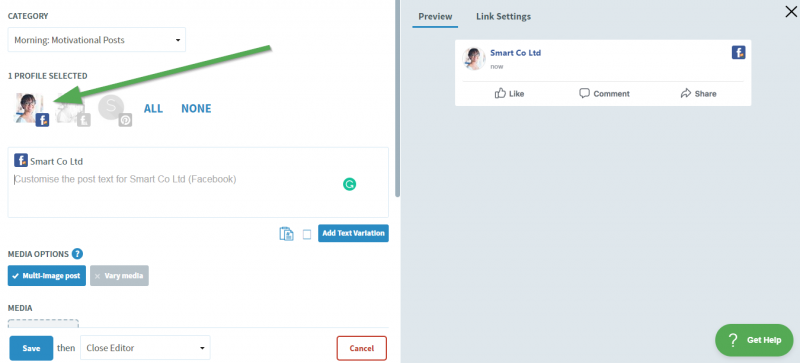 So, How Do You Use SmarterQueue?
Step 1– Add your social media profile. Currently, this tool supports Facebook, Twitter, Instagram, LinkedIn, and Pinterest.
Step 2– Set your categories. You can choose categories based on the blogs you run, regular content vs. promoted content, categories of your blogs, etc.
Step 3– Set your sharing schedule. You just drag and drop categories to your calendar so that this tool can queue social media posts for you. Also, you can have SmarterQueue analyze your social profiles and create a customized schedule for you.
Step 4– Add content. You can add content to SmarterQueue in different ways, including from a page on the web, from the menu bar in your dashboard, or via an RSS feed.
Step 5– Check analytics. SmarterQueue offers you analytics to help you run efficient social media marketing campaigns. You can also use the best press release distribution service to help you get more exposure and brand visibility.
Yes, that is it! Now that you know what SmarterQueue is and how it works, let's talk about its features;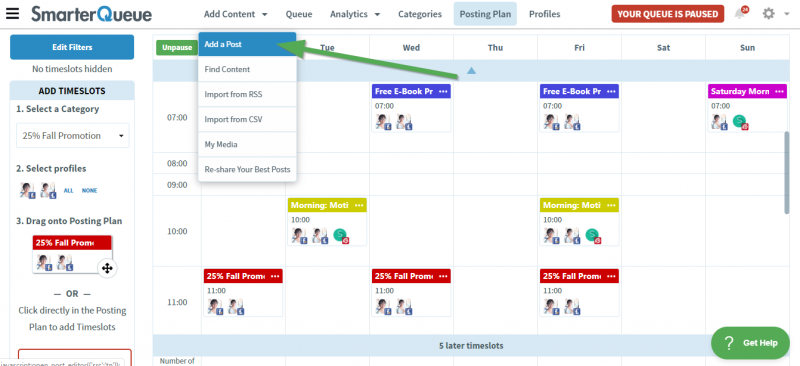 Features That Make SmarterQueue Stand Out
Posting Planner
This feature allows you to organize your posting schedule by category or social profile. This includes setting time frames for holidays, promotions, or special events.
Categories
This helps you do a better job of organizing your social media content.
Analytics
Smarter Queue helps you know your top-performing posts so that you can better understand what your followers are relating to. This way, you can create similar content.
Easy Scheduling
From one-time content sharing to recycling evergreen content to be posted at specific intervals, SmarterQueue manages all these for you, and thus makes your social media marketing easier.
Add Content
This tool helps you find relevant content from different sources, including searching on Twitter, RSS feeds, etc.
Some of these features will be available depending on the level of package that you choose. However, even basic license offers all these features, but with fewer options in them.
SmarterQueue Pricing
SmarterQueue plans start from $13.99/month. There are upgrades you can get, including Agency, Business, Solo, and Custom. All these upgrades have different pricing options.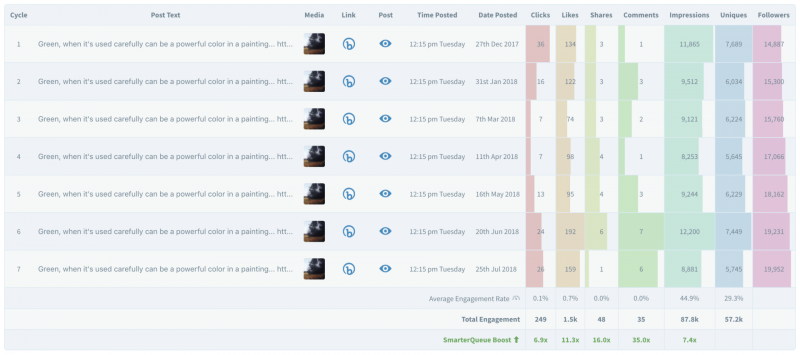 Benefits of Using SmarterQueue
Boost traffic, leads, and sales. With increased and consistent social media activities, you will notice an increase in traffic, which you can convert to leads and sales
Save time. SmarterQueue saves a lot of time for you as it automates social media marketing. Say goodbye to manual scheduling
Less hassle. This tool allows you to manage everything in one place
Boost engagement by knowing posts that your audience likes
Final Thoughts; Is SmarterQueue Worth the Money?
Well, this question will depend on your situation. This tool is right for you if;
You find yourself using too much time sharing and scheduling posts on your social profiles
You spend over $16 a month to market your blog
You want to grow other aspects of your business and social media marketing is using most of your free time
That's it. If you are in any of the above categories, then this tool is right for you and worth the money. Sign up for SmarterQueue by visiting SmarterQueue.com today.