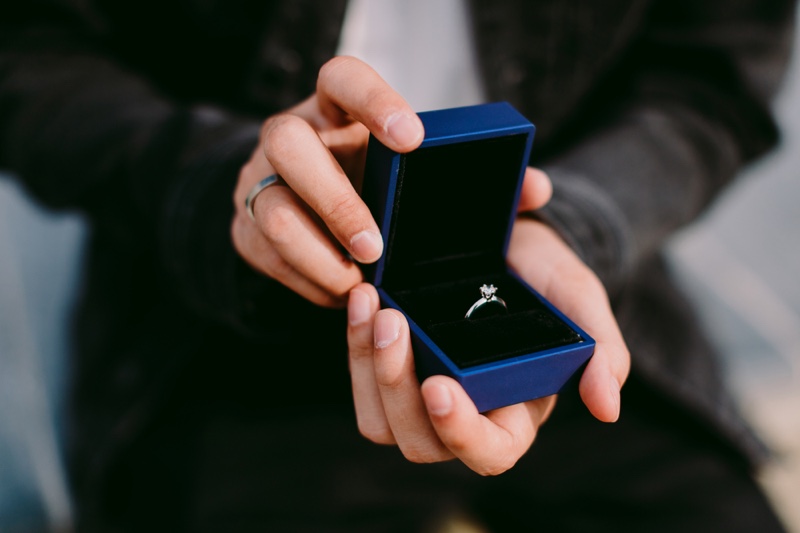 You've planned the perfect proposal, picked out a ring and now you're waiting for that special day to arrive. But until that moment arrives, what more can you do? Perhaps you need to get the right engagement ring box to make the perfect first impression? Not many couples think about engagement boxes but it is just as important as selecting the right ring. Here's everything you need to know about picking one for a diamond ring.
Why is an engagement box important for your diamond ring?
Though the engagement ring itself is crucial, the packaging is equally important. This means you should be thinking about an engagement box for the diamond ring. You'll need one that matches your style and accommodates the ring inside comfortably. It's not just the diamond that matters, but how you present it when you propose. The box itself adds a touch of flair and drama to your proposal. It also means you've put in the time and effort to find something original and long lasting.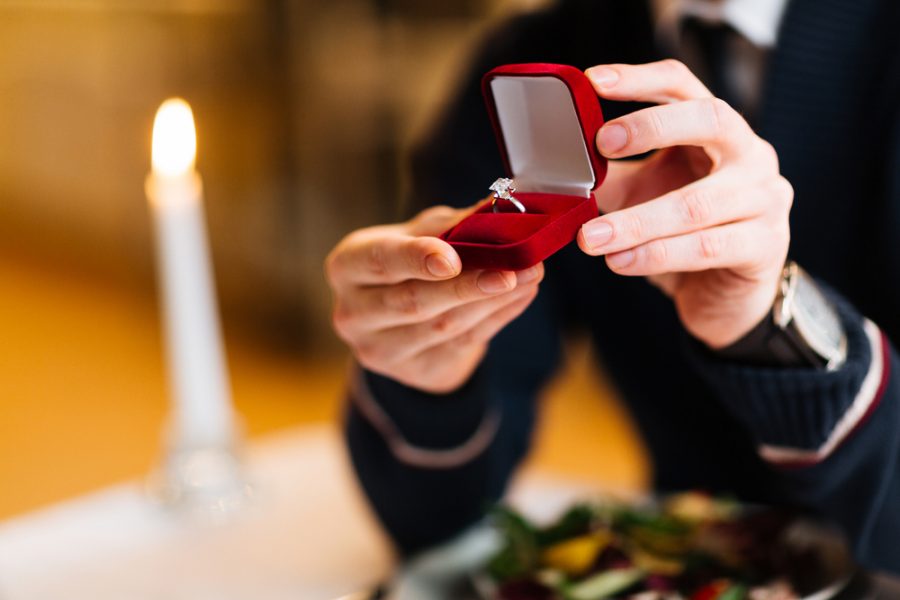 Some vendors present a box for engagement rings at the time of purchase, but you can also customize the box. The basic interiors of an engagement box include a cushioned slit wherein you can place and hold the ring. This insert secures the ring in place protecting it against sudden movements, moisture or any kind of physical damage. To preserve a ring's value and ensure physical security, it's important to find a suitable ring box for your diamond ring. Here's why you need one – 
It protects the ring from getting stolen
It protects the ring from getting lost
It protects the ring against abrasions
It protects the ring against moisture
It protects the ring from getting chipped
It protects the ring from losing its color
It protects the ring from losing its shape
It protects the ring against harsh stains
The one thing you don't need right now is a broken or damaged engagement ring. Without an engagement box, you can't protect the ring against unforeseen casualties – imagine the diamond chipping away or worse, breaking apart. So apart from giving your ring a beautiful backdrop, you're also ensuring maximum protection. 
The best engagement ring box ideas for your partner
Depending on the size of the ring, and the type of cut you've picked, you can decide on the size of the box accordingly. There is no standard or pre-set dimension for a ring box but there are a variety of styles you can choose from. Unique and custom made designs are popular with millennial couples. You can either choose a single or double ring box but before you buy one, check if the ring sits well inside the box or not. There are people who prefer thin, small ring boxes such that it fits inside their pockets. You will need to pay special attention to the stone setting, and ring shank before anything else. Here are few ideas you can experiment with –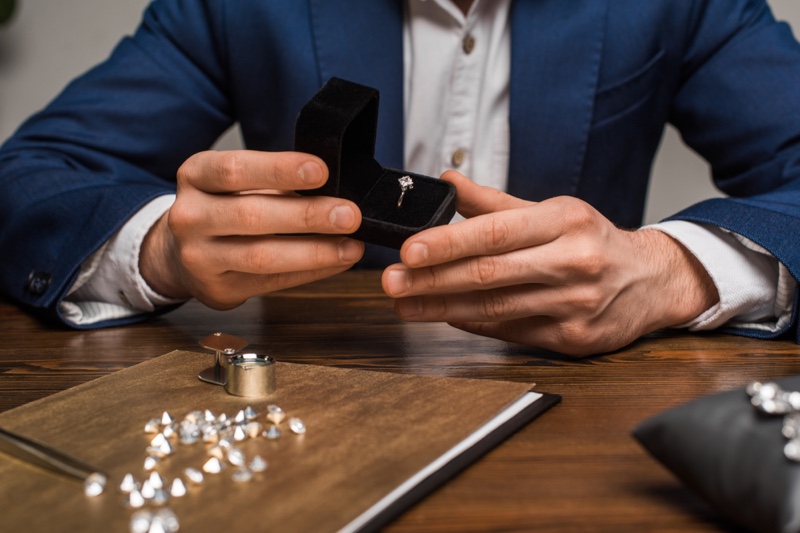 Classic Engagement Ring Box
A classic ring box pairs with just about anything! They are simple and elegant looking, often layered with a velvet covering and feature a sturdy outer frame. The interiors have plush white cushioning to keep the ring intact. Modern engagement boxes also feature LED lights on the inside that powers up the instant you open the box. These boxes combine functionality and practicality, are incredibly budget friendly and keep your ring safe from harm.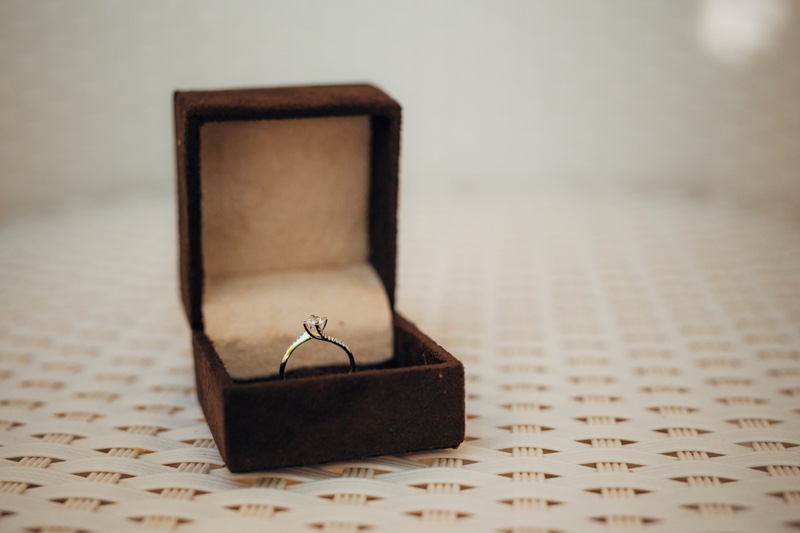 Wooden Ring Box
This design is definitely rustic and all natural – especially for mindful couples who want something that's sustainable and eco friendly. A wooden engagement box comes in dark to light tones depending on the material. You can either choose a soft layered box or one that comes with a textured surface. For the most natural look, a wooden box is perfect for securing an engagement ring since you can customize the size to your preference.  
Luxury Engagement Ring Box
Luxury engagement boxes are custom made, and usually expensive. This could be a designer box made from high quality glass or stainless steel. A lot of couples who want a luxury ring holder love experimenting with geometric shapes while designing the box. You can even get a luxury ring box that comes with a rotating stand or one that plays musical notes the instant you pop it open. Another popular choice are heart shaped boxes that split at the center to reveal the ring once you open them. 
Vintage Ring Box
Couples with family heirlooms love vintage ring boxes that feature intricate designs and beautiful embellishments. Traditional ring holders easily compliment emerald, ruby or sapphire engagement rings; ideal for couples who love gemstones. These heirloom worthy engagement boxes are considered limited edition since they're handcrafted. Such engagement boxes are fabricated using quality textiles like for e.g. a Victorian velvet encased box.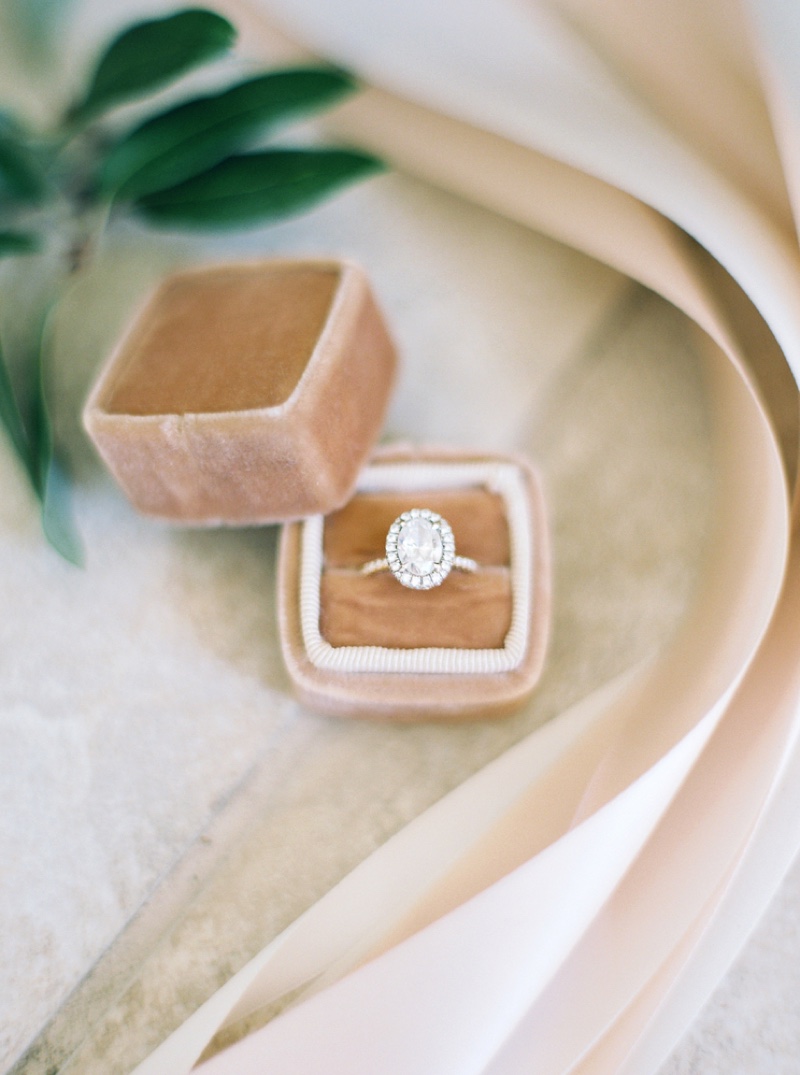 Personalized Ring Box
You'd want a personalized ring box when you're thinking of engraving something special on the box itself. This could be a ring platter that features charming interiors, monogrammed initials on the surface and a sleek frame. Many couples like to engrave poetic verses on their ring boxes while few others prefer a more personalized appeal like birth dates. This adds a personal touch to the box which is cherished forever by your loved one.  
While some hand over a ring directly, many love presenting it in the box itself. If you're not interested in a pre-made design, you can always pick one that best suits your partner's interests. Whether you're looking for an engagement box for a 1 carat diamond ring or a plain platinum band, you can get it customized to suit your liking. Not only does it enhance the grandeur of a proposal, but it also protects the ring from external damage. A ring box is the perfect way to conceal a surprise proposal, until that special moment when you go down on your knees just to say those magical words!