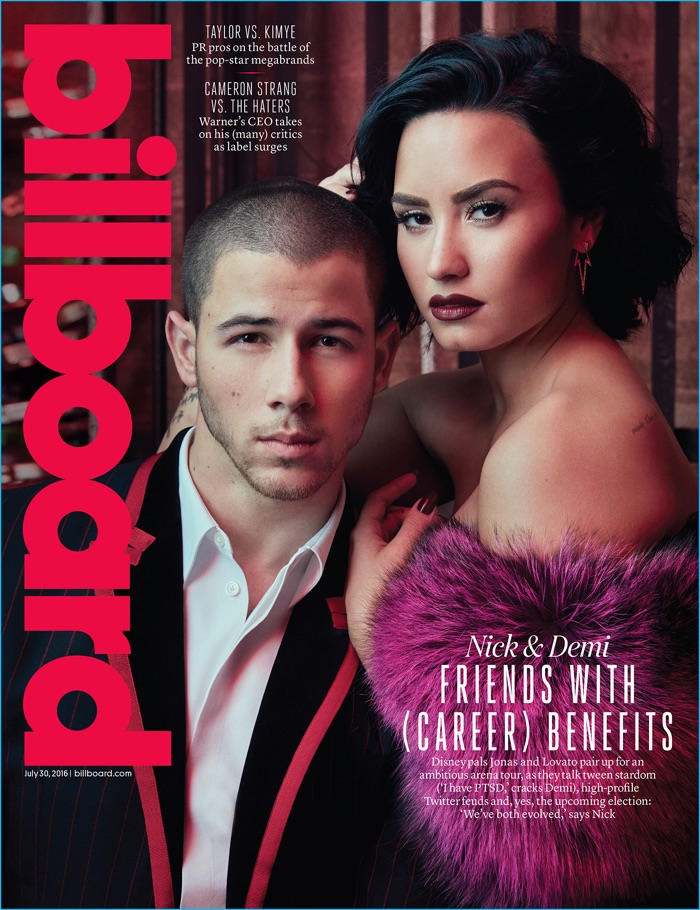 Promoting their FutureNow tour, Nick Jonas and Demi Lovato cover the most recent issue of Billboard magazine. Photographed by Austin Hargrave, Jonas and Lovato channel a sultry attitude, posing for images at The Orpheum Theatre in Los Angeles, California. Divulging to Billboard how close he is to Lovato, Jonas talks about coping with his breakup with Olivia ­Culpo.
Related: Nick Jonas Poses for InStyle Shoot, Talks Personal Style
The 23-year-old singer and actor confides, "I internalize things, so we have this rule that we never want to hear about it in a tweet or something. She'd read me the riot act, so she's the third person I call–my dad, Joe, then Demi. She was like, 'Just go, ­create and be free.' She also said some other things…" Interrupting, Lovato confesses, "I go, 'Honestly, I didn't like her anyway.' It's not because she's mean or anything, but he has such a great sense of humor and I want him to be with someone that makes him laugh. I can tell if something's up because he'll close off." Read more on Billboard.com.
Nick Jonas Billboard Photo Shoot