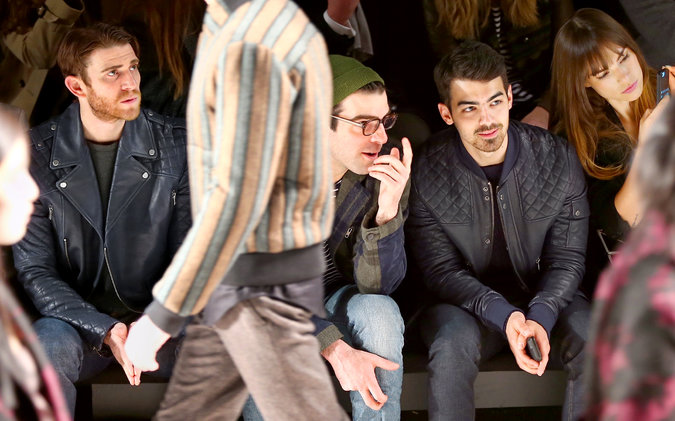 New York-based designer Michael Bastian recently talked to Fashion Week Daily about his decision not to show during the upcoming spring/summer 2015 edition of Mercedes-Benz Fashion Week New York, more widely known as New York Fashion Week. Over the last couple of seasons, many labels have moved from showing during New York Fashion Week, instead joining their international colleagues for fashion week in Milan, Paris and most recently London.
While labels such as Giorgio Armani, Prada and Saint Laurent showed spring collections last month, brands gearing up for New York Fashion Week have to wait until September. Bastian explains, "September for men's just doesn't really work. I know everyone is trying hard to figure this out, but for now July is when we're still selling the collection. It made no sense to show in September. Men's buyers are in town for Project [tradeshow]; Michael Kors and Rag & Bone have started doing things in July. At some point we're going to figure it out in New York, but until then it made sense to try do something in July." It also doesn't help that fashion moves at an accelerated pace. By the time New York Fashion Week rolls around in September, fashion editors are already shooting spring samples from collections that have shown. As a label, it's hard to tap into the general narrative when the start of your new chapter is delayed.
Taking the scheduling dilemma into account, another issue faces New York Fashion Week. Who is showing? It's no surprise that fashion week, no matter the locale is carried by its dominant labels. Milan has brands such as Giorgio Armani and Prada. Paris includes Saint Laurent, Hermes and Louis Vuitton. Even, new kid on the block London Collections: Men fares well with Burberry Prorsum and Alexander McQueen. What used to be the highlights of New York Fashion Week, have departed. DKNY recently showed in London. Y-3 left New York for Paris, following 3.1 Phillip Lim and Thom Browne. Add to the list, Rag & Bone, who recently unveiled portraits instead of a show, Tommy Hilfiger, who officially bowed out, Michael Kors, whose man serves best as an accessory when fashion week comes around and you're left with a bleak looking schedule, often filled with labels that are buzzworthy, but not established or the renegade labels that unofficially show. This all leaves one to ponder, what does the future of menswear in New York look like?