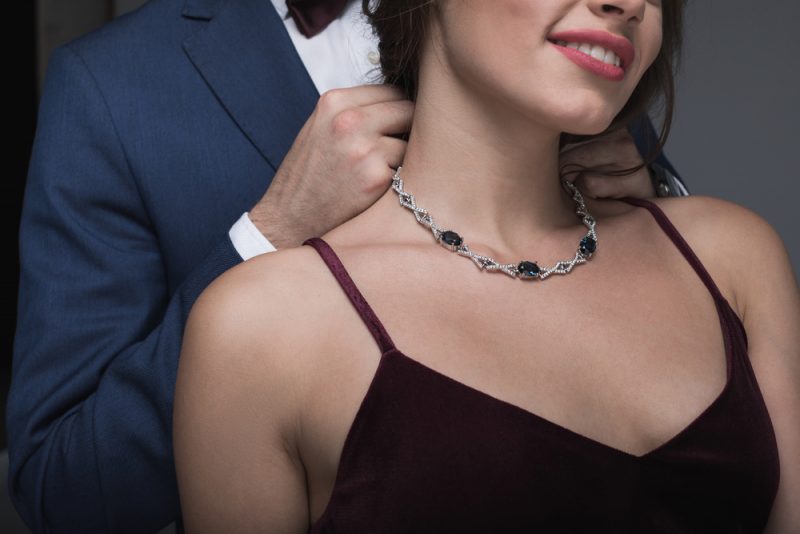 If you are a man and are shopping for a gift for your girlfriend, you may be doubting your choice and worried that she would not like your gift. This is often true when men shop for jewelry because there are so many styles to choose from. Ask yourself what you want your girlfriend to feel when she opens your gift. What you want is for her to love the gift so much that she will enjoy wearing it every day.
Unfortunately, many people return even the most well-intentioned gifts because they do not like the style, the color or something else about it. To help you understand this, take a look at the Inquisitr report that found that more than $46 billion in clothes, jewelry, and electronics were returned following the Christmas holidays. As you can see, it is difficult to pick a gift that your girlfriend will love. Luckily, we have gathered the top three tips to ensure you find the perfect piece of jewelry for the special lady in your life.
1. Peruse Her Social Media Accounts
When you are planning to buy jewelry for your girlfriend, you should check out what she has been posting on her social media accounts. Try to see if you can determine the style of jewelry that she likes or comments on to help you. Make sure you check out these social media sites:
– Pinterest: Pinterest has more than 70 million active users, which means your girlfriend probably has an account and has pinned a lot of her favorite items. Search Pinterest for her profile and take a look at the links that she has pinned. You may even find a link to the website where you can purchase the jewelry that she has pinned.
– Etsy: Women use Etsy like Pinterest. They can like items that they would love to have in their jewelry box. Take a look at the items that she has liked and see if the item is still for sale. It is important to remember that Etsy seller often handles their shipping so make sure that you order early, so it arrives in time.
– Tumblr: Tumblr is a place where you can reblog items that you like. Make sure to check this site to see if your girlfriend has a Tumblr account because it can provide valuable hints on the items that she likes.
2. Study Your Girlfriend's Style
You want to ensure that the jewelry you choose matches your girlfriend's style. One of the worse things you can do is to choose a style that does not match your girlfriend's wardrobe. Your girlfriend will not want a pair of modern earrings if she typically wears classy and timeless pieces like Mariana jewelry.
Here is who to figure out what she likes. Take a look at some of her favorite photos and look at what she is wearing. Pay attention to the jewelry that she chooses for her outfit. Perhaps she likes vintage necklaces such as these silver and gold amethyst necklaces or something simpler like this. This will help you determine the style of jewelry that she prefers. Here are the top three jewelry styles to be aware of:
Modern Jewelry
Modern jewelry is often dainty and small. This style of jewelry is typically understated, which means that you may need to look at her photographs closely. Is there a glimmer on her finger or is she wearing a small pendant on a thin chain? Modern jewelry is loved by many women; however, you will have to do some investigation to determine if this is your girlfriend's favorite jewelry style.
Classic Jewelry
Classic jewelry often has a lot of crystal. If your girlfriend leans towards classic jewelry, she will wear crystal stud or chandelier style earrings featuring crystals. In addition to this, pearls and tortoiseshell pieces are quite popular. Many women love wearing classic jewelry. One of the most popular styles of classic jewelry is the Art Deco-inspired pieces. If you or your girlfriend is looking to clean your jewelry all by yourself, you can use an ultrasonic jewelry cleaner.
Statement Jewelry
Statement jewelry is bright jewelry. This style of jewelry is very visible. Necklaces and bracelets will be large and chunky. The rings typically have a lot of bling.
3. Take Your Girlfriend Shopping
One of the best ways to find out what your girlfriend likes without blowing the surprise is to take her shopping. Yes, you read correctly. Go to the mall and pay attention to the items that catch her eye. This will give you a lot of ideas. If she asks your opinion about an item, take note, it may be the perfect gift for your girlfriend.