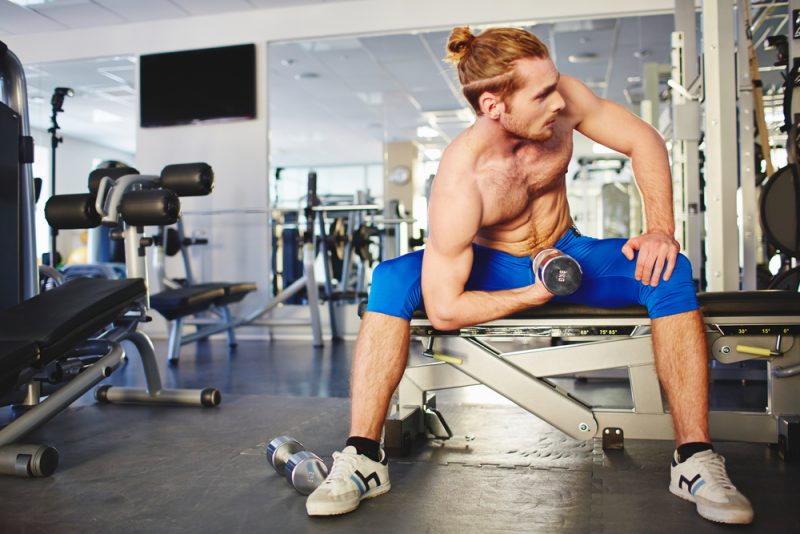 In general, we all go to the gym and use their gym membership software with an aim to look great after we leave the gym. Makes sense, but why shouldn't you look great while you're there? Just think how much time you spend in the gym and how many people actually look at you during that time. Not to mention that you probably appear in somebody else's selfies several times a week.
Looking great while sweating won't make your workout more comfortable, but it will make you feel much better about yourself. These tips will help you choose the best sports clothes and accessories to make you look cool in the gym. And since comfort is now in fashion, you'll even be able to wear some of these clothes even outside of the gym.
Choose Clothes That Fit Well
If your body is still not in perfect shape, your first thought will probably be to mask it with baggy clothes. Resist this temptation, as loose clothes will only get in the way of your training. Not to mention how silly you'll look flapping around with the oversized tee while lifting dumbbells.
Don't Show Off too Much Skin
You might be impressed by your rippling muscles, but that doesn't mean you need to show them off at the gym. Trust us; nobody is interested in seeing you parading half-naked. Well-fitted gym clothes keep you look decent while still showing enough of your figure.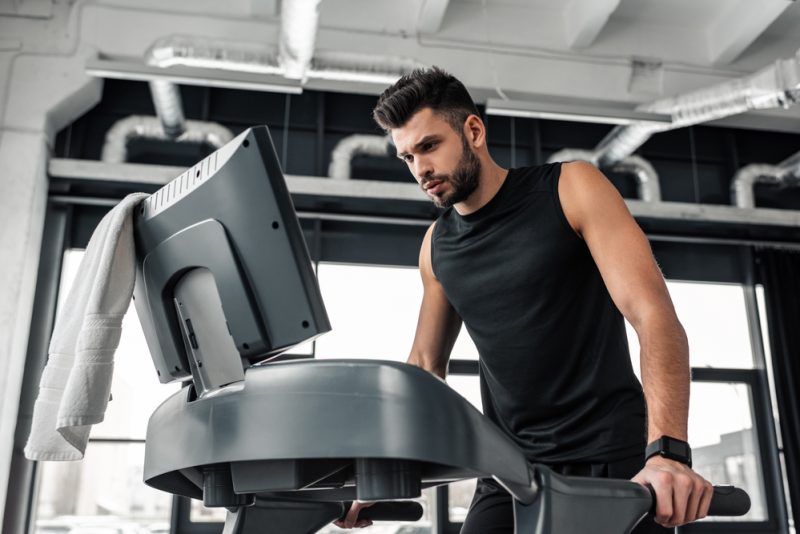 Choose Neutral Colors
Most sports brands favor bright colors, but what looks great in the shop window may not seem so great in the gym. If your activewear is in screaming colors, you'll probably attract attention for all the wrong reasons.
Stick to neutral colors. For instance, invest in sports clothes in black, grey, and white you can later mix and match easily. Our personal favorite is black because a) looks good on everybody; b) it makes you look slimmer, and c) hides sweat patches very well.
Opt for Colorful Details
Sports clothes in neutral shades can be easily enlivened with details in brighter colors. For instance, if you're a fan of bolder color schemes, you can go for colorful socks. Higher sock models such as soccer socks are a great alternative to leggings for those who don't feel comfortable with showing their legs. You can also go for neon trainers. Speaking of trainers…
Get the Right Trainers
When it comes to training shoes, convenience comes first. Avoid running shoes because, well, they're for running. They have a cushioned base which easily compresses and can make you unstable when working out. Trainers that have a flat and stable base are perfect for weightlifting. You can even remove the shoes altogether and remain in those super cool socks we mentioned before (never barefoot, please!).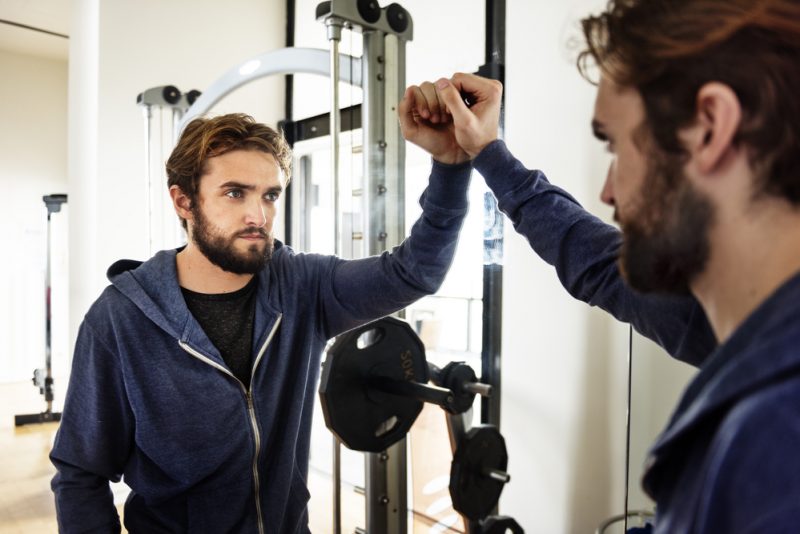 Sweatshirts and Hoodies that Work in and out of the Gym
In the last few years, sweatshirts have left the gyms and entered the wardrobe of almost every well-dressed adult. Hoodies and sweatshirts are perfect for keeping you warm when it's cold outside and thus prevent you from coming up with excuses for not going to the gym. Again, choose neutral shades that'll wash well (this is especially important if you're showering in the office or at home) and will also look good outside the gym.
Get a Multi-Functional Bag
As with the clothes, sports brands tend towards neons and brights when it comes to their accessories too. But you know better, so you'll stick to the neutral colors that match with the rest of your activewear, your off-duty clothes, or your office wear (if you train at work). One more piece of advice for this last category – don't pack smelly gym clothes in the same bag you take to work to prevent it from smelling gross.
Wear Wireless Headphones
Research has shown that workout music has a very positive impact on muscle gains. Great. So, you've decided to wear headphones in the gym. But let's face it – nobody looks cool if their headphones fall off all the time or get snagged on the machines.
Choose a pair of wireless headphones that go in or over the ear. Some wireless headphones even function as fitness trackers or have an option to sync with fitness apps, which will make things in the gym even easier.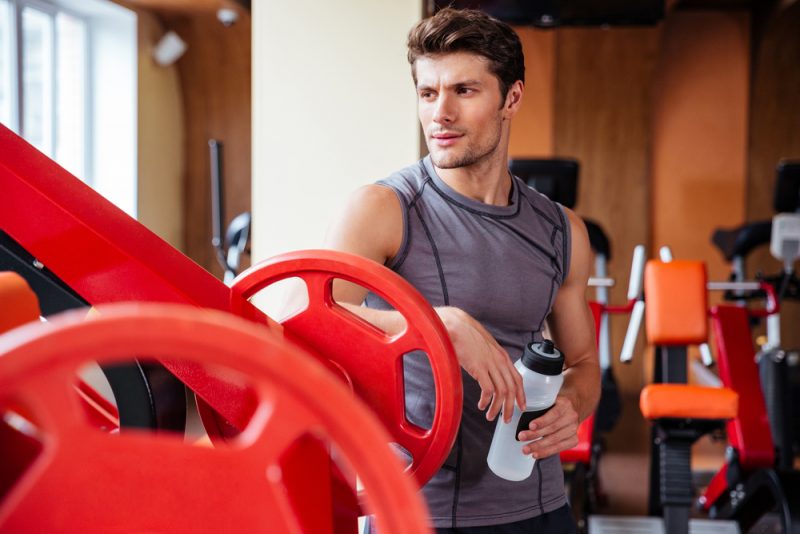 Keep Things Clean
Having the coolest, most expensive sports gear will mean nothing if it's dirty and stained. It's also impossible to look cool if you don't take care of your body hygiene. Here are a few tips to help you keep things clean without too much effort.
Wash Your Gym Clothes Regularly
Everything you wear in the gym must be washed after every training. Oh, and make sure not to leave your sweaty clothes in the gym bag overnight or during the weekend because they might get stained and absorb the stink forever.
If you really must leave the sweaty clothes in the bag for a few hours, look for kits with sewn-in silver. These act as antibacterial agents and will keep the clothes fresh for a longer time. You can also spray a fabric refresher to destroy the stench and germs.
Pay Attention to Body Hygiene
The hectic way of life barely allows enough time to hit the gym, let alone to have a proper post-workout shower. To speed things up, use dual-action products like 3-in-1 shampoo, body wash, and conditioner or a facial cream that hydrates and soothes at the same time.
Don't forget a hand cream to repair the damage caused by heavy lifting, as well as styling products that'll prevent you from looking like you've just been hit by a tornado (even though you might feel that way).
Choose the Right Fragrance
When you're working out, your skin warms up and intensifies your fragrance. And since nobody fancies exercising in your cloud of heavy musk and oud, opt for sportier perfumes. Sporty fragrances have fresh, citrusy notes which aren't so overwhelming and won't contaminate the whole gym.
Gym Etiquette
Looking good at the gym doesn't end with wearing killer sports gear. You also need to have good manners and pay attention to how you behave.
This means that you should always put the equipment back when you're done exercising, wipe down a machine that has your sweat on, etc. In other words, have in mind that a gym is a public place and that other people should feel comfortable there as well.