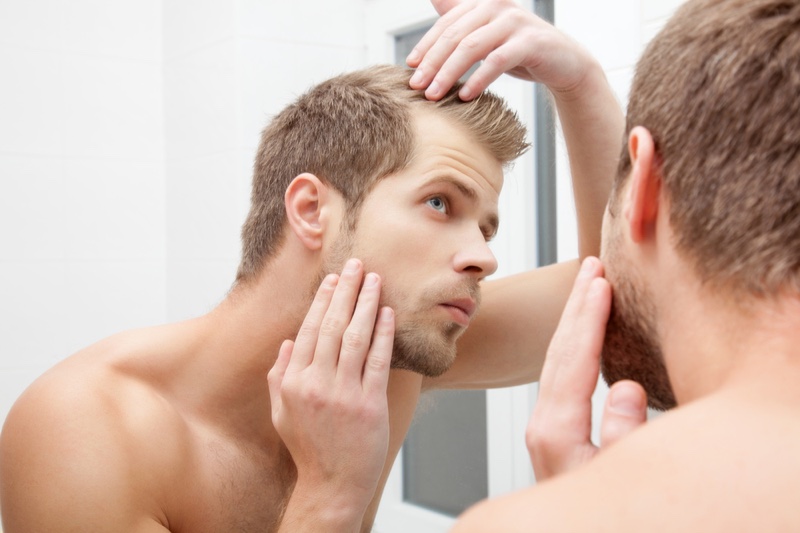 Is your hair loss affecting your quality of life? Put down your hats and learn here how to stop balding in it's tracks!
Approximately 94% of men worry about balding, which make hair loss the top, aesthetic fear associated with male aging.
If you want to know how to stop balding, it's important to realize that it's not a mystery. The right strategy and treatments can keep your mane exactly where you want it to be.
Let's get into what you need to know.
How Can You Tell If You Are Balding?
No, it may not be as apparent as you might think. Losing hair isn't the same as going bald. In fact, baldness represents a genetic condition, and hair loss can happen for a variety of environmental and physical reasons.
Simply losing patches or strands of hair may not be a sign of balding. It can be a sign of stress, or it can even indicate alopecia, an autoimmune disorder.
Balding, on the other hand, occurs when hair loss occurs in a routine receding pattern typically starting from the temples and crown of the head. Treatments at a medical spa or doctor office can help remedy this.
How Quickly Can You Go Bald?
It varies. While hair loss may start in the twenties, it can take anywhere from 15-25 years to go bald.
With that said, some men start balding in less than five years. It's nearly impossible to determine how long it will take for each person.
The Role of Stress in Balding
If you needed another reason to manage your stress levels and practice mindfulness, consider the top of your head.
When you are feeling stressed, your body releases additional cortisol, which can lead to higher levels of adrenal fatigue. Translation? This impacts your body's hormone levels, which can exacerbate hair loss if you're genetically predisposed to balding. Furthermore, it can cause you to lose your hair even if you aren't predisposed.
Of course, it's not practical to eliminate all stress. Instead, focus on how you can increase mindfulness and meditation throughout the day. It doesn't have to be complicated- just committing to a few moments of daily reflection can make a huge difference in your mental health.
The Role of Nutrition in Hair Health
We all know that health radiates from the inside out, and that is no exception when it comes to improving hair health.
While foods cannot necessarily prevent hair loss, the right foods can stimulate your health and improve your hair loss fight. Consider adding more of the following elements into your diet:
• Antioxidant-rich foods (think blueberries and artichokes)
• Zinc-rich foods (pumpkin seeds, oysters)
• Dark, leafy green vegetables (kale, broccoli, spinach)
• Anti-inflammatory protein (wild salmon, beef, lamb)
• Selenium-rich foods (yellowfin tuna, Brazil nuts
• Mineral-rich foods (almonds, eggs)
You should focus on maintaining a well-rounded diet that eliminates or reduces foods with processed sugar, excess caffeine, or trans fatty acids.
Finally, don't overlook the amazing benefits associated with Vitamin D. Many adults are deficient in this essential nutrient. As it turns out, Vitamin D can help reset hair during its growth phase.
If you are deficient, you may want to consider adding a supplement to your diet. Check with your doctor for appropriate testing and treatment recommendations.
Hair Loss Treatments
Today, there are many different options for men who wish to slow down hair loss or stop their natural balding process.
Rogaine
Rogaine is one of the industry leaders for slowing down hair loss and possibly regrowing some of your hair.
While it doesn't reverse male baldness, it's one of the simplest (and cheapest) DIY topical methods.
Rogaine works best when used on a consistent schedule. Experts recommend using it twice a day for at least six months. You likely won't see any substantial results before that point.
Propecia
Propecia is a prescription medicine that reduces the production of DHT by as much as 60%. While this treatment isn't effective for all men, experts suggest that about one-third of men regrow some hair and another third don't lose any hair.
However, Propecia does carry the side effect risk of erectile dysfunction, with a recent study finding that nearly 16% of men taking this drug reported erectile difficulties.
Laser Hair Restoration
This is a relatively new treatment option available to both men and women suffering from hair loss. While these treatment options cost more than DIY remedies, they can yield fantastic results for the right candidates.
Laser caps, like the Capillus, are convenient and comfortable with most treatments lasting just 6 minutes per day. With this process, you typically just wear your own hat anywhere at any time- the treatment fits snugly underneath.
Ketoconazole Shampoo
Often treated for seborrheic dermatitis or dandruff, this shampoo can also block DHT (the hormone that shrinks hair follicles and makes them fall out).
You can purchase this kind of shampoo at any drugstore or supermarket at a 1% capacity, or you can ask your doctor for a stronger prescription at 2-3%.
For best results, use a quarter-sized dollop two to three times per week. More than that can cause dryness and irritation to the scalp- which may be counterproductive for stimulating hair growth.
Embrace Who You Are
There's no rule stating that you can't accept (and even embrace) your balding. As we know in modern fashion, youth trends continue to change.
From Vin Diesel to The Rock, many celebrities and fashion models are embracing their natural aging process. There's no reason you can't follow suit. And yes, many people find the bald look extremely attractive!
How to Stop Balding – Final Thoughts
While hair loss may represent a natural process in aging, you don't have to accept balding as your fate.
With the right plan-of-attack and strategies in place, you can defy science, learn how to stop balding, and restore your confidence.
Interested in learning more about the latest health and fashion trends? Be sure to subscribe to our free newsletter today!